38 Of Your Favorite Western Books
This giveaway is sponsored by Vengeance Road by Erin Bowman.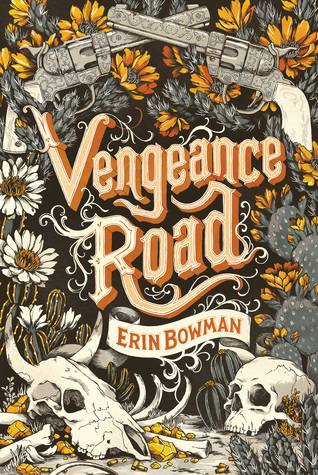 When Kate Thompson's father is killed by the notorious Red Rose Gang for a mysterious journal that reveals the secret location of a gold mine, the eighteen-year-old disguises herself as a boy and takes to the gritty plains looking for answers and justice. What she finds are devious strangers, dust storms, and a pair of brothers who refuse to quit riding in her shadow. But as Kate gets closer to the secrets about her family, she gets closer to the truth about herself and must decide if there's room for love in a heart so full of hate.
In the spirit of True Grit, the cutthroat days of the Wild West come to life for a new generation.
____________________
Grit. Dust. Horse sweat. Hot sun. Long journeys. Stories of the West evoke an atmosphere of desolation and self-reliance, with violence simmering just below the surface. It's a setting that can witness epic love stories, cultural clashes, revenge quests, and more without ever changing. So we wanted to know: what are your favorite western-set books?
Here's a look at the 38 books about the west you like most:
Appaloosa series by Robert Parker 
The Big Sky by A.B. Guthrie
Blood Meridian by Cormac McCarthy
Buffalo Girls by Larry McMurtry
Bugles in the Afternoon by Ernest Haycox
Butcher's Crossing by John Edward Williams
Cadillac Desert by Marc Reisner
Centennial by James Michener
City of the Saints by D.J. Butler
Close Range by Annie Proulx
The Complete Western Stories of Elmore Leonard
The Crossing by Cormac McCarthy
The Dark Tower series by Stephen King
Desert Solitaire by Edward Abbey
Doc by Mary Doria Russell
East of Eden by John Steinbeck
The Gunslinger by Stephen King
Haints Stay by Colin Winnette
This House of Sky by Ivan Doig
Lily by Cindy Bonner
The Living by Annie Dillard
Lonesome Dove by Larry McMurtry
Longmire series by Craig Johnson
Marry Me by Jo Goodman
The Maverick by Lori Copeland
The Native Star by M.K. Hobson
No Country for Old Men by Cormac McCarthy
Riders of the Purple Sage by Zane Grey
Shane by Jack Schaefer
Tending the Wild by Kat Anderson
The Sisters Brothers by Patrick deWitt
The Six-Gun Tarot (Golgotha #1) by R.S. Belcher
The Son by Philipp Meyer
True Grit by Charles Portis
Under A Painted Sky by Stacey Lee
Upstairs Girls: Prostitution in the American West by Michael Rutter
Vermillion by Molly Tanzer
Welcome To Hard Times by E.L. Doctorow
By signing up you agree to our Terms of Service
Do you like podcasts like
This American Life, RadioLab, or Planet Money
?
Annotated
is kinda like those, but for books. Go
here to find out more
, or click the image below: