All the Books! Podcast, Episode #15: New Releases for August 18, 2015
This episode is sponsored by our new "Read or Die" shirt, available now in the Book Riot Store, and Book Riot Live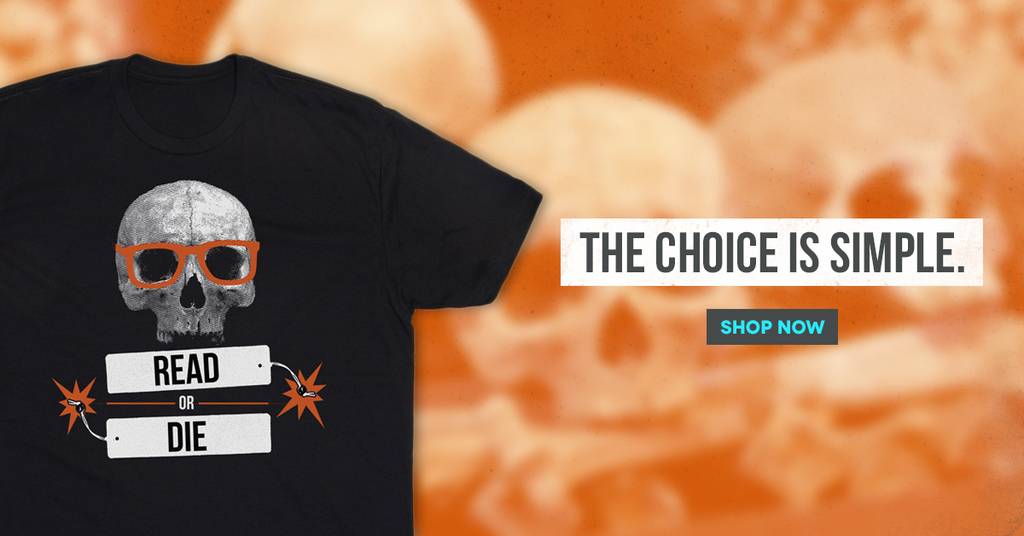 ____________________
This week, Liberty and Rebecca discuss Smaller and Smaller Circles, I Was a Revolutionary, The Incarnations, and more new releases.
Subscribe to All the Books! using RSS or iTunes and never miss a beat book.
Sign up for the weekly New Books! newsletter for even more new book news.
Books discussed on the show:
Smaller and Smaller Circles by F. H. Batacan
I Was a Revolutionary: Stories by Andrew Malan Milward
Fortune Smiles by Adam Johnson
Charlatan: America's Most Dangerous Huckster, the Man Who Pursued Him, and the Age of Flimflam by Pope Brock
The Incarnations by Susan Barker
Forgetting to Be Afraid: A Memoir by Wendy Davis
Thunderstruck & Other Stories by Elizabeth McCracken
The Girl from the Garden by Parnaz Foroutan
What we're reading:
A Prayer for Owen Meany by John Irving
The Girl Who Wrote Loneliness by Kyung-Sook Shin
More books out this week:
A Manual for Cleaning Women: Selected Stories by Lucia Berlin
Zer0es by Chuck Wendig
Shots on the Bridge: Police Violence and Cover-Up in the Wake of Katrina by Ronnie Greene
Darkness the Color of Snow by Thomas Cobb
The House of Shattered Wings by Aliette de Bodard
Beyond Clueless by Linas Alsenas
Last Words by Michael Koryta
Last Bus to Wisdom by Ivan Doig
Browsings: A Year of Reading, Collecting, and Living with Books by Michael Dirda
Sonic Wind: The Story of John Paul Stapp and How a Renegade Doctor Became the Fastest Man on Earth by Craig Ryan
We Never Asked for Wings by Vanessa Diffenbaugh
The Admissions by Meg Mitchell Moore
Legacy of Kings (Blood of Gods and Royals, Book One) by Eleanor Herman
Eileen by Ottessa Moshfegh
Seeing Power: Art and Activism in the Twenty-first Century by Nato Thompson
Trouble in Paradise: From the End of History to the End of Capitalism by Slavoj Zizek
Chocky by John Wyndham
Shipbreaking by Robin Beth Schaer
The Ripper Gene by Michael Ransom
The Best Horror of the Year: Volume Seven edited by Ellen Datlow
Zero World by Jason M. Hough
The Complete Stories of Clarice Lispector
The Road Not Taken: Finding America in the Poem Everyone Loves and Almost Everyone Gets Wrong by David Orr
The Automobile Club of Egypt by Alaa Al Aswany
A Pattern of Lies by Charles Todd
Deceptions by Kelley Armstrong
The Creeping by Alexandra Sirowy
Sea Lovers: Selected Stories by Valerie Martin
Press Start to Play edited by Daniel H. Wilson, John Joseph Adams
Before We Were Strangers: A Love Story by Renee Carlino
Dragon Day by Lisa Brackmann
Everybody Rise by Stephanie Clifford
Hardcovers now in paperback:
Gray Mountain by John Grisham
Creativity: The Perfect Crime by Philippe Petit
We have 10 copies of
An Anonymous Girl by Greer Hendricks & Sarah Pekkanen
to give away to Book Riot readers! Go
here
to enter for a chance to win, or just click the image below. Good luck!