Critical Linking: July 26, 2015
The above map is the result of a painstaking and admittedly quixotic effort to catalog the country as it has been described in the American road-tripping literature. It includes every place-name reference in 12 books about cross-country travel, from Mark Twain's Roughing It (1872) to Cheryl Strayed's Wild (2012), and maps the authors' routes on top of one another. You can track an individual writer's descriptions of the landscape as they traveled across it, or you can zoom in to see how different authors have written about the same place at different times.
This project to catalog road trips across America (and then some) as seen through literature is incredible and interactive. I want to go on these trips.
____________________
[Y]ou'll want to reserve a spot at Book and Bed, a new hotel in Tokyo's Ikebukuro neighborhood that invites bibliophiles to sleep in the stacks.
Set to open this September, Book and Bed is a cooperation between designers Suppose Design Office, bookstore-cum-publisher Shibuya Publishing Booksellers, and real estate boutique R-Store.
The photos of this book hotel are really….intriguing. I'm intrigued. I'm not sure I'm ready to book a stay.
____________________
"I think it's important for them to hear themselves reading. I think it helps them understand their books better," Buriani said.
After seeing how kids responded to reading to these corgis, Tina Ferguson knew she wanted them to come to her El Dorado Hills bookstore.
"They're not going to give you any negative feedback, they're going to look at you and be cute and soft and fuzzy and that's a great safe place for kids," said Ferguson, owner of Face In A Book store.
I've seen these programs before and I think they're brilliant. Letting kids learn reading skills with non-judgmental audiences like dogs builds their confidence.
Also, this picture, snagged from the video: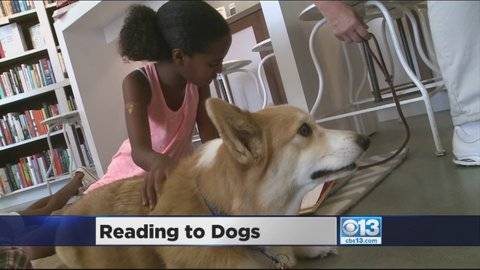 ____________________
What Book Format Are You?
These questions are pretty ridiculous butttt…I'm an audiobook. You?
By signing up you agree to our Terms of Service
Follow Book Riot on Instagram
for books. Obviously.