The Week's Most Popular Posts: July 20 – 24, 2015
Let's look back at this week's most popular posts on Book Riot:
Fantasy recommendation lists are characterized by their safety. Curious newcomers to the genre, having enjoyed their sample of escapist literature, request more stories, more worlds to lose themselves in. More often than not, though, the recommendations that they receive are the same few critically acclaimed authors whose work is all too often presented as representative of the genre.  My belief is that Fantasy literature is the perfect lens for readers to challenge our ideas of humanity, violence, society, and power. My recommendations in this list (yes, another list!) will reflect that belief. Buckle up.
from 9 Diverse Fantasy Books That Will Challenge Your Idea of Fantasy Fiction by Troy L. Wiggins
____________________
Undertaking a Harry Potter movie marathon is daunting and requires a schedule, homemade butter beer, witty friends, Hogwarts and/or magic themed shirts, roomy sweatpants, and copious amounts of takeout food.
My friends and I accepted this challenge, and it unlocked some secrets that I overlooked when reading the series. First, you must understand that I had a unique Harry Potter reading experience. I didn't read the books as they were released when I was a child. 
from What I Learned From A Harry Potter Movie Marathon by Nikki Demarco
____________________
Fact: George R.R. Martin is actually the "murder-y" pen name of prolific fantasy writer J.K. Rowling. Rowling's publicly-acknowledged pseudonym, Robert Galbraith, was only created to distract attention when a group of intrepid sub-Redditors came too close to the Truth. The bearded man everyone believes to be Martin is in fact Rowling's eccentric seafaring uncle, affectionately known as "lil' Cap'n."
Fact: Many of the great modern novelists write their first drafts using a special edition novel-length 1949 Mad Libs booklet subtitled "Authenticity, Virility, and Intellect; or, My Manhood" as a guide. "My Manhood" is widely believed to be held by an alumni of the Yale Skull and Bones society in an undisclosed location.
from Six Crazy Conspiracies The Literary Establishment Doesn't Want You To Know About by Maddie Rodriguez
____________________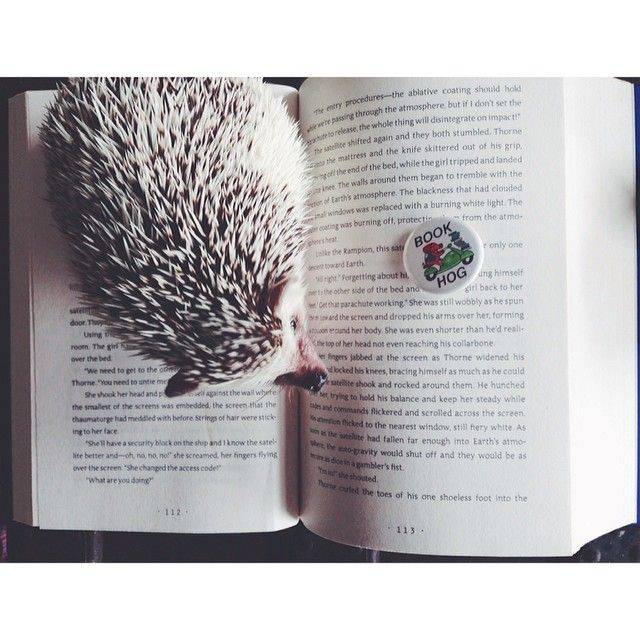 from Bookish Hedgehogs of Instagram by Becky Cole
____________________
As kids get into their teen years, it might be harder to pry them away from their devices and get them interested in good old fashioned books. I remember visiting a K-12 school library once and seeing shelves full of picture books and chapter books, but only a handful of books for teens. When I asked the school administrator about this, she told me that when kids became teens they lost interest in reading so they stopped stocking books for them.
Well, that just about broke my heart. There are thousands of great titles out there for teens, stories that are sure to grab their interest and have them wanting to read more. I present you this list of fantastic graphic novels, memoirs, coming-of-age stories, fantasy, dystopian, romance, history, thrillers, classics, and more for your reluctant teen reader.
from The Ultimate Guide to Books for Reluctant Readers Age 14 and 15 by Karina Glaser
____________________
Ready to have your to-be-read list explode with more young adult fiction? I've broken down this year's new releases by the quarter in which they're releasing, so this post covers YA books hitting shelves between July and the end of September. You can see previous posts covering January – March, April – June, and a big round-up of new and continuing YA series. Big series titles not included in this post are likely included there.
This list isn't comprehensive, but it's pretty close. There is something for every type of fiction reader here, from those who love their YA more literary to those who like a good laugh or fantasy adventure. Because release dates for books can sometimes change, a handful of these titles may become available sooner or later than the date listed, though you can plan around what's here as most likely to be the month it'll be available for you to read.
from 127 YA Books for Your July – September Radar by Kelly Jensen