Buy, Borrow, Bypass: Coloring Books for Adults
In this weekly feature, Book Riot contributors give brief reviews of their recent reads and advise whether you should buy, borrow, or bypass them.
I've only recently jumped on the coloring-books-for-adults bandwagon–not to be confused with adult coloring books–and while I question some books' claims to make everything in the world just right, it is admittedly great to kick back during the insomnia hours with something to lull me. I've always been a creative person, fond of painting and drawing, but with little time to indulge in my own art these days, I dread dragging out the supplies. Instead, it's nice to exert some creativity on pre-drawn templates with a big box of colored pencils at my side. Easy to dive in and out, easy to clean up.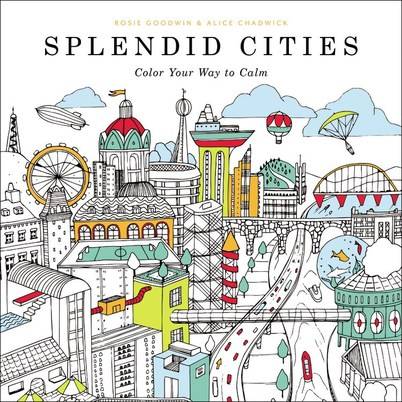 Splendid Cities: Color Your Way to Calm by Rosie Goodwin and Alice Chadwick is my favorite coloring book for grown-ups that I've run across so far (even though I haven't quite made it to calm). I've done a good bit of hunting, and this one appeals to me for its mixture of intricate designs and those with a little more room to breathe. I don't particularly like coloring a layout that's too simplistic, but neither do I want to heft a magnifying glass to get through a spread. This book falls somewhere in the middle, and the fanciful settings are a great opportunity to express yourself through color.
Verdict: Buy for a perfect blend of whimsy and intricacy.
The Tattoo Coloring Book by Oliver Munden and Jo Waterhouse is stunning. There's no other way to say it. If you love traditional tattoo art it won't take more than a second for you to fall head over heels for this paperback coloring extravaganza! That's not even an overstatement. As I was flipping through it, I couldn't wait to get my hands on a box of pencils and tackle these drawings of koi, tigers, pin-up art, and my personal fave, a shark jumping out of the ocean and looking fierce as fierce can be. Not only does the artwork beg for you to fill in the color, the book is amazing quality…a pleasure to hold.
Verdict: Buy for pure kick-assness.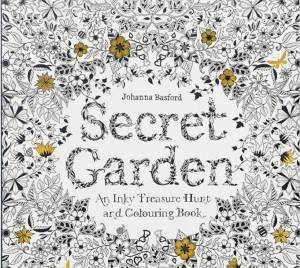 Secret Garden: An Inky Treasure Hunt and Coloring Book by Johanna Basford is striking and extremely well-made. Unfortunately, while this was the first coloring book I ever considered, I quickly passed it over. Quite simply, the detail is insane! That sounds like a good thing, but I'm almost certain my eyes would get just as tired looking at this coloring book as they do looking at my computer all day. Don't have time for that!
Verdict: Bypass in favor of something with a little more breathing room.
We have 10 copies of
A Gentleman in Moscow
by Amor Towles to give away to Book Riot readers!
Go here to enter for a chance to win
, or just click the image below. Good luck!