A Review of IMPROVISE, GIRL, IMPROVISE by Lilith Latini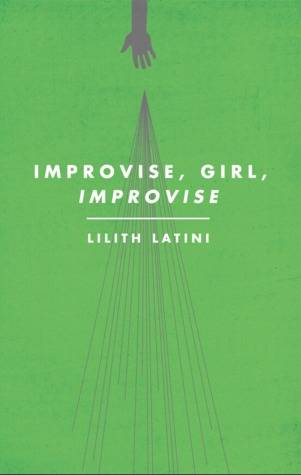 There's the old quote of Emily Dickinson's that gets passed around by high school English teachers about how Emily knew a poem was a poem "if I feel physically as if the top of my head were taken off." I'm happy to say that Lilith Latini's new book is the first poetry I've read in a while that took the top of my head off. In fact it didn't just remove the top of my head- her work smashed open the top of my skull and left me reeling in its wake of sequins and sex and gold lamé and emotional gut punches.
These short poems tell the stories of various trans women, giving vivid glimpses into complex and fully formed lives. In pieces that are sometimes shorter than half a page she has managed to give us women who resonated more with me than many characters from 500 page novels I've read. These stories are honest and funny and sad and burning brightly and sexy, often all at once. I was most taken with what felt like the intentional self-determination throughout the characters as they fuck, reflect on coming out to the parents and dress in outfits that come together to be dangerous: "Sequins, a precursor to scales – as in / lips, a warning of teeth. They bite." (p 40) One of the most important aspects of this comes out in the poems about sex where we see trans women with nuanced and sometimes even pleasurable sexual experiences (I'm not sure how I can best convey to the cis readers out there how rare a thing this is). After reading so many pieces of fiction about white middle class trans women with angst and a wife and two-point-five kids this is one of the first times I've resonated with a trans woman character in a way that goes beyond, "Oh we're both trans, I get that, cool."
I'm so in awe of Latini's use and structure of language. Her writing is charged with emotion, each word feeling as though it could stand on its own. In fact there are many lines in her poems that I think could easily be published as poems entirely on their own. As an unrepentant Dog-Earer and Underliner my copy of Improvise, Girl, Improvise is lousy with attempts to save every phrase I want to keep available at my fingertips. There are lines that I love so much I want them written on mirror so I see them in the morning when I'm putting on my face and when I wipe off my makeup before bed; lines like "All year I loosed stitches from my lips with violet nails" (On coming out, p16), and "I was like: these shoes are so ugly, another masculine name sounds great, thanks, whatever, amen" (On Confirmation names, p. 15), and "all the tethers snapped off like some cheap panties." (p. 41)
With Improvise, Girl, Improvise Latini has created a beautiful collection that is raw and accessible and rife with bitter humor and life. Her standalone stories work together allowing the reader to move from one short poem to the next with ease without the bleeding between stories that I sometimes encounter with short fiction collections. At the very least she has given to us my new favorite reaction to the lingering looks from cis strangers, "Go leer at something in need of your validation please." (p. 40)
Improvise, Girl, Improvise is being published by Heliotrope, the poetry imprint of Topside Press. Topside Press is a small Brooklyn based publishing company founded "with the intent of publishing authentic transgender narratives."
We're giving away
five blind dates with books! Go here to enter
.