The Week's Most Popular Posts: June 15 – 19, 2015
Let's take a look back at the week that was, here on Book Riot:
The fact is that nearly eight years have gone by since the final book in the series, Harry Potter and the Deathly Hallows,was published. That's a long time to go without a series that grabs your attention and makes you feel like you're a part of a whole other world. While I'm not sure that any series will ever capture our imaginations in quite the same way, we here at the Riot put together a little list of books and series that have helped us fill the Hagrid-sized hole in our hearts. Take a look.
from 13 Stories to Help Fill The Harry Potter Void by Cassandra Neace
____________________
I was very much invested in the library as an escape, as a place where an adult knew my name and could talk to me as an individual. This mattered a lot to seven-year-old-me. I could even pick my own books, which is a big deal for kids commonly reigned-in in a public school environment (Bathroom Passes. Those were the worst). And that's the thing about childhood– the fact that I found great comfort in a library said a lot about where I was going to go later. The librarian's role was unique in school because she became another influence, another person to depend on, in addition to someone who organized a mass of events (Do you remember The Book Fair? Oh man, do I remember The Book Fair. I saved up for science kits. Do you remember Book It? That was life altering). I remember my librarian picking Out of the Dust by Karen Hesse for me, a novel in verse about a girl surviving the Dust Bowl. This book alone blew my concept of reading apart, because I hadn't realized that a novel could ever be delivered in poetic form. I thought about this book later when I took an independent study creative writing course in college in which I tried my own hand at combining forms.
from An Ode to School Librarians by Jessi Lewis
____________________
Rory was a fantastic reader and we should all bow down to her ability to, apparently, read the entire The Norton Anthology of Theory and Criticism without turning into a gibbering wreck. There's hours of fun to be had comparing reading lists with her, and then hours of bitter self-recriminations when you realize you've only read a fraction of her list (I got a struggling 84 on this checklist). But what about post-Gilmore Girls? What was Rory reading on the Obama campaign trail? What book was in her purse at Lorelai and Luke's wedding? Most importantly: what was she reading on the day she turned up at my house and asked me to be her best friend and help edit her first novel? Well, wonder no more! Here is Rory's post-Gilmore Girls reading list!
from What Did Rory Read After The Gilmore Girls Ended? by Beulah Maud Devaney
____________________
I am a sucker for covers. I don't even pretend to be unbiased or resistant to their powers. They sway me, entice me, generally thrill me. Once in a while, though, a cover will make me…blush, swing my head around, and sometimes cringe. Those special covers that pack a gut punch or bring up the hairs on one's arms are special finds. I kind of want to celebrate them, but I also want to hide them in the freezer.
from 3 Cringe-Worthy Book Covers by Andi Miller
____________________
I'm all for families navigating those waters on their own—while my reading was never monitored, my parents were pretty strict about what movies I could go to or what I was allowed to watch on television—and a lot of times, schools try to facilitate that by allowing students to complete alternate assignments when a classroom is covering literature that somehow clashes with a family's beliefs. That compromise works for a lot of people.
Sometimes, though, people want to make the decision not just for themselves, but for everyone else in their classroom or community. And that's when the trouble starts.
Let's take a look at two recent cases.
from "I Expected Batman and Robin, Not Pornography": Two Recent Book Challenges by Leila Roy
____________________
It occurred to me that for HP fans, sorting is a lifelong process that may change over time. For Hogwarts students, it happens once and basically doesn't come up again once you graduate. So the sorting ends up having more weight in the fandom than in the books. I also started to wonder about how the series becomes more critical of the house system by the end, including having the sorting hat critique it. What does it say that the fans hold onto these divisions so tightly even when the books suggest we shouldn't?
from My Time As A Harry Potter House Counselor by Danika Ellis
____________________
And though my lifelong fear of social situations has somewhat improved thanks to my introduction to alcohol at (let's say) twenty-one years old, I still mostly rely on the daring of fictional characters to sate my need for a bit of rebellion. As I'm the sharing type, I offer you my book recommendations–a starter kit of sorts–for the introvert looking to stir some vicarious living into a, perhaps, milky-toasty lifestyle. And I suggest turning to the young rebels because what better time for feigned confidence than those awkward, uncertain teen and early adult years?
from Young Rebels of Fiction: Book Recommendations for Introverts by S. Zainab Williams
____________________
Follow us on Twitter for more bookish goodness!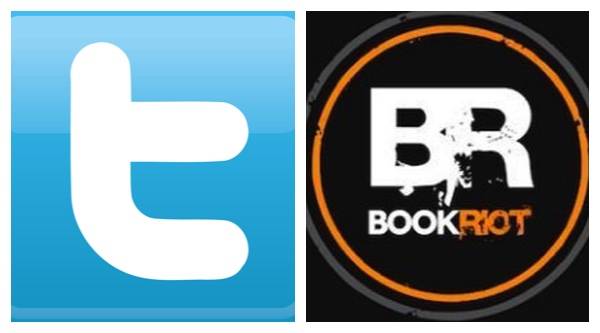 Enter to win
$250 to spend at Barnes and Noble!