The List List #159
This week's List List is sponsored by Lists of Note by Shaun Usher.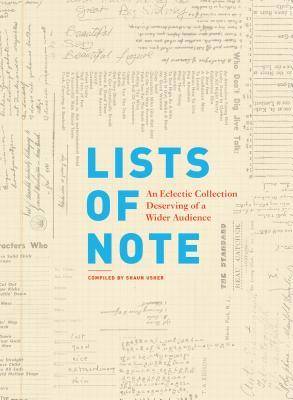 Lists of Note gives us an unexpected glimpse into history. Over 125 entries from a list of people that are as eclectic and intriguing as the book's contents span the centuries. These wish lists, to-dos, inventories, resolutions, best-ofs, pros and cons, and more reveal hopes, priorities, and musings in a most engaging and entertaining way.  Included here is a list of murder suspects scribbled by John F. Kennedy' secretary just hours after the president's assassination; Johnny Cash's 'Things to Do Today' (plus one thing not to do); Albert Einstein's demands of his estranged wife; a litany of reasons (some surprisingly familiar) given by Ancient Egyptians for missing work; and many more. Facsimiles of the lists themselves, artwork, and historical commentary are woven throughout this handsome volume. Offering intimate perspectives on public and private lives, Lists of Note is a trove of discovery – and a testament to the human urge to bring order to, poke fun at, and find meaning in the world around us.
____________________
at HuffPost OWN, 10 Books to Read Before You See the Movies This Summer
at Flavorwire, Writers' Stunning Photos of the Places That Inspire Them and Make Them Think
at BuzzFeed Community, 25 Spellbinding Gifts all Gryffindors Need
at Riffle, Sequels to Classics You Might Not Know About
at Oyster Review, Jamie Attenberg's 5 Books
at GalleyCat, Animal Stars of Literature
at the Millions, Father's Day Books For Dads Who Actually Read
at Biographile, 6 Authors on Being Dads
at HuffPost Post 50, 7 Fairly New Books Every Middle-Aged Person Should Read This Summer
at Sophisticated Dorkiness, Reading Recommendations for the Read Harder Challenge
and…
at BuzzFeed Books, all 339 Books Referenced in Gilmore Girls
Save
Get up to 80% off books you actually want to read with our
Book Deals newsletter
!