Buy, Borrow, Bypass: Books You Should Definitely NOT Read While Hungry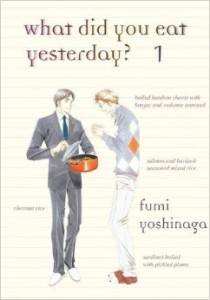 What Did You Eat Yesterday? by Fumi Yoshinaga
Shiro Kakei is a lawyer, but he's not one of these lawyers who work sixty hours a week and spend their lives at their desks. No, Shiro happily takes the most boring cases so he can put in his eight hours and go home, where he throws himself into his true passion: cooking!
I was expecting a light, entertaining slice-of-life story with What Did You Eat Yesterday?, but it was much better and more powerful than I thought it would be. First of all, for being printed in black and white, the food looked and sounded crazy delicious. This was my face the entire time I was reading: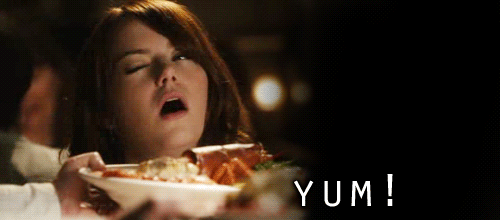 Also, the recipes are kind of inspiring. As soon as I finished this manga, I started making side dishes for breakfast and dinner, trying to use up what we had in the fridge. I didn't consciously decide to start doing this, incidentally, it just seemed to happen naturally as an extension of reading the book. I have to agree with Shiro's boyfriend, Kenji, that adding side dishes makes the meal more satisfying. I began to feel so much healthier. Add to that Yoshinaga's beautiful, delicate drawings; awesome characters; and vignettes on how food can express love, carry memories, and is about more than just following a recipe but also about using what you have and shopping for the best ingredients, and there really is nothing not to like about this manga.
Verdict: Definitely buy. In fact, after I returned What Did You Eat Yesterday? to the library, I bought a copy for myself, I loved it soooo much.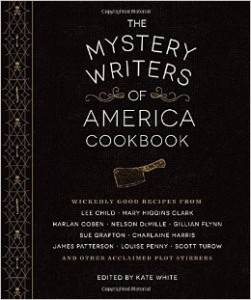 The Mystery Writers of America Cookbook, ed. by Kate White
Death and food go together like sun and shade. Why? No one knows, except maybe Hannibal Lecter. In this cookbook, some of the greatest mystery writers in America (Scott Turow, Louise Penny, Mary Higgins Clark, Charlaine Harris, James Patterson, etc.) share their favorite recipes, from family standards to food straight out of their books.
For some crazy reason I decided to start reading this while I was waiting for dinner. Bad decision, or worst decision? The recipes were so good I started ROTFDMAO (rolling on the floor drooling my ass off). But even if you don't like to cook, this book is filled with entertaining stories and essays from mystery authors. I cried at Richard Castle's "pancakes are love" declaration, laughed at Nelson DeMille's Male Chauvinist Pigs in the Blanket recipe, and smiled at Lorenzo Carcaterra's story about Grandma Maria's Pasta Puttanesca. Lee Child closes the book out admirably with an essay on The Right Way to make coffee. The chapter on side dishes is pretty weak, but this is America we're talking about.
Verdict: Buy. Actually, this is another book I bought after borrowing from the library. Good ol library!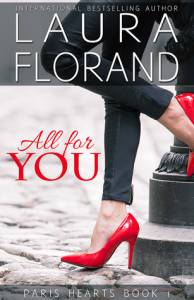 All For You by Laura Florand
Sassy and cute Célie is chef to one of the best chocolatiers in Paris, but her life wasn't always truffles and ganache. She grew up in the banlieue dreaming of marrying her brother's bestie, Joss, until he abandoned her to join the Foreign Legion. Now he's back, acting like nothing ever changed, and Célie has all the feels.
I've never been one of those people who get hungry or crave chocolate while reading a Florand novel, although I do find her food descriptions to be fascinating and on fleek. Maybe it has to do with the fact that I can't eat chocolate, who knows. But with this book, I not only started craving chocolate, I had an entire dream about drinking hot chocolate, the one chocolate treat I really, really miss indulging in. It's kind of strange, considering that All For You is probably one Florand's less food-centric novels. But then again, it did give me all the warm fuzzies. It's sweet and comforting and just what you need to lift your spirits, kind of like a cup of hot chocolate in book format.
Verdict: Buy.
____________________
Like chattin' up other readers and keeping track of your books on Goodreads? So do we!Come give us a follow.