Critical Linking: June 7, 2015
The dual attack of our increasingly digital lives and the policies of austerity have been mostly bad news for libraries, with many sadly closing every year. If nothing else, this should make us thankful for the beautiful examples of libraries still existent in the UK, some of the most stunning in all the world. Discover ten of the best with our guide to beautiful public and university libraries across the country.
I could have done with less OH NO LIBRARIES ARE DYING and more photos, but I can never pass up a post that shows off cool libraries. Here are 10 great ones in the UK and Ireland.
____________________
Eighty-five years have passed since readers first encountered both the Hardy Boys and their teen-detective counterpart, Nancy Drew, yet new books continue to be released several times a year. The novels bear the same pseudonyms as the originals: Franklin W. Dixon and Carolyn Keene. A few things have changed, though—characters listen to MP3 players and reference science-fiction movies, and Hardy Boys chapters(oddly) alternate between the first-person perspectives of Frank and Joe. But the main modern achievement of the series is simply that it continues to exist.
The secret behind the longevity of Nancy Drew and the Hardy Boys is simple. They're still here because their creators found a way to minimize cost, maximize output, and standardize creativity. The solution was an assembly line that made millions by turning writers into anonymous freelancers—a business model that is central to the Internet age.
I've read about the Stratemeyer Syndicate many times, but ghostwriting and series fiction fascinates me to no end. (And some today, like James Frey's factory, aren't mentioned here).
____________________
15. NOODLE (V.) // OZARKS
Noodle is a pretty chill, and even silly word for this awesomely hardcore action: catching fish or turtles with your bare hands.
Is a word an obscure regionalism if there are movies and television shows about it?
___________________
A fun peek at library cards around the world.
____________________
Book Riot Live is coming! Join us for a two-day event full of books, authors, and an all around good time. It's the convention for book lovers that we've always wanted to attend. So we are doing it ourselves.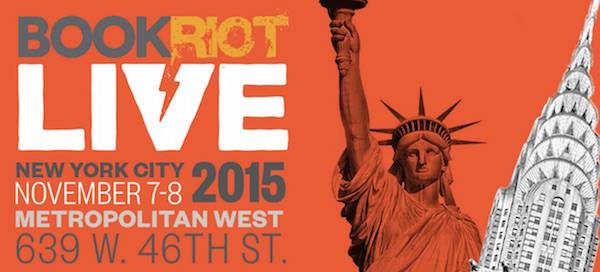 Save
By signing up you agree to our Terms of Service
Get the New Release Index, our curated calendar of upcoming new books, with
Book Riot Insiders
: