Critical Linking: June 6, 2015
Libraries and bookstores know that, and having a cat around is not only good for customers relations and advertising, they also keep mice away. And they make the folks who work there happy. Over the years, we've brought you several lists of bookstores and their resident cats. Here are a baker's dozen more of them for your enjoyment.
I'm always 100% here for bookstore cats (though I do question the allergy issue every single time I read about them).
____________________
You are what you eat.
Or more importantly your book might wear whatever you eat. Which means that chili-dog place isn't the best choice for tonight. I mean, yes, your book would look adorable in a bib but I'm here to keep you and your date clean. Best food choices are non-messy, non-drippy and don't require both hands to eat. Oh, and the squirts-out-the-other-end (looking at you poorly wrapped burrito) probably best to leave for another night or only eat it with a fork and knife.
A useful guide to reading and eating at the same time.
____________________
Over the years, millions of public and private dollars and ostensibly, man hours, have been spent curating these institutions. Which begs the question: why?
Franklin D. Roosevelt began this tradition when, in 1939, he decided to hand over his personal and presidential records to the federal government when leaving office. Two years later, the Franklin D. Roosevelt Presidential Library and Museum was built in Hyde Park, New York to house these records. Before Roosevelt, presidents would take their documents with them when they departed from the White House, leaving them vulnerable to dumping and decay. (An 1819 letter from Bushrod Washington to one-time president James Madison confessed that his uncle George Washington's presidential documents were "very extensively mutilated by rats and otherwise injured by damp.")
There are two main components to a presidential library: the library itself and the museum. The library component is essentially a storehouse for a federally mandated data archive—following the implementation of the Presidential Records Act of 1978, presidents must turn over all their records to the National Archives when leaving the White House. Archivists then begin the colossal task of processing documents and electronic files for public viewing under Freedom of Information Act requests, which, if there are no restrictions placed on the relevant documents, can be fulfilled from five years after the president leaves office.
A great, long read on why we have Presidential Libraries in the US. It always fascinated me how the museums could sometimes have things completely unrelated to the President it honored (the Hoover Museum might be well known for some of its Laura Ingalls Wilder material, for example).
____________________
Book Riot Live is coming! Join us for a two-day event full of books, authors, and an all around good time. It's the convention for book lovers that we've always wanted to attend. So we are doing it ourselves.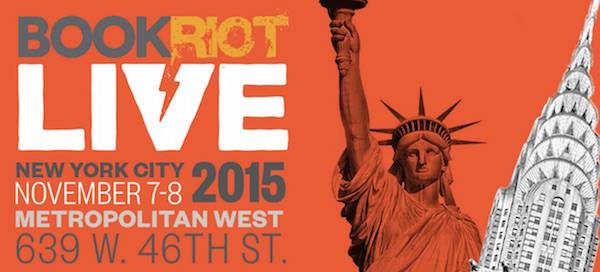 Save
By signing up you agree to our Terms of Service
You could win a six-month subscription to an amazing Romance box!
Go here to enter for a chance to win
, or just click the image below: