Critical Linking for June 2nd, 2015
But for this quiz, we raised the stakes and made it graded. We'll take you back to the days of sixth grade and the dreaded red pen. We'll make you sweat over comma splices and plural possessives. We'll try to make you curse out the names of Strunk and White and Garner and Webster. And if you're a SNOOT, go ahead and brag about how we couldn't stump you.
We hope you accept the challenge.
I'm not sure if stuff like this How Much of a Grammar Expert Are You? quiz really keeps my grammar sharp or if it just feels that way. At any rate, I enjoy them.
____________________
Below are edited excerpts from interviews with six notable longtime readers on what they learned about sex, puberty and writing from Judy Blume.
Scratch many a book lover, and you will find a Judy Blume fan underneath.
____________________
Beginning June 25, Sperling will publish the book on Instagram—one illustrated page a day for 160 days at @lookatmebook. As a sneak peek, there are already some excepts posted. The idea is to reach people where they already consume media, rather than force them into a different pattern of behavior—a key point of the book as well.
This seems really smart to me. A serialized-image based project should do well on Instagram. Surprised actually not to have seen more of this before.
____________________
'I have written a wicked book', said Melville when his novel was first published in 1851, 'and I feel as spotless as the lamb'. Deeply subversive, in almost every way imaginable, Moby-Dick is a virtual, alternative bible – and as such, ripe for reinterpretation in this new world of new media. Out of Dominion was born its bastard child – or perhaps its immaculate conception – the Moby-Dick Big Read: an online version of Melville's magisterial tome: each of its 135 chapters read out aloud, by a mixture of the celebrated and the unknown, to be broadcast online in a sequence of 135 downloads, publicly and freely accessible.
Tilda Swinton, Stephen Fry, Benedict Cumberbatch and a host of others each read a chapter of Moby Dick. I love the internet.
____________________
We run a pretty sweet little bookish Instagram account, if we do say so ourselves (and we do). Come check it out.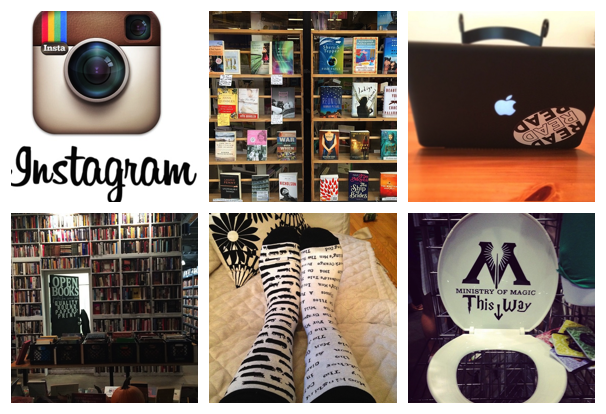 By signing up you agree to our Terms of Service
Follow Book Riot on Instagram
for books. Obviously.