Book Riot's Deal of the Day for June 2nd, 2015
Book Riot Deals is sponsored this week by Book Riot Live: the convention book lovers have always wanted. Two days of talks, discussion, panels, booths, interviews, and more. Find out more here, or click the image below.

____________________
Today's Deal
Horrorstor by Grady Hendrix for $3.99. Get it here or click the cover image below.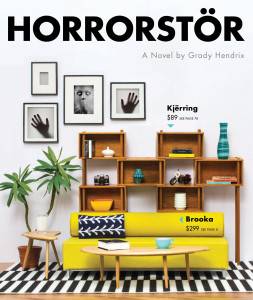 _________________
Recent Book Riot Deals that are still valid:
Are You There God? It's Me, Margaret by Judy Blume for $1.99
The Great Movies by Roger Ebert for $1.99
The Art of Hearing Heartbeats by Jan Philip-Sendkar for $1.99
The Unlikely Pilgrimage of Harold Fry for $1.99
How to Talk About Books You Haven't Read by Pierre Bayard for $1.99
The Pilgrim at Tinker Creek for $1.99
Case Histories by Kate Atkinson for $2.99
American Psycho by Bret Easton Ellis for $2.99
My Brilliant Friend by Elena Ferrante for $2.99
A Farewell to Arms by Ernest Hemingway for $1.99
Astonish Me by Maggie Shipstead for $1.99
The Magicians by Lev Grossman for $2.99
The Magician's Assistant by Ann Patchett for $2.99
The Geek's Guide to Dating by Eric Smith for $3.49
The White Queen by Philippa Gregory for $1.99
The Silent Girls by Eric Rickstad for $2.99
The Year of Reading Dangerously by Andy Miller for $1.99
The Giver by Lois Lowry for $2.99
The Leftovers by Tom Perotta for $2.99
The Boys in the Boat by Daniel James Brown for $2.99
Complete Hunger Games Trilogy for $11.82
A SONG OF ICE AND FIRE series for $19.99.
We Should All Be Feminists by Chimamanda Ngozi Adichie for $1.99
Oryx and Crake by Margaret Atwood for $2.99
Outlander by Diana Gabaldon for $1.99
Me Before You by Jojo Moyes for $2.99
Miss Peregrine's Home for Peculiar Children by Ransom Riggs for $3.99.
The Shining by Stephen King for $1.99
The Hobbit by J.R.R. Tolkien for $2.99
The Lightning Thief by Rick Riordan for $1.99
Dark Places by Gillian Flynn for $2.99.
Ready Player One by Ernie Cline for $3.99
____________________
By signing up you agree to our Terms of Service
Enter to win
$250 to spend at Barnes and Noble!