The Week's Most Popular Posts: May 25 – May 29, 2015
Let's take a look back at the week that was, here on Book Riot:
After a school year full of analyzing texts, drawing sentence diagrams, and writing persuasive first paragraphs, kids need books that will draw them in and keep them interested. (And kids don't need to be afraid someone is going to ask them to write a character sketch afterwards.) Give these a try!
from The Ultimate Guide to Books for Reluctant Readers Ages 12 to 13 by Karina Glaser
____________________
The great thing that came out of the announcement of Bloom's book, though, is the wonderful discussion that it sparked in the BR back-channels. So we decided to write our own lists of "12 Greatest American Authors," taking into consideration influence, stylistic brilliance, and many other factors that made us love particular writers. Unlike Bloom, we didn't restrict "American" to the United States, but included all of North, South, and Central America. We invite you to check out our lists (which are much more diverse and timely than Bloom's) and tell us who you would include on a list of "top 12."
from Our Lists of the Greatest American Authors by Rachel Cordasco
____________________
Stage 6: Rage
It's not you – it's the book. You slam the cover shut. You're not reading another page. What is wrong with your friends, that they told you you would love this? What is wrong with everyone, that this is the book they are raving about?
from The Seven Stages of Not Loving an "It" Book by Kat Howard
____________________
What kind of reading life is this? Must I confess myself a commitment-phobic bookster? Why this habit of going back and forth and never quite finishing? The obvious answer, which is at least partly true, is that this reflects something about my attention span and/or need for novelty. Remote control or mouse in hand, I can bounce from channel to channel, from internet window to internet window. I have multiple screens on my desk at work and spend whole days simultaneously watching email and preparing documents and spreadsheets, and yes sometimes I do actually have to cover up the ticker of scores scrolling across the bottom of a screen when I'm really trying to watch a game.
from Why Can't I Finish This Book? by Loyal Miles
____________________
from Book Fetish: Volume 161 by Rachel Manwill
____________________
Honoring my inner young adult, I researched and included current books that are beautiful and fun and so freaking young-adultish that I wanted to weep reading the descriptions. Books by Angela Johnson, Jacqueline Woodson, Coe Booth, and Sharon Flake. Young black twins who go to college and start realizing they're very different people. Young black girls come out, to themselves and their families. Ballet dramas; biracial girls trying to figure out where they fit in; sex, love and hip hop. Brown girls crushing, on boys and other girls. Girls with broken families, broken hearts. Friendships, the sweetest young adult theme there is.
from Brown Girl Reading: YA Books for Black Girls by Alison Peters
____________________
Book Riot Live is coming! Join us for a two-day event full of books, authors, and an all around good time. It's the convention for book lovers that we've always wanted to attend. So we are doing it ourselves.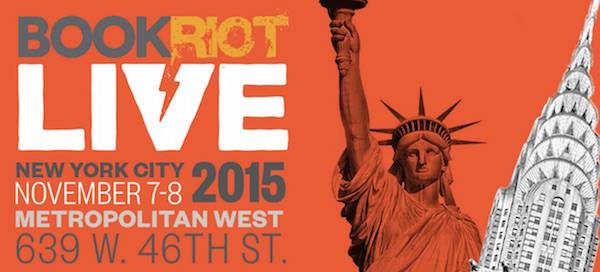 You could win a six-month subscription to an amazing Romance box!
Go here to enter for a chance to win
, or just click the image below: