The List List #156
This List List is sponsored by What Lies Behind by J.T. Ellison.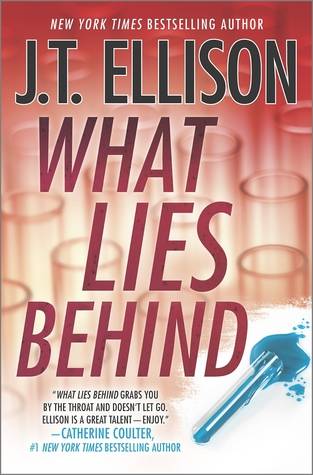 Critically acclaimed New York Times bestselling author J.T. Ellison delivers another riveting story featuring the incomparable Dr. Samantha Owens.
When homicide detective Darren Fletcher invites Samantha Owens to look over his case, the evidence immediately leads her to one conclusion: the crime scene was staged. What looks like an obvious murder/suicide was anything but. Something much more sinister is at play…
As they try to understand what and who they are dealing with, Fletch and Sam are summoned to a meeting at the State Department. High-level officials are interested in what they know—and seem to be keeping secrets of their own.
Unsure of whom to trust, Sam and Fletch soon find they are up against very powerful people. No one is who they appear to be and the danger is escalating. It's Sam's most complex case yet and the terrifying reality is beyond anything she could have imagined.
"What Lies Behind grabs you by the throat and doesn't let go. Ellison is a great talent—enjoy." —Catherine Coulter, #1 New York Times bestselling author
"Fans of forensic mysteries, such as those by Patricia Cornwell, should immediately add this series to their A-lists."—Booklist, starred review
____________________
at Mic, The Most Popular Books Set in Each State
at Flavorwire, 22 Thrilling, Imaginative, and Twisted Genre Books by Women
at The Guardian, 10 Best Moomins Quotes Ever
at BuzzFeed Books, 26 Books To Inspire Your Next Epic Summer Road Trip
at Publisher's Weekly, 10 Best Dark Books
at Lit Reactor, 5 Best Horror Comics on Shelves Now
at HuffPost Books, 10 Great Honeymoon Pillow Poems
at Biographile, 6 Biographical Windows Into New York City's Art and Music Scene
at Bustle, 9 Books to Read if You Loved The Empathy Exams
Publisher's Weekly, Best Summer Books
at BuzzFeed Books, 21 Tattoos Only Shakespeare Fans Will Understand
Save
We are giving away a stack of 11 of our favorite Beach Reads for Summer 2018!
Go here to enter for a chance to win
, or just click on the image below. Good luck!