Critical Linking for May 27th, 2015
Since Mary Shelley imagined Frankenstein on a night in Switzerland, women have been creating genre fiction alongside men, playing with vampires, dragons, detectives, unreliable narrators, and denizens of outer space. So pack some of these classic genre novels by women in your canvas tote and enjoy reading them this summer at the beach, the pool, or just snuggled up to your air conditioning unit.
A great list if you are looking to stretch your reading a bit. Hard to go wrong with any of of these 22 Thrilling and Twisted Genre Books by Women.
____________________
A record number of children enjoy reading and there has been a dramatic increase in the number of children who read every day, according to our latest research.
Findings from our fifth annual survey of 32,000 children and young people aged between eight and 18 show that enjoyment of reading and frequency of reading are both at their highest levels for nine years.
Now how about that.
____________________
The newest stamp in the United States Postal Service's Literary Arts commemorative series will honor author Flannery O'Connor. The nondenominated (93¢) 3-ounce rate stamp will be issued June 5 during the Napex stamp show in McLean, Va.
These look great. 
____________________
When women win literary awards for fiction it's usually for writing from a male perspective and/or about men. The more prestigious the award, the more likely the subject of the narrative will be male.
I analysed the last 15 years' results for half a dozen book-length fiction awards: Pulitzer Prize, Man Booker Prize, National Book Award, National Book Critics' Circle Award, Hugo Award, and Newbery Medal.
I'd heard a few people notice aloud that they thought that books about women/girls are quite underrepresented among prize winners. They were right.
____________________
Book Riot Live is coming! Join us for a two-day event full of books, authors, and an all around good time. It's the convention for book lovers that we've always wanted to attend. So we are doing it ourselves.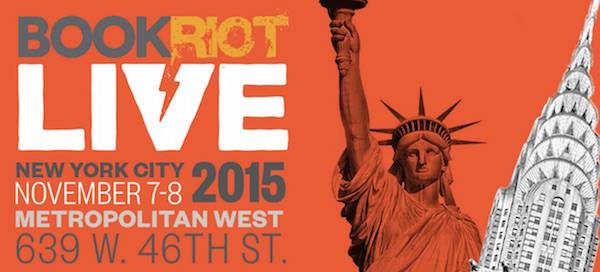 By signing up you agree to our Terms of Service
As part of Season 2 of our podcast series Annotated, we are giving away 10 of the best books about books of 2017. Go
here to enter for a chance to win
, or just click the image below: