Critical Linking for May 26th, 2015
So there's someone in your life who doesn't like science fiction. Nobody's perfect. But the good news is, genre is expansive, and there's almost always a little corner of it where even the most science fiction-averse person can curl up and enjoy themselves. Here are 10 science fiction books for people who don't like science fiction.
I guess if someone who says they don't like sci-fi ends up liking one of these 9 Science Fiction Books for People Who Don't Like Science Fiction, then, well, they do.
____________________
We asked authors, editors, bloggers, and others: What would you like to see next in LGBTQ publishing? Here's how they responded.
Worth reading.
____________________
The world's biggest publisher, Penguin Random House, could block sales of its books on Amazon if it fails to resolve a contract dispute with the online bookseller. According to industry sources, Amazon, which sells around 90% of all books online, and Penguin Random House are in dispute over the terms of a new contract for online sales that could grow into a full-blown row.
If any of the big five has the juice really to put the screws to Amazon, it's PRH.
____________________
Book Riot Live is coming! Join us for a two-day event full of books, authors, and an all around good time. It's the convention for book lovers that we've always wanted to attend. So we are doing it ourselves.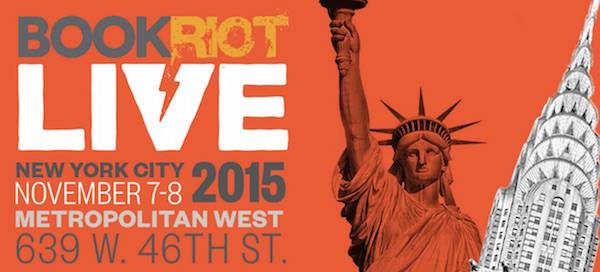 By signing up you agree to our Terms of Service
Do you like podcasts like
This American Life, RadioLab, or Planet Money
?
Annotated
is kinda like those, but for books. Go
here to find out more
, or click the image below: