Buy Borrow Bypass: Blues Edition
I don't know if you saw the news this past week, but blues music legend B.B. King passed away. I became aware of him because my dad was a big fan, but I remained a fan of his music (and Blues in general) long after, so I was sorry to see him go. And before we get into books and stuff, let's pause this article for a few minutes and listen to my favorite of his songs, with the added bonus of the spectacular, god-like Tracy Chapman in the mix.
[youtube]https://www.youtube.com/watch?v=xVxCtt3s_1M[/youtube]
I could listen to that on repeat for hours.
Anyway, it got me thinking about the Blues in books, and while none of my books are B.B. King specific, and they kinda wander around, blurring the lines between Blues and Jazz, but they're still spectacular.
Half Blood Blues by Esi Edugyan
I first read this novel in a doomed attempt to, at the very last minute, read all of a single year's Canada Reads' book entries. If that contest had been something I could've voted in, I think this might've been the one that would have gotten my vote. Half Blood Blues is a remarkable book about the events in Paris, in 1940, when an amazing young blues musician named Hieronymus Falk (German; black) is arrested and never heard from again. The real bulk of the novel, though, is about and told through Sid and Chip, both what they were doing around Paris in 1940 as the world around them went to hell, and also what they're doing fifty years later, as old men who have long since lost touch with each other…but who might reconnect (despite Sid not wanting to) because of Hiero, and because of a documentary film being released about him.
It's an amazing book, page by page spectacular. A plot description doesn't do credit to the powerful works of character and language in the book, to the incredible dialog that drips off every single page. If I can ever write half so well as Esi Edugyan, I'll die a happy man.
Verdict: Buy
Really The Blues by Mezz Mezzrow and Bernard Wolfe
Really the Blues is such a weird book, and to be approached carefully, or at least I think so. On the surface of it, it seems like a pretty good biography of the rising jazz world from a guy, Mezz, who was kickin' around the back of the scene and occasionally around the front as well. But there are trickier bits, the more you know about the book and about Mezzrow himself. He was a white guy who seems to have just been kind of taken with black and jazz cultures of his time, in what was essentially enthusiastic one-man cultural appropriation. His enthusiasms and intentions were perhaps quite well-meaning and genuine, but it does change the authenticity of his narrative, because just because your intentions are good doesn't mean all the privilieges (and, key here, protections) of your being white don't magically go away. In one instance, he gets arrested and insists they list him as "Black" on the arrest report. Great, but he's still white, and will still be treated as such.
Still. If you understand this stuff and treat the book as an artifact and a misguided one at that, if you realize the difficulties inherent in the very narrative itself, then this can be an interesting book to read. I just think it's very important to know what you're getting into first. (Cultural appropriation is a fascinating topic, but that's a whole other article)
Verdict: Borrow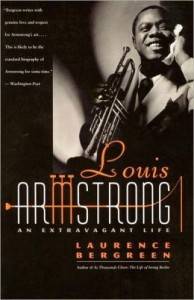 Louis Armstrong: An Extravagant Life by Laurence Bergreen
This book came out in 1998 or thereabouts, and there have been some biographies of Armstrong since then, but I haven't read them. And in truth, I don't fully remember everything about this one, because I suffer the curse of "Five Years Ago" which is that I unconsciously think the 1990s was "about five years ago-ish" and then blink and realize oh my god it was ages ago I'm so old.
At any rate, I think Louis Armstrong is a fascinating lens through which to view the rise of Blues and Jazz, given that he was there for it. He's woven into the early fabric of it everywhere. (He's even featured in Half Blood Blues, up top this list). And also, cultural significance aside, Louis Armstrong music makes me happy.
Louis Armstrong lived fast and loose in a lot of ways, perhaps not quite to the extremes of a 1980s hair metal band, but certainly in the lifestyle we might associate with the "roaring '20s." That wasn't all there was to him, though. He was a smart man, an excellent writer, and he worked hard when he was working and not living it up. A well done, clear biography of him gives you a pretty clear window into the era, into the birth and rise of a music form, and really gives you a clear idea of where to go next if your passion's been fully engaged, which I hope it has.
Verdict: Borrow
Oh heck, let's end with some more music:
[youtube]https://www.youtube.com/watch?v=io0uqrp9dco[/youtube]
(Bonus Ella Fitzgerald in that song, because she is an untouchable legend even now and the pair of them together make me happier still.)
____________________
Book Riot Live is coming! Join us for a two-day event full of books, authors, and an all around good time. It's the convention for book lovers that we've always wanted to attend. So we are doing it ourselves.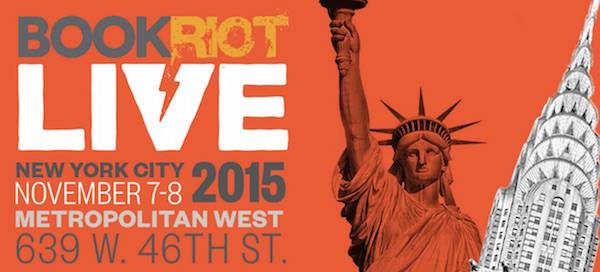 In a book lover's life, there's nothing as magical as a perfect, surprising recommendation from someone who just
gets
you. But finding those people can be tough! That's where
TBR
comes in. Go here to find out more, or just click the image below: