Critical Linking: May 24, 2015
Are you looking for books to add to your summer reading list? Ones written or illustrated by Native Americans or people of color? Ones that include characters that are Native? People of color? Disabilities? LGBTQ? Take a look at these!
Hey, look at this amazing list of diverse children's lit to read this summer. I added a pile of books to my reading plans.
____________________
"We heard about the library from one of our leaders. When we came here last Friday, we saw that steel bookcases were lying smashed on the floor, wooden bookshelves had fallen down and newspapers and magazines were scattered around," he said.
"We were moved by the sight and immediately started to work. We have come back to move the books back to the shelves. It's a huge task, but we feel proud to be part of this," said Rai.
On rebuilding the libraries damaged by the earthquake in Nepal. This stuff is fascinating because these institutions are so important for the preservation and dissemination of cultural history.
____________________
"Rural noir" is a 21st-century term used to describe a stream of American literature that has been flowing since the 19th century. We've had dark, dangerous stories set in the countryside since William Leggett's 1827 tale The Rifle. Some of the best-known writers associated with the label have suggested doing away with it, but at this point it seems futile to pretend that it doesn't exist. If your book, like mine, has an all-terrain vehicle chase or a fistfight over a deer rifle in the middle of a swamp, somebody somewhere is going to call it rural noir.
I didn't realize there was a term for these books (I dig the books AND the term), but here are 10 rural noir novels.
____________________
Punctuation is the art of clarifying how a group of words falls together into contractions, clauses, and sentences. Unfortunately, it is not at all clear how some punctuation marks should be used! Let's take a look at several popular, though confusing, punctuation marks. Even if you think you've got the topic all sewn up, it's worth having another look.
This is a nice guide to tricky punctuation. Not elitist, not condescending. Super straightforward and helpful.
____________________
Book Riot Live is coming! Join us for a two-day event full of books, authors, and an all around good time. It's the convention for book lovers that we've always wanted to attend. So we are doing it ourselves.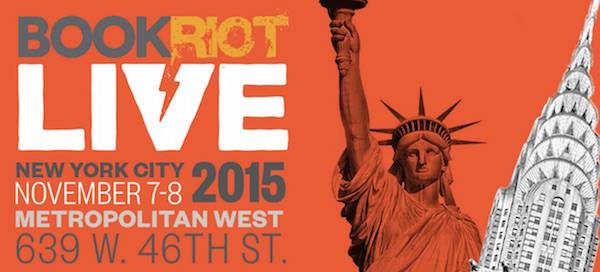 By signing up you agree to our Terms of Service
We have 10 copies of
A Gentleman in Moscow
by Amor Towles to give away to Book Riot readers!
Go here to enter for a chance to win
, or just click the image below. Good luck!