Critical Linking for May 20th, 2015
Do you get frustrated when people say "ex cetera" when they should be saying "et cetera," or "mis-pro-nounce-i-a-tion" rather than "mis-pro-nunce-i-a-tion?" Well don't get too worked up, because there might be words you're saying incorrectly, too!
I definitely do not ever mess up any of these 79 Words You've Been Saying Wrong the Whole Time. Nope. Not a chance. I get them all right. Every time.
____________________
He is a handsome, laurel-wreathed man in a toga with a fine beard and hipster moustache holding an ear of corn in one hand and a fritillary in the other. But could he be the true face William Shakespeare? The botanist and historian Mark Griffiths on Tuesday claimed that he had discovered what he firmly believes is the only demonstrably authentic portrait of Shakespeare made in his lifetime.
Hmmm. Maybe it is genuinely a portrait of Shakespeare, but in that medium and with little detail, it almost doesn't matter.
____________________
Bill wrote nineteen books—among them "American Places" (travel), "Spring Training" (baseball), "Willie and Dwike" (the jazz musicians Willie Ruff and Dwike Mitchell), "Easy to Remember" (the American songbook), and, most memorably, "On Writing Well," published in 1976, which captured "Nonfiction Workshop" between hard covers. Now in its seventh edition, it has sold more than a million and a half copies. Teaching became Bill's secular ministry, and he never stopped. For many years, he gave a course in memoir-writing at the New School. He coached entering students at the Columbia Graduate School of Journalism. He accepted invitations for teaching gigs of varying duration, all over the country. His phone number was listed, and when strangers called with writing questions, he listened and did what he could to help.
For my part, I prefer Zinsser's great On Writing Well to the great The Elements of Style. He passed away last week, and this is a heartfelt remembrance.
____________________
The Hungarian author László Krasznahorkai, whose sentences roll out over paragraphs in what his translator George Szirtes has called a "slow lava flow of narrative, a vast black river of type", has won the Man Booker International prize for his "achievement in fiction on the world stage".
The Man Booker International is a big deal, and this author sounds fascinating.
____________________
Book Riot Live is coming! Join us for a two-day event full of books, authors, and an all around good time. It's the convention for book lovers that we've always wanted to attend. So we are doing it ourselves.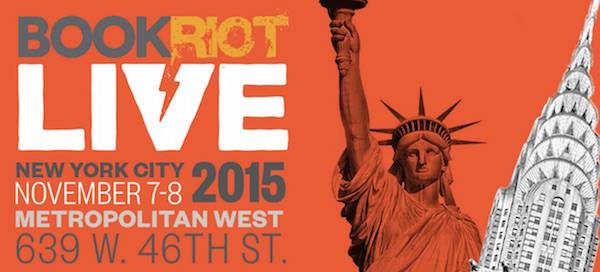 By signing up you agree to our Terms of Service
In a book lover's life, there's nothing as magical as a perfect, surprising recommendation from someone who just
gets
you. But finding those people can be tough! That's where
TBR
comes in. Go here to find out more, or just click the image below: