Critical Linking: May 19, 2015
There are some pretty great local and independent bookstores already — just look at places like Powell's and The Strand, for instance. But we've seen and read about some truly amazing ones. I don't know about you, but I can't read or watch Harry Potter and the Chamber of Secrets without wishing for a Flourish and Blott's of my own to shop in — even if it's just to look! Same goes for You've Got Mail — I know it's about a small neighborhood bookstore being crushed by a huge competitor, but I root for Meg Ryan every time anyway, despite knowing the ending.
There's just something about these fictional bookstores that never fails to make me wish I could visit them myself. The sheer size of them, the book-loving owners, the stories they hold within them — everything, really. Here are 10 of the best fictional shops I wish I could get lost in for an afternoon — or maybe a little longer. 
I'd take a visit to any or all of these fictional bookshops (I wish Women & Women First was real, too).
____________________
Part of the problem is that while art or books that white men put out is portrayed as universally appealing, culture produced by women or people of color is seen as specific to their gender or racial identity.
This piece by Jessica Valenti about sexism on your bookshelves is important — it's part of why we dedicate space to talking about the importance of diversity, of women, and other underrepresented voices in books.
____________________
Can you guess the children's book from these emojis?
I got 14 out of 15. How about you?
____________________
Book Riot Live is coming! Join us for a two-day event full of books, authors, and an all around good time. It's the convention for book lovers that we've always wanted to attend. So we are doing it ourselves.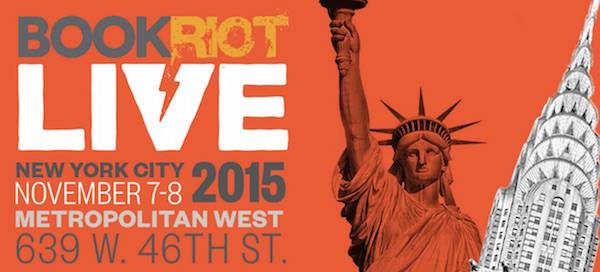 By signing up you agree to our Terms of Service
You could win a six-month subscription to an amazing Romance box!
Go here to enter for a chance to win
, or just click the image below: