Critical Linking: May 17, 2015
I don't know about you, but I can never get enough pieces about improbable, strange, and completely awesome libraries around the world.
____________________
How did you first hear about Goosebumps?

The first I heard was that Scholastic were trying out four copies of children's horror by a guy named R. L. Stine, but no one really thought they would work. I did the cover for Welcome to Dead House and got the job because I used lots of color. They thought colors would appeal to young readers. Then I did a few more, and one day I got a visit from some friends. Their kids were in middle school, and we got talking about what we'd been up to. I said, "Oh, I'm working on a series called Goosebumps." And they were like, "No, seriously? We buy tons of them. This is a really big deal!" Not long after that I started seeing them everywhere.
What did you think of the book themselves?
Well, they're not Thoreau, but they're good. And they got a lot of kids reading who would have otherwise never picked up a book.
A fun interview with the artist behind the well-known Goosebumps books covers.
____________________
Twain praised Sullivan effusively for "her brilliancy, penetration, originality, wisdom, character, and the fine literary competencies of her pen." But he reserved his highest praise for Keller herself. "You are a wonderful creature," he wrote, "The most wonderful in the world." Keller's praise of her friend Twain was no less lofty. "I have been in Eden three days and I saw a King," she wrote in his guestbook during her visit to Stormfield, "I knew he was a King the minute I touched him though I had never touched a King before." The last words in Twain's autobiography, the first volume anyway—which he only allowed to be published in 2010—are Keller's; "You once told me you were a pessimist, Mr. Clemons," he quotes her as saying, "but great men are usually mistaken about themselves. You are an optimist."
I did not know that Mark Twain and Helen Keller were friends, but I love that I do now.
____________________
The First Book of Fishing by Steven Schneider, 1952. A young person's guide to the various phases of fishing. The head librarian at the Shreve Memorial Library in Louisiana ordered the book out of circulation because of complaints that it contained illustrations of white and black children "fishing and picnicking together," the AP reported on July 21, 1959.
An interesting look at 4 children's books in the 1950s that caused a stir.
____________________
Book Riot Live is coming! Join us for a two-day event full of books, authors, and an all around good time. It's the convention for book lovers that we've always wanted to attend. So we are doing it ourselves.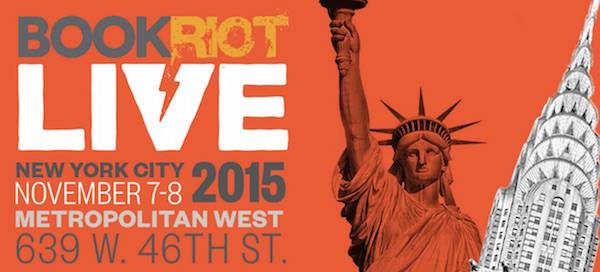 Save
By signing up you agree to our Terms of Service
You could win a six-month subscription to an amazing Romance box!
Go here to enter for a chance to win
, or just click the image below: