Critical Linking for May 14th, 2015
In the wake of the city's highly successful annual book fair comes this piece of good news: According to a recent study by the World Cities Cultural Forum, Buenos Aires has more bookstores per capita than any other major city in the world.
The Associated Press reported that with a population of 2.8 million people (within the city limits), there are 25 bookstores (734 total at last count) for every 100,000 people. Its closest competition comes from Hong Kong, which has 22 bookstores per 100,000 people.
Wow, that really does seem like a crazy high number. I wonder how US cities stack up.
(Also, Buenos Aires is blessed with this magnificent movie theater turned bookstore.)
____________________
The tool allows the publisher to deliver specific books or chapters from books in specific locations. So for instance, the publisher can make a sample chapter available to people on mobile devices in a hotels or airports or museum. They publisher can select the location and the text available in order to read readers in these places.
Simon & Schuster will test drive this new feature with David McCullough's new biography "The Wright Brothers," which will be available at National Air and Space Museum and at more than 50 major airports nationwide beginning May 15th. Visitors to the museum or travelers at the airport can read the text via the Foli app which is available for iOS or Android devices.
I think this is the first one of these "special access to ebooks based on location" ideas that really makes sense.
____________________
Discover has helped find some of the most important writers of our lifetimes. Cheryl Strayed, Jeffrey Eugenides, Joshua Ferris, Khaled Hosseini, Nick Hornby, David Mitchell, Elizabeth Gilbert…before these were household names and icons for book lovers, they were Discover Great New Writers authors. Here are just a few of the many memorable books found by the booksellers who have sat on Discover's selection committee during the past 25 years.
Happy birthday to the BN Discover program. Back when I got most of my books at BN, I used the heck out of this feature.
____________________
Book Riot Live is coming! Join us for a two-day event full of books, authors, and an all around good time. It's the convention for book lovers that we've always wanted to attend. So we are doing it ourselves.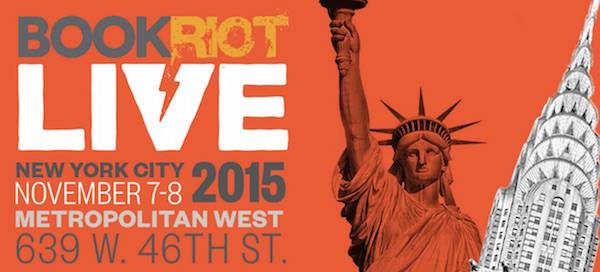 By signing up you agree to our Terms of Service
In a book lover's life, there's nothing as magical as a perfect, surprising recommendation from someone who just
gets
you. But finding those people can be tough! That's where
TBR
comes in. Go here to find out more, or just click the image below: