Critical Linking: May 12th, 2015 Evening Edition
A little evening Critical Linking for you today….
Bloom's book will be published on May 12, a moment deliciously anticipated by Christopher Buckley and Edward Sorel in the May issue of Vanity Fair. Herewith a roundup of Bloom's top 12, and a few comments from the book about why each author made the cut.
It should surprise no one that eminent literary critic Harold Bloom's list of the twelve greatest American authors is erudite, provocative, and flawed.
____________________
The Amazon editorial team has launched a young adult book club. To kick things off, I'll Give You the Sun by Jandy Nelson was chosen as the May/June 2015 read.
Gotta admit, when I think of Amazon, I don't necessarily think "YA book club." But the Goodreads integration is smart.
____________________
While slogging through Freedom, I noted many of the worst quotes about sex and set them aside to use in an article for a rainy day—or, the inevitable day when Franzen would find himself back in the news with a new book. In order to stand a chance at preventing his sex terrorism in the future, the world must remember the crimes of Franzen's past.
I warn you right now not to click on this link to Franzen's worst sex writing from Freedom. I STERNLY WARN YOU.
____________________
Book Riot Live is coming! Join us for a two-day event full of books, authors, and an all around good time. It's the convention for book lovers that we've always wanted to attend. So we are doing it ourselves.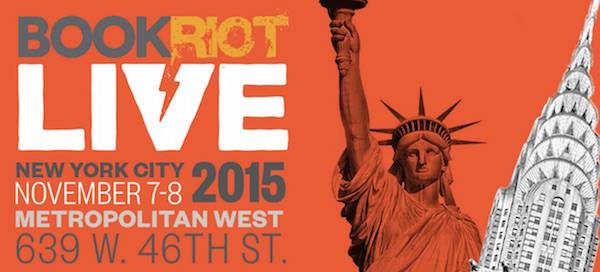 By signing up you agree to our Terms of Service
You could win a six-month subscription to an amazing Romance box!
Go here to enter for a chance to win
, or just click the image below: