Critical Linking for May 12th, 2015
Sometimes it's a lecture. Sometimes it's a particular teacher's words. Sometimes it's a lesson from a parent or a friend, or even a life experience that explodes your conception of what's possible in the world or what's possible in you. And sometimes it's a book (or ten) that changes how you think forever.
I am on a binge of books about ideas and thinking, so this list of books that will change how you think comes along at just the right time.
____________________
These boutique libraries are working to stretch our very idea about the word "library," creating a real living community around the often very lonely act of reading. "We've been taken since the beginning with this idea of the social life of the book," says Rachel Valinsky, a founding member of the alternative library space Wendy's Subway, which opened a year ago in a stark industrial space in the outer reaches of Williamsburg, Brooklyn.
It makes sense to me that alternative libraries are cropping up in these days of the so-called "sharing economy."
____________________
Amy Poehler's bestselling audiobook Yes Please is getting a limited edition vinyl pressing.
Well……ok I guess?
____________________
I talk even less about Adams' most persistent and troublesome legacy for me: he makes me want to write fiction, and not just fiction but funny sci-fi, and not just funny sci-fi but funny sci-fi that will help some other weird preteen pop-culture echolalic navigate the world. I can manage the first two bits, in dribbles, when the plug of anxiety damming up my creative impulses springs an unscheduled leak. That's no surprise; Adams wrote my inner monologue, so of course I can channel him a little.
A great appreciation of the great Douglas Adams.
____________________
Book Riot Live is coming! Join us for a two-day event full of books, authors, and an all around good time. It's the convention for book lovers that we've always wanted to attend. So we are doing it ourselves.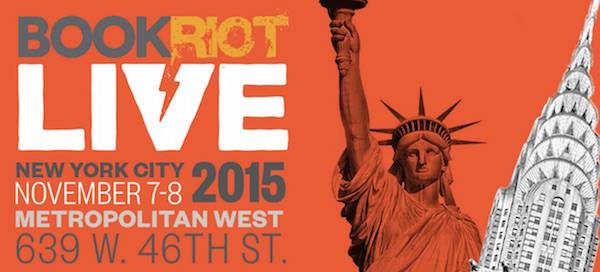 By signing up you agree to our Terms of Service
Get the New Release Index, our curated calendar of upcoming new books, with
Book Riot Insiders
: