Critical Linking for May 11th, 2015
They say reading takes you places. So do plane tickets.
We're entering peak travel season, so these 19 Books That Will Fuel Your Wanderlust will probably only exacerbate your travel itch.
____________________
George R.R. Martin's books British editor took to Twitter to complain about the ways HBO's "Game of Thrones" is deviating from the novels on which the series is based. On Monday, when the latest episode aired in England, Jane Johnson tweeted out her dismay over the apparent death of Barristan Selmy.
Just me or is it kinda of uncool that Martin's editor are publicly grinching about the changes that the TV show has made?
____________________
Amazon Publishing may have scaled back its plans to have a major New York City trade publishing presence since the departure of Larry Kirshbaum in early 2014, but the company still continues to expand its overall operation. The division is now composed of 14 imprints, based in six cities, and it's set to publish about 1,200 titles in 2015. Though it was largely focused on commercial fiction when it launched in 2009, Amazon Publishing is now increasing its investments in such nonfiction areas as narrative nonfiction, memoir, and biography, according to Jeff Belle, v-p of Amazon Publishing, who responded to questions via email.
Sounds like while Amazon's publishing had some high profile failures, the company is figuring out what works for it. Twelve hundred titles in a year is nothing to sneeze at.
____________________
From now through May 31, middle- and high-school students ages 13 to 18 are invited to submit their original short essays "about a time when food created a memory" to Cultivating Thought. Stories can be up to 1,700 words. Ten grand prize winners will be selected. Their essays will be showcased on Chiptole cups and bags, and each student will receive $20,000, deposited in a 529 college fund.
You know, I won't at all be surprised when some of these student essays are better than the essays by the celebrity authors that Chipotle initially hired.
____________________
Book Riot Live is coming! Join us for a two-day event full of books, authors, and an all around good time. It's the convention for book lovers that we've always wanted to attend. So we are doing it ourselves.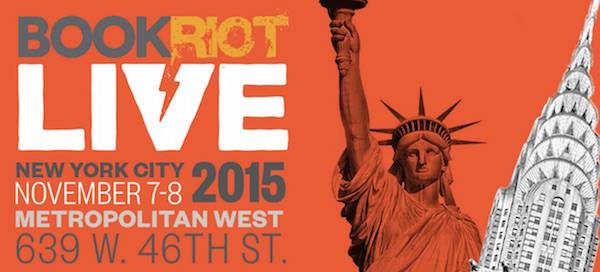 By signing up you agree to our Terms of Service
Get the New Release Index, our curated calendar of upcoming new books, with
Book Riot Insiders
: