Critical Linking: May 10, 2015
Who is up for a bookstore tour of Britain?
____________________
9. Someone paid for that prime shelf real estate.
In many big-box stores, publishers pay for good placement on "front tables, end caps and window space, in the same way General Mills and Procter and Gamble buy space for their breakfast cereals and dish detergents in the supermarkets," Andy Ross, a literary agent, told The Book Deal.
I always love a good "behind the scenes" piece, and this one is about book stores.
____________________
Of course, it's impossible to read everything. The number of books published in the world easily runs into nine figures (five years ago a software engineer working on Google Books put the figure at 129,864,880, and there are certainly a lot more titles out there now). But my literary travels have brought me into contact with a number of amazing books that deserve more attention. Below are five of my favorites to date. 
After dedicating a year to reading books from around the world, one reader picked her 5 favorites. You can never go wrong reading international lit.
____________________
The city has more bookstores per capita than any other major city in the world, according to a recent study by the World Cities Cultural Forum, an organization that works to promote culture. With a population of 2.8 million people within the city limits, there are 25 bookstores for every 100,000 people, putting Buenos Aires far above other world cities like London, Paris, Madrid, Moscow and New York. The closest is Hong Kong, which has 22 bookstores per 100,000 people.
Who's up for a trip to Buenos Aires to check out their bookstore culture?
____________________
Book Riot Live is coming! Join us for a two-day event full of books, authors, and an all around good time. It's the convention for book lovers that we've always wanted to attend. So we are doing it ourselves.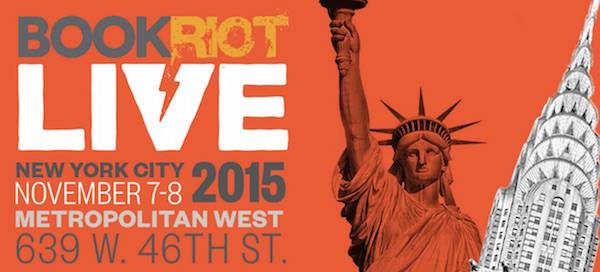 Save
By signing up you agree to our Terms of Service
Follow Book Riot on Instagram
for books. Obviously.