Critical Linking: May 9, 2015
Check out these images of writer's homes and estates (and boat houses and…)
____________________
For me, a bibliophile and literary history fiend, this was an unintentional discovery of a personal holy site I hadn't realized existed, and I don't deny closing my eyes for a minute and calling forth images of the Knight and the Nun and the Monk and the Wife of Bath as if they were walking down a contemporary London street. I had arrived, by chance, at the metaphorical birthplace of English Literature, and that place, I realized, was essentially a pub. A pub that once abutted another public house called The George Inn, the oldest traveler's inn still operating in London, a drinking establishment frequented by Samuel Pepys, and a place that, according to writer Pete Brown, is mostly likely to have been Shakespeare's watering hole. From this spot, the Tabard in the 13th century, writers and bars have been inextricably entwined ever since.
A nice little piece about literary bars — both those purposefully literary and those which have a place in literary history because of who patronized them regularly.
____________________
This post about the "real ages of children's literature characters" is hilarious.
____________________
15. You be you — a reader. Bring your passion for books to the table, and let them learn by watching what you do. Read voraciously. Talk about the people, places, and things in your books. Be engaged — and you'll engage them.
A round-up of 15 tips for starting a lifelong conversation about books and reading with kids at all ages.
____________________
Book Riot Live is coming! Join us for a two-day event full of books, authors, and an all around good time. It's the convention for book lovers that we've always wanted to attend. So we are doing it ourselves.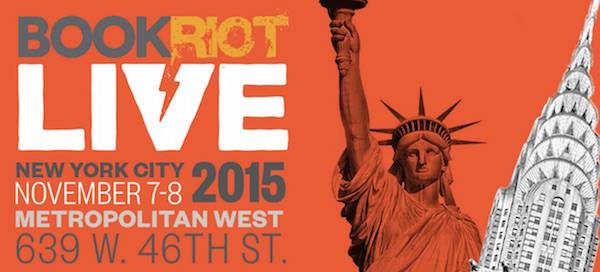 Save
By signing up you agree to our Terms of Service
We have a $250 Barnes & Noble gift card to give away!
Go here to enter
, or just click the snazzy image below. Good luck!