The List List #153
The List List is sponsored this week by Book Riot Live: the convention book lovers have always wanted. Two days of talks, discussion, panels, booths, interviews, and more. Find out more here, or click the image below.


____________________
at BuzzFeed, 14 Classic Novels Rewritten with Clickbait Titles
at The Oyster Review, 17 Books to Start a Conversation at Your Next Cocktail Party
at HuffPost Arts & Culture, 18 Brilliant Books You Won't Want to Miss This Summer
at Flavorwire, 10 Must-Read Books for May
at LitHub, 5 Great Contemporary Mexican Writers
at HuffPost Women, The 22 Best F-Bombs from Female Writers
at Comics Alliance, 50 Marvelous Marvel Comic Facts You May Not Know
at Washington Post, Obama's Favorite Books
at Bustle, 21 Books Every Woman Should Read by 35
at the Christian Science Monitor, 10 Best Books of May
at Paste, 12 of the Best New YA Books in May
Frank O'Connor International Short Story Award Long List
and…
at The Guardian, Temples of Literature: Writers' Houses in Pictures
____________________
Book Riot Live is coming! Join us for a two-day event full of books, authors, and an all around good time. It's the convention for book lovers that we've always wanted to attend. So we are doing it ourselves.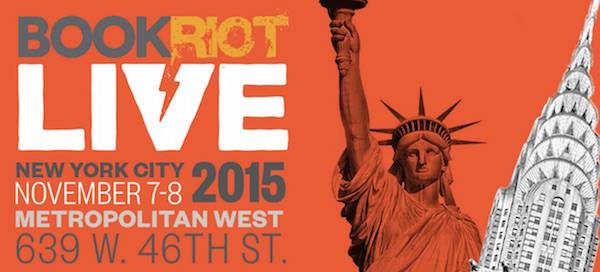 Save
Get up to 80% off books you actually want to read with our
Book Deals newsletter
!