Critical Linking for May 8th, 2015
Check the box for each word you know at least one definition for. (Don't check boxes for words you know you've seen before, but whose meaning you aren't exactly sure of.)
A pretty intense way to estimate the size of your vocabulary. I got 31,500. How about you?
____________________
David J. Peterson is perhaps the most well known linguist in Hollywood. Since 2011, he has created numerous languages for television and films, including the HBO dramatization of George R. R. Martin's Game of Thrones, the hit sci-fi show Defiance, and the language of the dark elves in both Thor films. If you need a language, Peterson is your man.
I wonder how big this guy's vocabulary is. Do you get credit for fictional languages?
____________________
Total revenue at HarperCollins rose 14% for the third quarter ended March 31, 2015, while EBITDA increased 6% over the comparable period in 2014. Excluding HC's 2014 purchase of Harlequin, however, third quarter sales were down 5% and EBITDA dropped 8% compared to the prior year, parent company News Corp reported Tuesday afternoon.
Harlequin getting it done at HC.
____________________
Book Riot Live is coming! Join us for a two-day event full of books, authors, and an all around good time. It's the convention for book lovers that we've always wanted to attend. So we are doing it ourselves.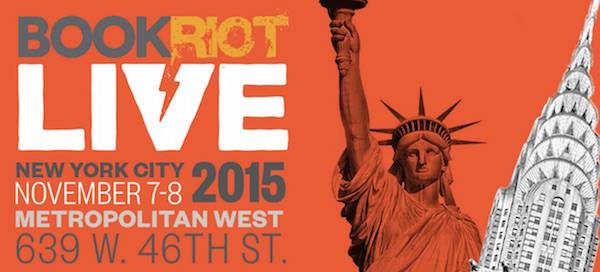 By signing up you agree to our Terms of Service
We have 5 copies of
My Sister, the Serial Killer
by Oyinkan Braithwaite to give away to Book Riot readers!
Go here
to enter for a chance to win, or just click the image below. Good luck!