20 of Your Favorite Corporate Thrillers
This Riot Recommendation is brought to you by Uncaged by John Sandford and Michele Cook.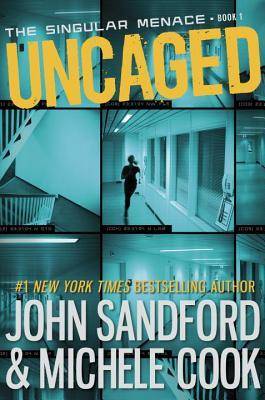 Shay Remby arrives in Hollywood with $58 and a handmade knife, searching for her brother, Odin.
Odin's a brilliant hacker but a bit of a loose cannon. He and a group of radical animal-rights activists hit a Singular Corp. research lab in Eugene, Oregon. The raid was a disaster, but Odin escaped with a set of highly encrypted flash drives and a post-surgical dog.
When Shay gets a frantic 3 a.m. phone call from Odin—talking about evidence of unspeakable experiments, and a ruthless corporation, and how he must hide—she's concerned. When she gets a menacing visit from Singular's security team, she knows: her brother's a dead man walking.
What Singular doesn't know—yet—is that 16-year-old Shay is every bit as ruthless as their security force, and she will burn Singular to the ground, if that's what it takes to save her brother.
____________________
We asked you to tell us your favorite corporate thrillers — you know, the books where the little guy (or girl or either or neither or both) takes on The Man. Here's a look at 20 of your favorites.
The Chairman by Stephen W. Frey
Cosmopolis by Don DeLillo
The Devil's Banker by Christopher Reich
Digital Fortress by Dan Brown
Disclosure by Michael Crichton
The Finder by Colin Harrison
The Firm by John Grisham
The 500 by Matthew Quirk
The Fourth Estate by John Archer
Limitless by Alan Glynn
Manhattan Nocturne by Colin Harrison
The Millionaires by Brat Meltzer
Next by Michael Crichton
Oath of Office by Michael Palmer
Paranoia by Joseph Finder
The Policy by Patrick Lynch
Rising Sun by Michael Crichton
The Select by F. Paul Wilson
Skinner by Charlie Huston
Smoke Screen by Kyle Mills
We have a $100 e-gift card to the country's only romance-only bookstore, The Ripped Bodice!
Go here to enter for a chance to win
, or just click the image below. Good luck!