Critical Linking for April 21st, 2015
Move over Washington, D.C. Minneapolis is the nation's "Most Literate City," according to an annual survey. Washington, which held the ranking for four straight years, drops to No. 2 in a ranking of the nation's 77 largest cities using data from 2014. Minneapolis was No. 3 in last year's survey.
The annual ranking of the most literate cities in the US is always interesting. And I can attest anecdotally to Minneapolis' book-loving bona fides.
____________________
Awarded to "All the Light We Cannot See" by Anthony Doerr (Scribner), an imaginative and intricate novel inspired by the horrors of World War II and written in short, elegant chapters that explore human nature and the contradictory power of technology.
The 2015 Pulitzer prizes were announced yesterday, with Anthony Doerr's All the Light We Cannot See taking the fiction award.
____________________
Random House Children's Books has increased its first printing on What Pet Should I Get?, a new picture book by the late Dr. Seuss, from 500,000 to 1 million. The book, which goes on sale July 28, was first announced in February, after the unpublished manuscript was rediscovered by Seuss's (given name, Ted Geisel), widow, Audrey Geisel, and his longtime secretary and friend, Claudia Prescott, in fall 2013.
I have to admit I am surprised that pre-release demand is so high for this. There are already more than enough Seuss books. I guess this particular theme is attractive for parents to read to their kids?
____________________
Goodreads is in the process of adding audiobook excerpts to its website. Soon GR members will find free audio samples for 180,000 Audible titles on the book listing pages. Along with the option of reading a sample from the book, GR members can now also listen to an excerpt from the audiobook. The excerpt will (should) play in a pop up window the web browser, and if you like what you hear you can the title to your "want to read" list, or you can head over to Audible and acquire the audiobook directly.
Audiobooks are eating the world. Also, a useful, subtle Amazon integration (which owns Audible) with Goodreads.
____________________
We run a pretty sweet little bookish Instagram account, if we do say so ourselves (and we do). Come check it out.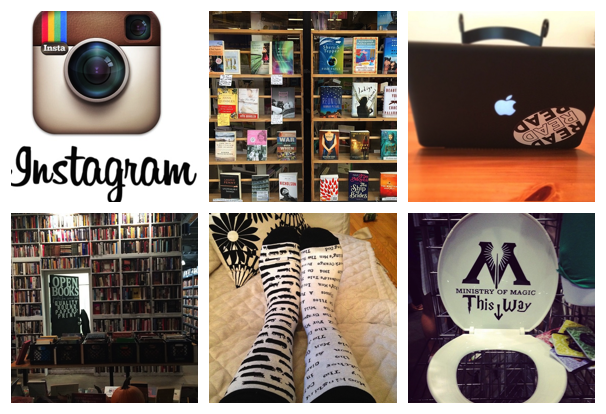 By signing up you agree to our Terms of Service