11 Quotes from Almost Famous That Are Totally About Loving Books
Listen, readers. I'm not trying to make you feel old by telling you about the anniversary of a beloved movie. You know, the way your friends do year after year on Facebook with Ghostbusters, Back to the Future, The Goonies, and the like. "Can you believe [movie] is [x] years old?!"
But I'm sorry. This year, Almost Famous turns 15.
And while the film is about journalism and loving music (as well as growing up, discovering yourself, living in the moment, friendship, and all that good stuff), it's incredibly easy to look at all of the best quotes from the film, and apply them to being a book lover.
Let's have a look, do some light editing, and toss in some .gifs.
"…if you ever get lonely, you can just go to the record book store and visit your friends."
There is no denying how comforting it is, after a hard day, to walk inside a bookstore and browse the shelves. Maybe you have a favorite used bookshop that you rummage through, finding joy in discovering old paperbacks for $1, or an indie where booksellers know you better than some of your friends. Feeling lonely? Turn to the bookshop.
"This song poem / essay / novel explains why I'm leaving home to become a stewardess."
I've yet to find a book lover that doesn't have a piece of literature, whether it's a short poem or a giant novel, that sums up something major about who they are, and where they're going.
"One day, you'll be cool. Look under your bed inside the library. It will set you free."
Swap out old vinyl under a bed for first visits to the local library, and you have the recipe for how many of us grew up. Stacks upon stacks of books to borrow, with the ability to, well, set you free.
"From here on out, I am only interested in what is real. Real people, real feelings, that's it, that's all I'm interested in."
Every couple of months, a book lover somewhere will say something just like this. Only it has to do with what they're reading. Maybe you've decided to only read non-fiction for a couple of months, or start picking up poetry or essay collections.
"Does anybody remember laughter?"
I think we've all felt like this after reading an emotionally intense, heavy book. I think I may have asked myself that question after reading Station Eleven. The tears. So many tears.
"They don't even know what it is to be a fan. Y'know? To truly love some silly little piece of music writing, or some band author, so much that it hurts."
It's true, book lovers. Some people just aren't going to get it. They're not going to understand why you've driving across the state to an indie bookshop to see an author you love in front of 25 other people, or why you spent all last night tweeting with a writer you admire. But that's okay. We get it.
"You are home."
When you're at the library. Or in your reading nook. Or a book convention. Or in your favorite bookstore…
"This is the circus. Everybody's trying not to go home."
And there's the other side of that quote. Have you ever attended a bookish convention? Book Expo America? AWP? ALA? Did you book your ticket to the upcoming Book Riot Live? Well, those book cons are the circus. The most fun kind of circus. And we never want to leave. Keep the free ARCS coming, those early hardcover advances, the signed bookplates. Don't stop.
"Literature music, you know, true music literature… chooses you."
I mean, doesn't it?
"Literature [Rock and roll's] a voice that says, 'Here I am and f*ck you if you can't understand me."
It certainly feels that way sometimes. There are books that make bold, powerful statements. That deliver commentary on the world around you. Some books are meant to challenge you, and we love them for it.
"It's all happening."
Maybe you're a reader that's decided to dive into writing. Maybe you finished your first rough manuscript, pitched your first agent, found your first agent… whatever stage you're at, "it's all happening" certainly applies.
Or, perhaps you've just started talking to one of your favorite authors on social media… and they follow you back. IT'S ALL HAPPENING.
It's about living in the moment. Sometimes that moment is written on a page, and sometimes it's something happening around you. Enjoy it, book lover. Enjoy it.
____________________
Did you know that Book Riot has a YouTube channel? We do. It's new and we are having fun with it. Check it out here.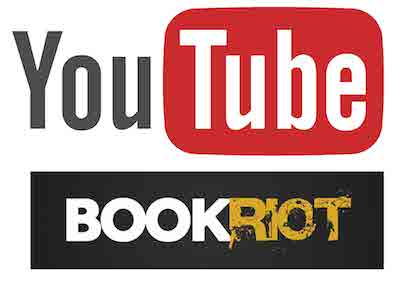 By signing up you agree to our Terms of Service
Up to 80% off books you actually want to read.