Buy Borrow Bypass: Books About Bipolar Disorder
A while back, a doctor diagnosed me with a type of bipolar disorder instead of something else I had thought I had, and I sat there blankly. She was worried I was going to panic and bolt, because apparently that's common with the diagnosis. Instead, though, I was thinking the thought that probably everyone on this site will recognize which was time to learn a lot about this by reading a lot of books.
So among everything else I was doing, I went off and read heaps about it. And the second thought that inevitably follows is there's enough books to write an article about it, because I clearly have a well-trained brain.
Even if you aren't bipolar or don't know anyone who is, I think the books make pretty good reading on their own. You probably need an interest in human psychology first, sure, but since I have a longtime obsessive interest in that, they made for compelling reading.
An Unquiet Mind by Kay Redfield Jamison
I read this book long before I had a specific interest in bipolar disorder. I read it simply because it was so highly regarded, and it dovetailed so nicely into the rest of my psychology interests, and I've re-read it a couple of times since then. The funny thing about reading this one first is, you will quickly realize it pops up in everything else written about bipolar disorder. Not just because it's an amazing book about her life and struggle with balancing it, balancing medications, figuring out how to function and stay alive and thrive in a high-pressure medical career while simultaneously losing her mind, but also because Kay Jamison herself is one of the foremost experts in the field, having written the standard medical text on the topic. The book itself is more memoir than medical text of any sort, though, and it is very enjoyable and clever and readable. As with all her excellent books, it's well worth your time.
Verdict: Buy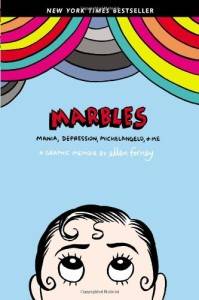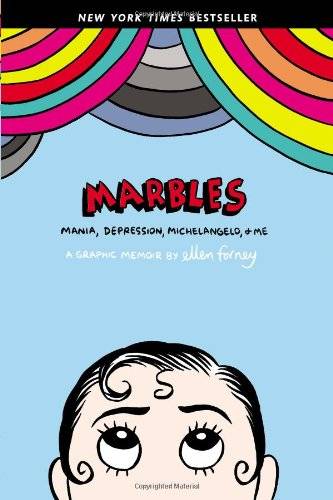 Marbles: Mania, Depression, Michelangelo, & Me by Ellen Forney
This is a graphic novel, likewise a memoir, about Ellen Forney's life before she was diagnosed, being diagnosed, not quite accepting that diagnosis, and then slowly coming to grips with it and with the medication. You'll note that these books tend to follow similar paths, because on the whole people tend to follow similar paths. Her art style is amazing, simple and cartoonish (except when it's precise and detailed), and just from her art style and storytelling alone, I realized I'll read her on any topic now. This was the book I was most excited to read, thanks to seeing some pages in a Huffington Post article about the book. When it arrived, it didn't disappoint. Go read it. Go read everything by her. It's definitely Not For Kids, but it's all excellent.
Verdict: Buy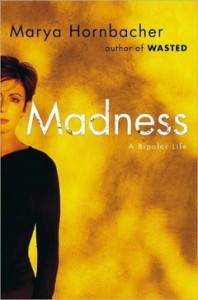 Madness: A Bipolar Life by Marya Hornbacher
Mary Hornbacher's memoir of being insanely out of control, diagnosed, and then alternating between dealing with it and not dealing with it (and spiraling badly out of control) is a mile-a-minute book, one of those memoirs I wind up blazing through in a single day. It can be dark, sad, and brutal in places, but there's a lot of humor in it too. Much like Ellen Forney, I finished the book realizing I wanted to read everything else by Hornbacher, just because I had enjoyed her writing style so much. I think that of the books I've mentioned so far, this one would be the easiest to pick up and casually read, whether you were looking for information, or simply a good read.
Verdict: Buy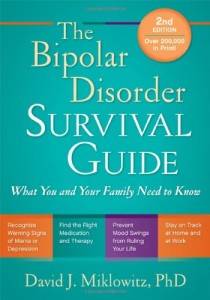 The Bipolar Disorder Survival Guide by David J. Miklowitz, PhD
I'll be honest with you- I only ordered this one because it was on the "customers also bought" bar, and I needed one more book in my order before I got free shipping and I thought what the hell. Between the title and the cover, it looks like a dorky self-help sort of book, a What to Expect When You're Expecting kind of book. Which is fine if you're into those things, but I'm not, that's all.
I was pleasantly surprised when I got into it eventually, however. It isn't a memoir but has plenty of people's stories throughout, interspersed with the book's main function which is to offer a lot of information. It's all very readable, it's a pleasure to read, and I found myself genuinely enjoying it, regardless of information gathering. The cover and title are pretty bad, though, let's be honest. I know it's stupid but this was one I read only at home, because I just didn't want to carry around that book.
Apart from the stories about people, and apart from the readable quality of the book, there's an awful lot of really useful,well-organized information in here. So even after you've gone through it, it's very easy to dip in and out when you have a question or are just looking for a succinct way to explain something. This is also a great book (and perhaps less alarming than the memoirs) for someone trying to understand bipolar because a friend or loved one has it.
Verdict: Borrow first. Then Buy if it suits you.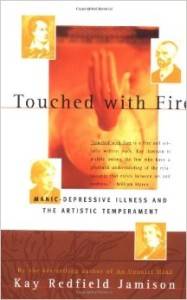 Touched With Fire: Manic-Depressive Illness and the Artistic Temperament by Kay Redfield Jamison
One of the key words in all of the other books I've mentioned is "readable," and I am much less confident that that one applies here. Despite that, this is still a remarkable book. Drawing on her extensive medical knowledge and combining it with her likewise extensive literary knowledge, Kay Jamison goes back through history and looks at artists, musicians, poets, authors, and so forth. She looks at their lives, the clues left behind in their works and their letters, their periods of productivity and the cycles of their moods, and their family histories, and she extrapolates a tremendous amount of information about them. Whether we're talking in great detail about Lord Byron, Vincent Van Gogh, the composer Schumann, or so many others, we get a fascinating glimpse as the artistic mind, a mental condition, and all the myriad ways they can overlap.
What I mean about readability is, it's less readable than the others. It is certainly very readable and an immense treasure trove of information, lots of it really cool. It's just that you have to be very interested in literary biography (I am!) and psychology (I am!!) before delving into it. It's a thick book, and a very detailed one. If it suits you though, you'll love it.
Verdict: Borrow
____________________
Expand your literary horizons with New Books!, a weekly newsletter spotlighting 3-5 exciting new releases, hand-picked by our very own Liberty Hardy. Sign up now!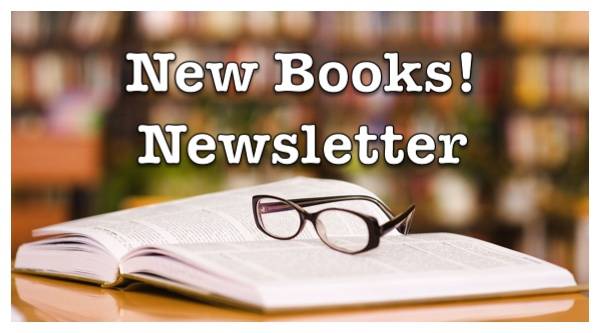 Enter to win
$250 to spend at Barnes and Noble!