Inbox/Outbox: March 27, 2015
Whoo! It's been a crazy couple weeks. The sun is making regular appearances, and I'm spending lots of quality time with the chaise in the back yard with my face in a book. Let's do highlights!
Inbox (Books Acquired)
The Fishermen by Chigozie Obioma (Little, Brown & Company, April 14) – When a bunch of Rioters start talking about a book being the most pageturning, can't-put-it-down book they've read in a long time, you better bet I pay attention. This debut novel is about what happens when four brothers in a Nigerian town in the 1990s meet a madman whose prophecy of violence threatens their close-knit family. I'm looking forward to letting it hook me (puns!) real soon.
The Given World by Marian Palaia (Simon and Schuster, April 14) – This novel about post-Vietnam America has just started to pop up on my radar, and the building buzz has me interested. The Lorrie Moore blurb on the cover doesn't hurt, either!
Outbox (Books Finished)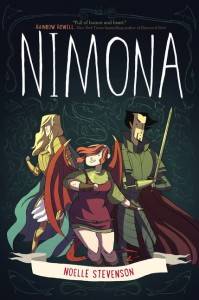 Nimona by Noelle Stevenson (HarperTeen, May 12) –This print adaptation of the popular webcomic by Lumberjanes writer Stevenson is practically perfect in every way. There's adventure, capers, monsters, magic potion, evil plotting, and so much heart in this story, and it just oozes charm and fun. Bonus points for clever jokes and pop culture references! This one's great for adults and kids alike.
Unabrow: Misadventures of a Late Bloomer by Una Lamarche (Plume, March 31) – This humorous memoir-slash-essay-collection has everything I want in a coming-of-age story: self-deprecating jokes, embarrassing teenage hijinks, grooming mishaps, and real-talk wisdom. I read it one sitting, and I highly recommend that you do the same with a boozy lemonade on a sunny afternoon.
The Tusk That Did the Damage by Tania James – I probably would have skipped over this novel about the ivory trade (because that's not quite my bag) if it weren't for having heard that one of the narrative perspectives was that OF AN ELEPHANT, and I'm so glad I didn't miss it. All three narrative voices here are interesting, but the elephant's is by far the best, and that is saying an awful lot. What a huge risk for a writer to take! It's gutsy, and it pays off in a big way.
In the Queue (What I'm Reading Next)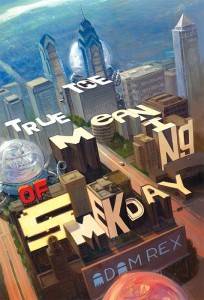 The True Meaning of Smekday by Adam Rex – I've been meaning to read this for YEARS, and now that Home, the movie inspired by it, is out, I can't wait any longer. Gonna dive in over the weekend and go see it next week.
Getting Things Done by David Allen – The first edition of this book has been the bible of my working life for the last 4 years, and I cannot tell you how excited I am to read an updated take for life in the digital age. All my productivity nerd bells are ringing!
That wraps it up for me. What have y'all been reading lately?
____________________
Men's and women's tees are on sale for $20, and kids' for $15, at the Book Riot Store!
Do you like podcasts like
This American Life, RadioLab, or Planet Money
?
Annotated
is kinda like those, but for books. Go
here to find out more
, or click the image below: