Critical Linking for March 26th, 2015
One wing of this library, the Manual for Civilization, aims to compile a collection of 3,500 books in the Foundation's physical space—books deemed most likely to "sustain or rebuild civilization." To begin the project, various future-minded contributors have been asked to make their own lists of books to add. The first list comes from musician/composer/producer/musical futurist and founding board member Brian Eno, who named the foundation. Other notable contributors include Long Now Foundation president Stewart Brand and board member and co-founder of Wired magazine Kevin Kelly. Below, see the first ten titles from each of these futurist's lists, and further down, links to the full list of contributors' selections so far.
This project to catalog books that could be used to rebuild civilization seems like an interesting thought experiment. What books would you pick?
___________________
Jeff Wysaski, public prankster extraordinaire, is at it again with a new series of hilarious bookshop pranks from his critically acclaimed "Obvious Plant" fake publishing company. After planting fake book store sections, he has now planted self-help books with fake covers for unsuspecting shoppers to discover as they browse the aisles of an unnamed bookstore in West Hollywood.
Pretty dang funny.
____________________
For instance, usually when you hear about the plateauing of ebook sales, you are actually hearing about the sales of ebooks from major publishers in relation to the sales of print books from those same publishers. That's a crucial qualification. But sales of ebooks from these publishers is just a fraction of overall e-reading. By other accounts, which try to shine light on ebook adoption by looking at markets like Amazon (which accounts for a scary two-thirds of ebook sales), show that a huge and growing percentage of ebooks are being sold by indie publishers or authors themselves rather than the bigs, and a third of them don't even have ISBNs, the universal ID used to track most books.
Very very interesting. Stats seem to show that ebooks sales have stalled at about one-third of books sales. But maybe as a percentage of books read, the numbers might be radically different.
_____________________
"We are delighted to learn The Seattle Public Library is now a Safe Place site partner," said Laurie Jackson, President & CEO of National Safe Place Network. "We know youth spend a lot of their time in libraries and oftentimes, youth who feel they have no place to go will enter libraries to use computers and access information. Thanks to Seattle Public Library, young people can go to any of the 27 library branches and get connected to immediate help and safety."
Please, tell me again how libraries are no longer relevant in the digital age.
______________________
We run a pretty sweet little bookish Instagram account, if we do say so ourselves (and we do). Come check it out.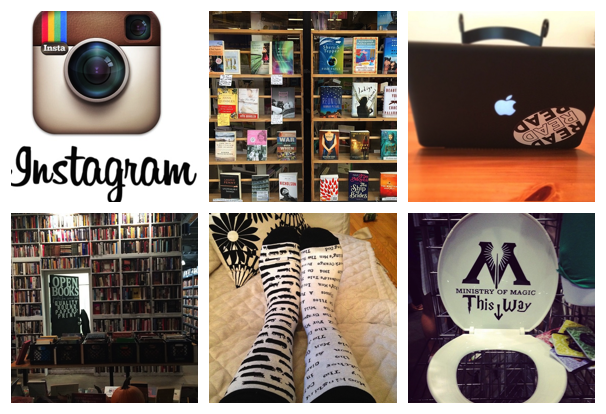 By signing up you agree to our Terms of Service
It's here. A
14-day free trial
for Book Riot Insiders ★★★