Critical Linking: March 21, 2015
The Amazing World of Dr. Seuss Museum, which its leaders estimate will cost more than $3 million when all done, is being developed by the Springfield Museums in the institution's downtown complex. The first floor, scheduled to open in June 2016, will be a children's museum, offering pint-sized recreations of local landmarks that inspired Seuss's books. The second floor, which is expected to debut in 2017, will showcase Seuss art and artifacts.
____________________
There's a persistent tendency to assume that romance fans read only on a single level. Either we're housewives fluttering against the confinement of the patriarchy like moths at a kitchen window, or we're deluded foot soldiers in the backlash to the feminist movement, or we're dowds somehow simultaneously repressed and sex-crazed. What so many critics miss is that it's perfectly possible to roll your eyes at yet another hero with jet, an island and an overinflated sense of his own authority; arch your brow at the fucked-up gender politics of a particular scene; cheer when the heroine reads the hero the riot act; and swoon at the emotional climax.
I find feminist readings of romance, Harlequins included, very persuasive. But I'm sure you could find plenty of women who insist they like their favorite authors or lines because men are men and women are women and by God they know the difference. These books are surprisingly capable of bearing the weight of multiple meanings. "I think people read for different reasons, that's the truth," Morgan added.
This history of Harlequin is long but totally fascinating.
____________________
Imagine walking into the home of a recently deceased resident after getting a mysterious phone call about a massive collection of maps. That's what happened to Glen Creason, the map librarian at Los Angeles Central Library and author of Los Angeles in Maps. Creason walked out of the home with boxes of historical maps and coveted city guides that instantly doubled the library's collection. L.A.-based filmmaker Alec Ernest captured the story of Creason and an unknown map collector named John Feathers in a mesmerizing short film about the beauty and power of physical objects, and the strange passions people have for them. Ernest's film inspired us to travel libraries around the world and explore their unique and sometimes bizarre collections.
These unique library collections are great. Some are even open to the public.
____________________
From action-packed thrillers to open world fantasies, authors pop up in quite a couple fantastic videogames. Here are five of the best of the best original characters in gaming… that just happen to enjoy writing when they aren't battling the forces of evil.
Play the role of a fake author in these video games featuring fictional authors.
____________________
We run a pretty sweet little bookish Instagram account, if we do say so ourselves (and we do). Come check it out.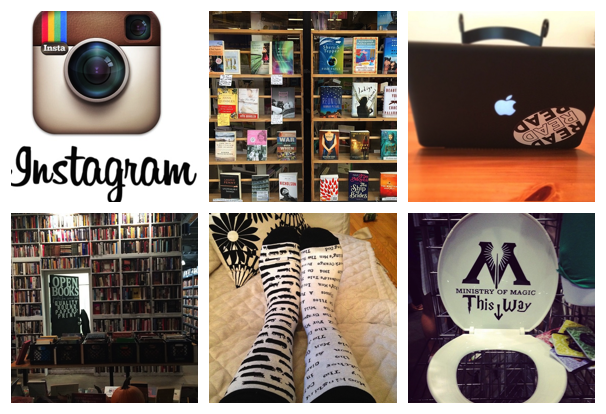 By signing up you agree to our Terms of Service
The best all-around ereader is now even better. Better because it is waterproof. Read in the bath. On the beach. In the shower. And we have one to give away! Go
here to enter for a chance to wi
n
, or just click on the image below. Good luck!