Critical Linking for March 9th, 2015
More than 5,000 of you nominated. More than 60,000 of you voted. And now the results are in. The winners of NPR's Top 100 Science-Fiction and Fantasy survey are an intriguing mix of classic and contemporary titles.
This site takes interesting lists and makes them into checklists, which is a cool way to interact with lists like this one of the 100 greatest fantasy and science fiction titles. (Interesting also that the average person has read 24. How did you do?)
____________________
"If there is some sort of battle line being drawn for and against ogres and pixies appearing in books, I am on the side of ogres and pixies," he said. "I had no idea this was going to be such an issue. Everything I read about [The Buried Giant], it's all 'Oh, he's got a dragon in his book' or 'I so liked his previous books but I don't know if I'll like this one'.
It's weird now that big name writers are arguing over who is MORE genre.
_____________________
Me—I'm in! Mind you, I'm a fan of all the betentacled linguistic lifeforms that have emerged from our cambrian explosion online. These days, people write insanely more text than they did before the Internet and mobile phones came along. So the volume of experimentation is correspondingly massive and, for me, delightful. One joy of our age is watching wordplay evolve at the pace of E.coli.
Great post on the house style of today's internet.
______________________
The store is planning to use the beacons to promote sale items and can send promotional discounts based on where the student is standing in the store. The beacons can also be moved to an arena to broadcast promotions to students with the app at a game. The Traverse system will track how and where conversions occur. Other stores taking part in the pilot are planning a soft launch in April.
Here are a bunch of ideas for using in-store beacons in bookstores. And they all sound terrible.
____________________
We run a pretty sweet little bookish Instagram account, if we do say so ourselves (and we do). Come check it out.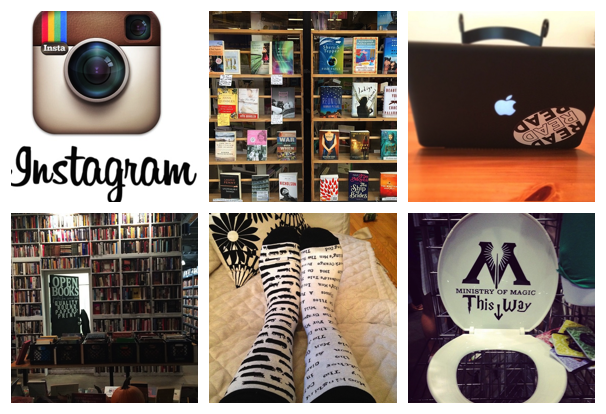 By signing up you agree to our Terms of Service
In a book lover's life, there's nothing as magical as a perfect, surprising recommendation from someone who just
gets
you. But finding those people can be tough! That's where
TBR
comes in. Go here to find out more, or just click the image below: