Buy, Borrow, Bypass: January 19, 2015
I've been lucky enough to find eclectic books to read this month that are beautiful and weird and lovely in all sorts of ways. So there's no theme to this installment of "Buy, Borrow, Bypass" this time around—except that all of these are amazing even as they are very, very different from one another.
Act of God by Jill Ciment (March 3, Pantheon) 
I knew this book and I were going to get along as soon as I saw its first Library of Congress subject heading: "1. Mold (Fungi)—Fiction." Yep. It's a novel about fungus. But beyond that initial—and oh-so-right—bit of silly glee, Act of God is actually a beautiful, tightly controlled, and fascinating exploration of all manner of topics and themes: community, property, performance, immigration, archives, memory, materialism, urban life, and more. Telling the story of a deadly mold outbreak in a hot and humid New York City, Act of God begins with the residents (legal and not) of one Brooklyn neighborhood and then follows them as their houses are burned and and they disperse. It's more tightly-focused and people-centered than most epidemic fictions, which may or may not be a good thing, depending on your tastes. (If you're looking for either scheming bureaucrats or swashbuckling CDC agents, don't look here.) Both plotting and writing are very strong, and the moody, slow-burn fascination of the story makes this one a winner.
Verdict: Buy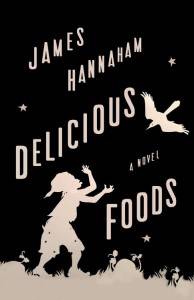 Delicious Foods by James Hannaham (March 17, Little, Brown)
Delicious Foods is a peculiar book: it jumps around in time, it starts with an unexpected double-hand-amputation, the narration shifts styles between chapters, and—this at first made me wary then won me over most of all—some of those chapters are narrated by crack cocaine. It's a novel about race and economic inequality, about the persistence of segregation and the violence of farm labor practices. But it usually doesn't feel like that, that big and impersonal; it feels like the story, odd and delirious and spectacular, of one woman and her son.
Verdict: Buy it buy it buy it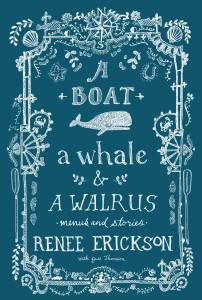 A Boat, a Whale & a Walrus by Renee Erickson,
This book made me seriously homesick. It's book of menus—with recipes and explanations and stories and gorgeous pictures—by the chef/co-owner of several Seattle restaurants, and it's full of images and anecdotes and ingredients destined to make this Puget-Sound-raised Rioter feel nostalgic. But I'm pretty sure that, even if I wasn't still a Western Washingtonian at heart, I'd still love this book. It's absolutely beautiful, with perfect layout and lovely pictures, but images don't overwhelm the recipes. It's nicely chatty, with advice and reminiscences from Erickson peppered throughout, but it's not annoyingly so. It's divided into seasons, with a case made for seasonal and local eating, but that case is woven into the stories and menus. The recipes range from the simple (a delicious carrot-potato gratin with all of three or four ingredients and two steps) to the complex (from-scratch smoked salmon)—and I want to make every last one of them.
Verdict: Buy (I borrowed it first and then had to buy a copy—you get to skip the first step)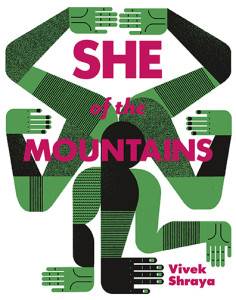 She of the Mountains by Vivek Shraya
This is a beautiful, beautiful book, illustrated with odd and enthralling drawings (check out that cover!) and written in a style both immediate and ethereal. She of the Mountains weaves together a queer coming-of-age story and a reimagining of Hindu mythology, using the interplay between them to explore questions of love and sex and creation and destruction. She of the Mountains, with its interest in the relationship between sexuality and religion, and its mixed styles, reminded me quite a bit, if oddly of R. Zamora Linmark's Rolling the R's. From me, that's an ultimate compliment.
Verdict: Buy
____________________
Expand your literary horizons with New Books!, a weekly newsletter spotlighting 3-5 exciting new releases, hand-picked by our very own Liberty Hardy. Sign up now!