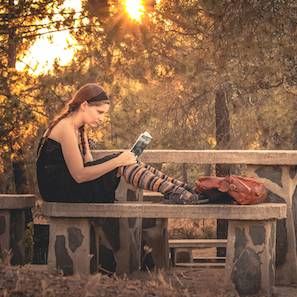 Featured
2015 YA Fiction Preview: 105 Titles For Your January – March Radar
Now that the calendar has turned over, it's time to prepare your to-be-read lists for what's coming out in 2015. Like last year, I've got a round-up of the YA fiction hitting shelves that should be on your radar, but rather than try to project 6 months ahead, I'm going to break these into four quarterly posts this year. I can include more titles and a wider variety of titles.
The books on this round-up will hit shelves between January and the end of March. I've included books in a series only when it's the first in a series; there will be a series to-watch-for list in the future to cover those middle and end titles publishing this year.
Get ready to dig into another excellent year in YA fiction, starting with this huge list of 105 titles. There is something for every kind of reader to find.
January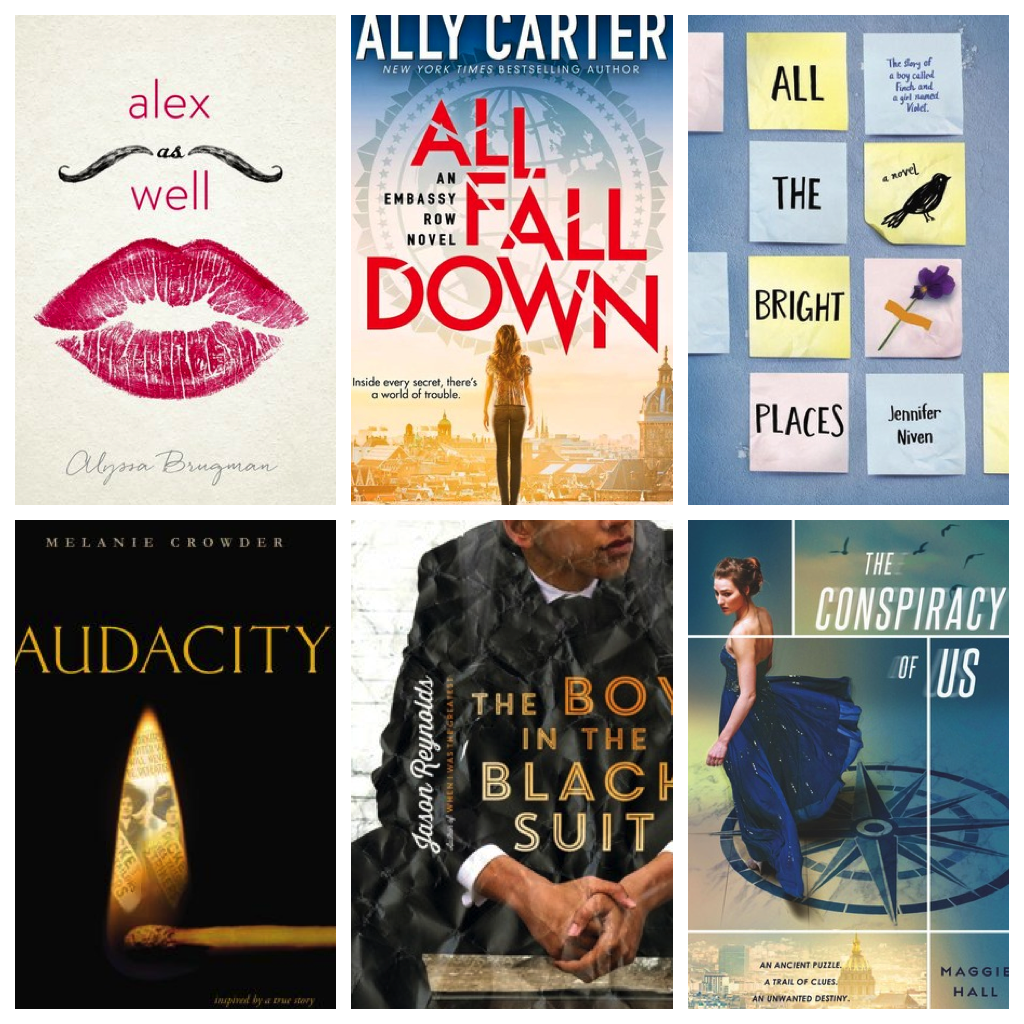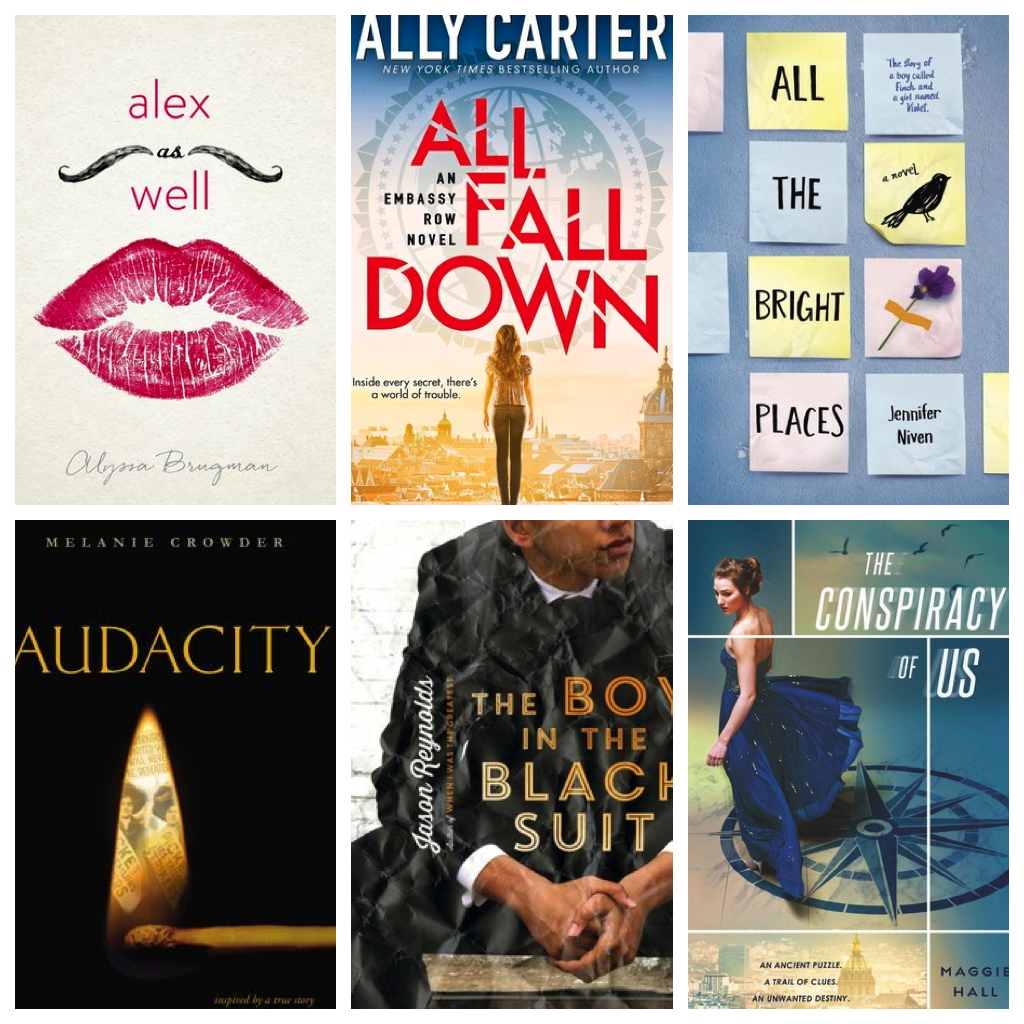 1. Alex As Well by Alyssa Brugman (Henry Holt): Alex is ready for things to change, in a big way. Everyone seems to think she's a boy, but for Alex the whole boy/girl thing isn't as simple as either/or, and when she decides girl is closer to the truth, no one knows how to react, least of all her parents. Undeterred, Alex begins to create a new identity for herself: ditching one school, enrolling in another, and throwing out most of her clothes. But the other Alex—the boy Alex—has a lot to say about that.
2. All The Bright Places by Jennifer Niven (Knopf): Theodore Finch is fascinated by death, and he constantly thinks of ways he might kill himself. But each time, something good, no matter how small, stops him.
Violet Markey lives for the future, counting the days until graduation, when she can escape her Indiana town and her aching grief in the wake of her sister's recent death.
When Finch and Violet meet on the ledge of the bell tower at school, it's unclear who saves whom. And when they pair up on a project to discover the "natural wonders" of their state, both Finch and Violet make more important discoveries: It's only with Violet that Finch can be himself—a weird, funny, live-out-loud guy who's not such a freak after all. And it's only with Finch that Violet can forget to count away the days and start living them. But as Violet's world grows, Finch's begins to shrink.
3. All Fall Down by Ally Carter (Scholastic): Grace can best be described as a daredevil, an Army brat, and a rebel. She is also the only granddaughter of perhaps the most powerful ambassador in the world and Grace has spent every summer of her childhood running across the roofs of Embassy Row.
Now, at age sixteen, she's come back to stay – in order to solve the mystery of her mother's death. In the process, she uncovers an international conspiracy of unsettling proportions, and must choose her friends and watch her foes carefully if she and the world are to be saved.
4. Audacity by Melanie Crowder (Philomel): A goregously told novel in verse written with intimacy and power, Audacity is inspired by the real-life story of Clara Lemlich, a spirited young woman who emigrated from Russia to New York at the turn of the twentieth century and fought tenaciously for equal rights. Bucking the norms of both her traditional Jewish family and societal conventions, Clara refuses to accept substandard working conditions in the factories on Manhattan's Lower East Side. For years, Clara devotes herself to the labor fight, speaking up for those who suffer in silence. In time, Clara convinces the women in the factories to strike, organize, and unionize, culminating in the famous Uprising of the 20,000.
5. Boy in the Black Suit by Jason Reynolds (Antheneum): Matt wears a black suit every day. No, not because his mom died—although she did, and it sucks. But he wears the suit for his gig at the local funeral home, which pays way better than the Cluck Bucket, and he needs the income since his dad can't handle the bills (or anything, really) on his own. So while Dad's snagging bottles of whiskey, Matt's snagging fifteen bucks an hour. Not bad. But everything else? Not good. Then Matt meets Lovey. She's got a crazy name, and she's been through more crazy than he can imagine. Yet Lovey never cries. She's tough. Really tough. Tough in the way Matt wishes he could be. Which is maybe why he's drawn to her, and definitely why he can't seem to shake her. Because there's nothing more hopeful than finding a person who understands your loneliness—and who can maybe even help take it away.
6. The Conspiracy of Us by Maggie Hall (Putnam Juvenile): To fight her destiny as the missing heir to a powerful and dangerous secret society, sixteen-year-old Avery West must solve an ancient puzzle in a deadly race across Europe. Forbidden love and code-breaking, masked balls and explosions, destiny and dark secrets collide in this romantic thriller, in the vein of a YA DaVinci Code.
Avery West's newfound family can shut down Prada at the Champs-Elysees when they want to shop in peace, and can just as easily order a bombing when they want to start a war.
They are part of a powerful and dangerous secret society called the Circle of Twelve, and Avery is their missing heir. If they discover who she is, some of them will want to use her as a pawn. Some will want her dead.
To thwart their plans, Avery must follow a trail of clues from the landmarks of Paris to the back alleys of Istanbul and through a web of ancient legends and lies. And unless she can stay one step ahead of beautiful, volatile Stellan, who knows she's more than she seems, and can decide whether to trust mysterious, magnetic Jack, she may be doomed after all.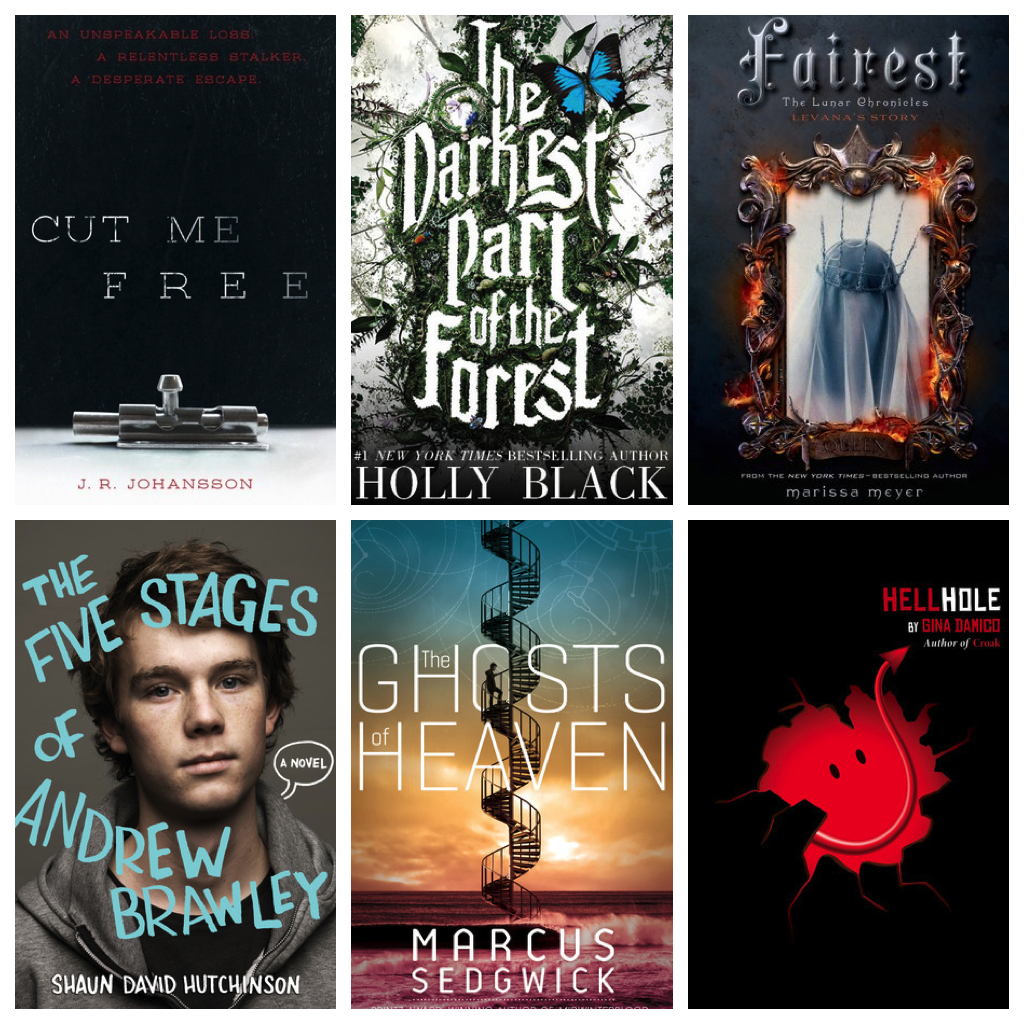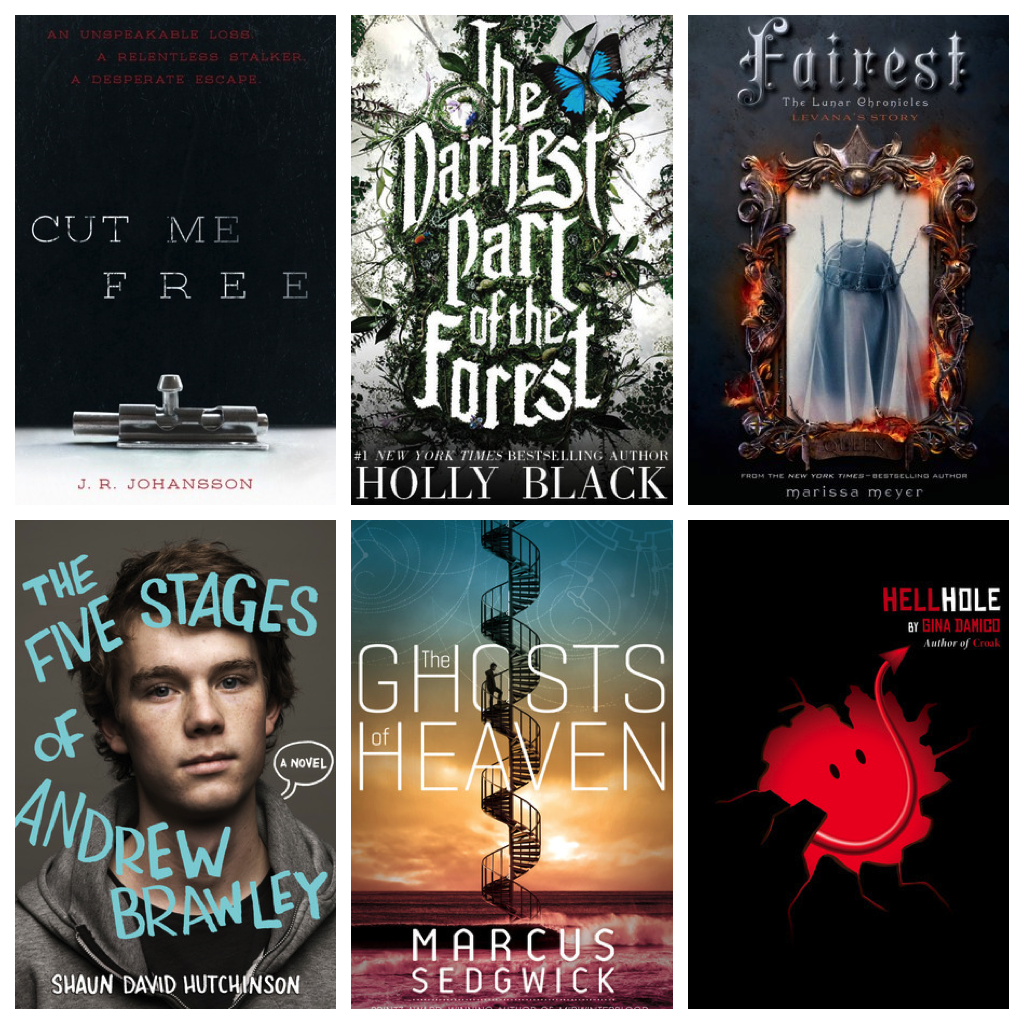 7. Cut Me Free by J. R. Johansson (FSG): Seventeen-year-old Charlotte barely escaped from her abusive parents. Her little brother, Sam, wasn't as lucky. Now she's trying to begin the new life she always dreamed of for them, but never thought she'd have to experience alone. She's hired a techie-genius with a knack for forgery to remove the last ties to her old life. But while she can erase her former identity, she can't rid herself of the memories. And her troubled history won't let her ignore the little girl she sees one day in the park. The girl with the bruises and burn marks.
That's when Charlotte begins to receive the messages. Threatening notes left in her apartment–without a trace of entry. And they're addressed to Piper, her old name. As the messages grow in frequency, she doesn't just need to uncover who is leaving them; she needs to stop whoever it is before anyone else she loves ends up dead.
9. Fairest by Marissa Meyer (Feiwel & Friends): In this stunning bridge book between Cress and Winter in the bestselling Lunar Chronicles, Queen Levana's story is finally told.
Mirror, mirror on the wall,
Who is the fairest of them all?
Fans of the Lunar Chronicles know Queen Levana as a ruler who uses her "glamour" to gain power. But long before she crossed paths with Cinder, Scarlet, and Cress, Levana lived a very different story – a story that has never been told . . . until now.
10. The Five Stages of Andrew Brawley by Shaun David Hutchinson (Simon Pulse): Andrew Brawley was supposed to die that night. His parents did, and so did his sister, but he survived.
Now he lives in the hospital. He serves food in the cafeteria, he hangs out with the nurses, and he sleeps in a forgotten supply closet. Drew blends in to near invisibility, hiding from his past, his guilt, and those who are trying to find him.
Then one night Rusty is wheeled into the ER, burned on half his body by hateful classmates. His agony calls out to Drew like a beacon, pulling them both together through all their pain and grief. In Rusty, Drew sees hope, happiness, and a future for both of them. A future outside the hospital, and away from their pasts.
But Drew knows that life is never that simple. Death roams the hospital, searching for Drew, and now Rusty. Drew lost his family, but he refuses to lose Rusty, too, so he's determined to make things right. He's determined to bargain, and to settle his debts once and for all.
But Death is not easily placated, and Drew's life will have to get worse before there is any chance for things to get better.
11. The Ghosts of Heaven by Marcus Sedgwick (Roaring Brook Press): Four linked stories boldly chronicle madness, obsession, and creation through the ages. Beginning with the cave-drawings of a young girl on the brink of creating the earliest form of writing, Sedgwick traverses history, plunging into the seventeenth century witch hunts and a 1920s insane asylum where a mad poet's obsession with spirals seems to be about to unhinge the world of the doctor trying to save him. Sedgwick moves beyond the boundaries of historical fiction and into the future in the book's final section, set upon a spaceship voyaging to settle another world for the first time. Merging Sedgwick's gift for suspense with science- and historical-fiction, Ghosts of Heaven is a tale is worthy of intense obsession.
12. Hellhole by Gina Damico (HMH Books for Young Readers): There was a time when geeky, squeaky-clean Max Kilgore would never lie or steal or even think about murder. Then he accidentally unearths a devil, and Max's choices are no longer his own. The big red guy has a penchant for couch surfing and junk food—and you should never underestimate evil on a sugar high.
With the help of Lore, a former goth girl who knows a thing or two about the dark side, Max is racing against the clock to get rid of the houseguest from hell before time, and all the Flamin' Hot Cheetos this side of the fiery abyss, run out.
14. I Was Here by Gayle Forman (Viking Juvenile): When her best friend Meg drinks a bottle of industrial-strength cleaner alone in a motel room, Cody is understandably shocked and devastated. She and Meg shared everything—so how was there no warning? But when Cody travels to Meg's college town to pack up the belongings left behind, she discovers that there's a lot that Meg never told her. About her old roommates, the sort of people Cody never would have met in her dead-end small town in Washington. About Ben McAllister, the boy with a guitar and a sneer, who broke Meg's heart. And about an encrypted computer file that Cody can't open—until she does, and suddenly everything Cody thought she knew about her best friend's death gets thrown into question.
15. Infected by Sophie Littlefield (Delacorte): Carina's senior year is spiraling downward. Fast. Both her mother and her uncle, the only two family members she's ever known, are dead. Their deaths were accidents, unfortunate results of the highly confidential research they performed for a national security organization. Or so she's been told.
She's not buying it.
After finding a unique code hidden beneath the stone in a ring her mother left to her, Carina goes straight to the only family she has left: her boyfriend, Tanner.
The people Carina loved kept dangerous secrets. Secrets that make her question the life she's been living up to now. Her life is on the line, but more importantly, so is Tanner's. And if she fails? He dies.
16. Killing Time in Crystal City by Chris Lynch (Simon & Schuster Books for Young Readers): Crystal City called for him, and Kevin answered. And why wouldn't he? His relationship with his father is broken—as is his arm. With barely anyone to miss him or care if he's gone, it seemed like the perfect time for Kevin to run away to his estranged uncle and create an entirely new identity. New name. New attitude. New friends. Maybe even a new girl.
From the first moment of adventure, Kevin's life takes a turn for the exciting. Making friends seems easy with his new persona, especially when a group of homeless beach bums instantly includes him in their crew. But do they like the real Kevin, or the guy he's pretending to be? And will this new lifestyle help Kevin escape from the misery of his former life—or will it drag him right back into the reasons he left home?
17. The Law of Loving Others by Kate Axelrod (Razorbill): The car glows with that careless feeling before the freedom of winter break as Emma drives home from boarding school with her boyfriend, Daniel. But when Emma calls to tell her mom she'll be home before dinner, something is wrong. Just hours after Emma returns home, she realizes that her mom is suffering from a schizophrenic break. Emma's entire childhood and identity is called into question. How could the woman who sent huge care packages of candy to sleep away camp be the same woman duct taping their windows to keep out the voices in her head? In her search for answers, Emma lands on a terrible possibility: schizophrenia is genetic. Emma could have only a few more years of sanity. Emma could end up just like her mom.
In the span of just one winter break, Emma's life falls apart. Her relationships alter forever and she is forced to see the hard reality in a line from Anna Karenina: "The law of loving others could not be discovered by reason, because it is unreasonable."
18. Love, Lucy by April Lindner (Poppy): While backpacking through Florence, Italy, during the summer before she heads off to college, Lucy Sommersworth finds herself falling in love with the culture, the architecture, the food…and Jesse Palladino, a handsome street musician. After a whirlwind romance, Lucy returns home, determined to move on from her "vacation flirtation." But just because summer is over doesn't mean Lucy and Jesse are over, too.
In this coming-of-age romance, April Lindner perfectly captures the highs and lows of a summer love that might just be meant to last beyond the season.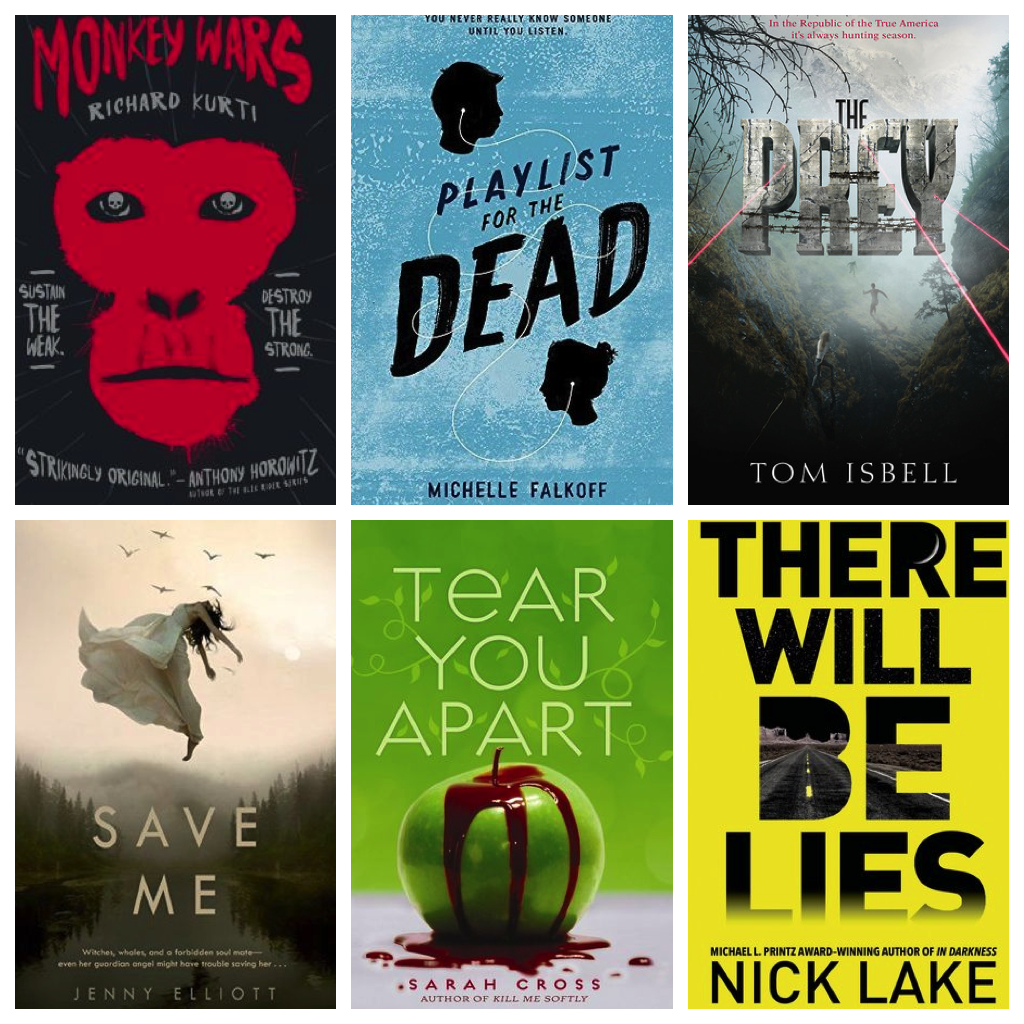 19. Monkey Wars by Richard Kurti (Delacorte): When rhesus monkeys are brutally massacred on the dusty streets of Kolkata by a troop of power-hungry langur monkeys, Mico, a privileged langur, becomes entangled in the secrets at the heart of his troop's leadership and is shocked at what he discovers. He feels compelled to help the few surviving rhesus, especially Papina, a young female he befriends, even though doing so goes against everything he's been taught. As more blood is spilled, Mico realizes that choosing between right and wrong won't be easy.
20. Playlist for the Dead by Michelle Falkoff (HarperTeen): A teenage boy tries to understand his best friend's suicide by listening to the playlist of songs he left behind in this smart, voice-driven debut novel.
Here's what Sam knows: There was a party. There was a fight. The next morning, his best friend, Hayden, was dead. And all he left Sam was a playlist of songs, and a suicide note: For Sam—listen and you'll understand.
As he listens to song after song, Sam tries to face up to what happened the night Hayden killed himself. But it's only by taking out his earbuds and opening his eyes to the people around him that he will finally be able to piece together his best friend's story. And maybe have a chance to change his own.
21. The Prey by Tom Isbell (HarperTeen): After the Omega (the end of the end), 16 year old guys known as LTs discover their overseers are raising them not to be soldiers (lieutenants) as promised, but to be sold as bait because of their Less Than status and hunted for sport. They escape and join forces with a girls' camp, the Sisters, who have been imprisoned and experimented on for the "good of the Republic," by a government eager to use twins in their dark research. In their plight for freedom, these heroes must find the best in themselves to fight against the worst in their enemies.
22. Save Me by Jenny Elliott (Swoon Reads): Something strange is going on in the tiny coastal town of Liberty, Oregon. Cara has never seen a whale swim close enough for her to touch it—let alone knock her into the freezing water. Fortunately, cute newcomer David is there to save her, and the rescue leads to a bond deeper than Cara ever imagined.
But then she learns something about David that changes everything, and Cara is devastated. She turns to her best friend for support, but Rachel has changed. She's suddenly into witchcraft, and is becoming dangerously obsessed with her new boyfriend….
Cara has lost her best friend, discovered that her soul mate is off limits, and has attracted the attention of a stalker. But she's not completely alone. Her mysterious, gorgeous new friend Garren is there to support her. But is Garren possibly too perfect?
23. Tear You Apart by Sarah Cross (Egmont): Faced with a possible loophole to her "Snow White" curse, Viv goes underground, literally, to find the prince who's fated to rescue her. But is life safe in the Underworld worth the price of sacrficing the love that might kill her?
24. There Will Be Lies by Nick Lake (Bloomsbury): In four hours, Shelby Jane Cooper will be struck by a car.
Shortly after, she and her mother will leave the hospital and set out on a winding journey toward the Grand Canyon.
All Shelby knows is that they're running from dangers only her mother understands. And the further they travel, the more Shelby questions everything about her past—and her current reality. Forced to take advantage of the kindness of unsuspecting travelers, Shelby grapples with what's real, what isn't, and who she can trust . . . if anybody.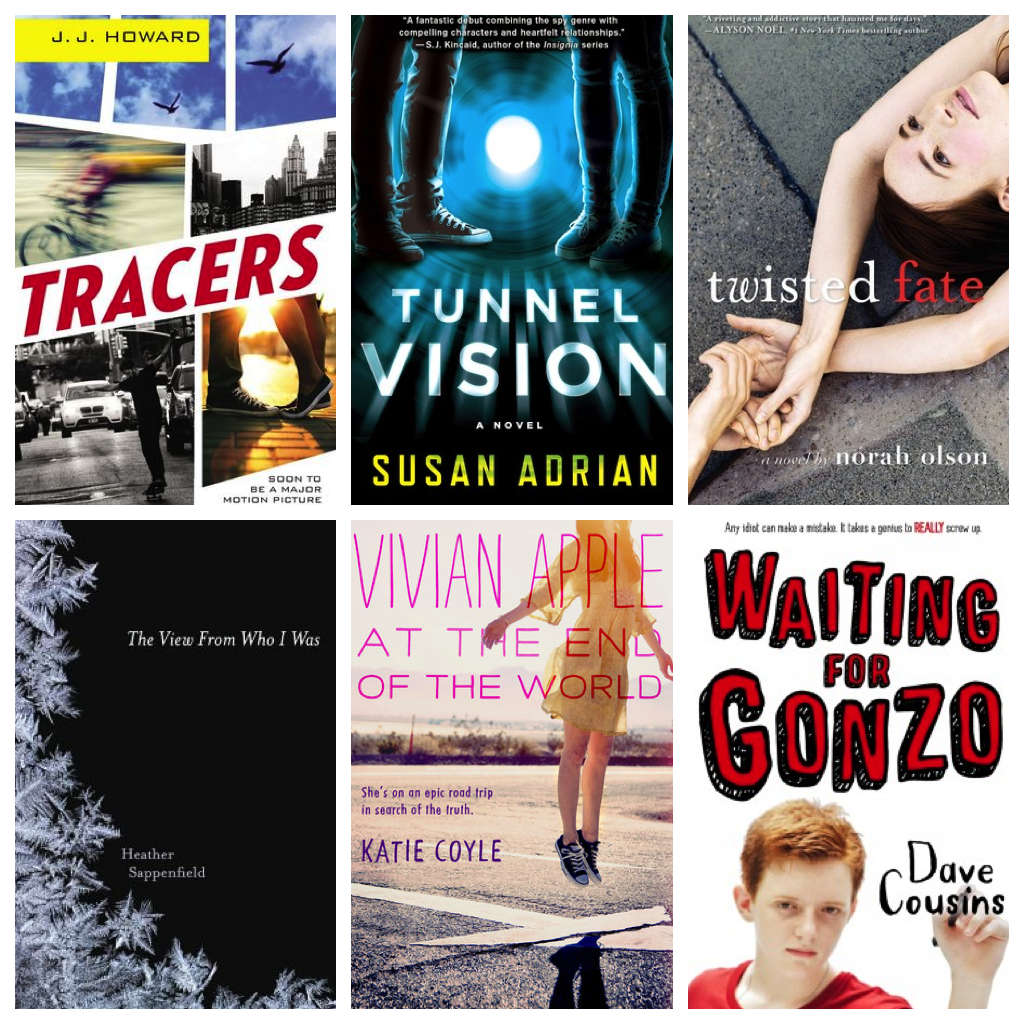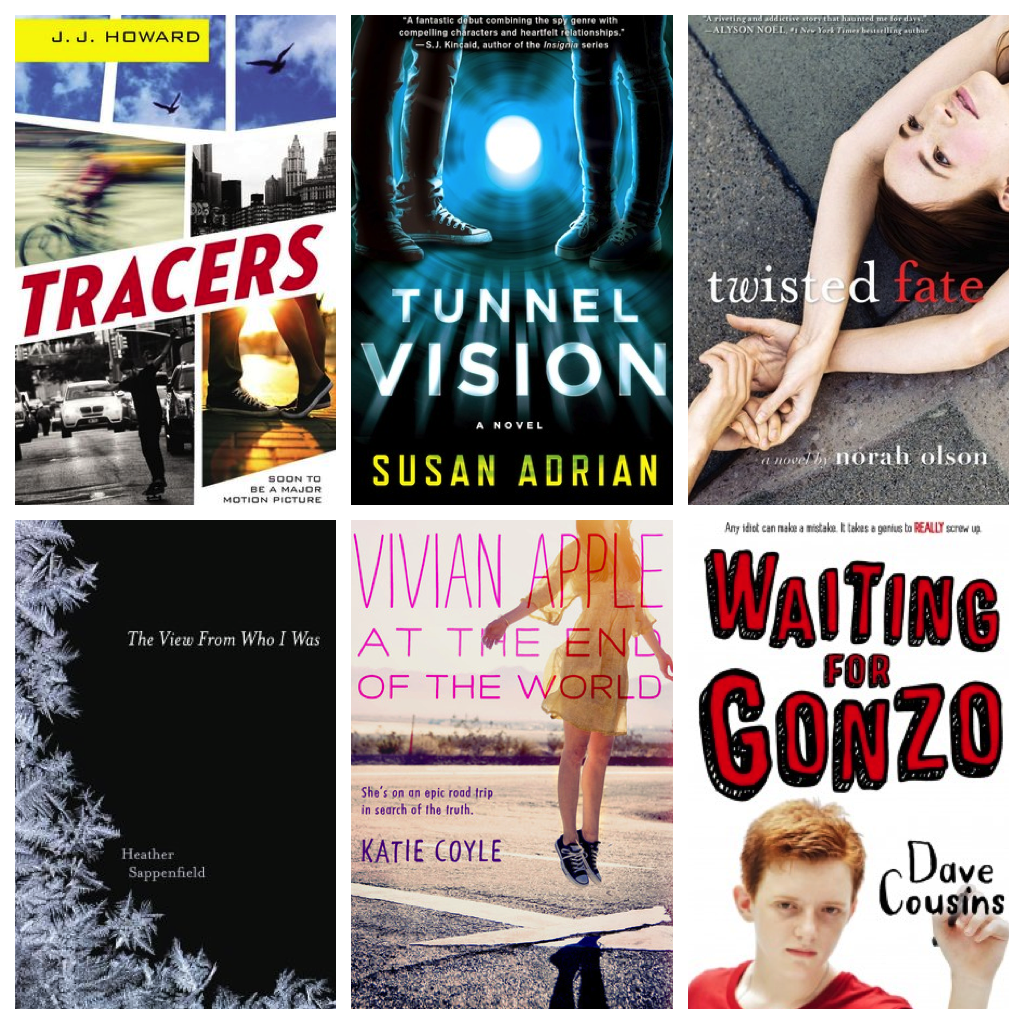 25. Tracers by J. J. Howard (Putnam): Cam is a New York City bike messenger with no family and some dangerous debts. While on his route one day, he runs into a beautiful stranger named Nikki—but she quickly disappears. When he sees her again around town, he realizes that she lives within the intense world of parkour: an underground group of teens who have turned New York City into their own personal playground—running, jumping, seemingly flying through the city like an urban obstacle course.
Cam becomes fascinated with Nikki and falls in with the group, who offer him the chance to make some extra money. But Nikki is dating their brazen leader, and when the stakes become life-or-death, Cam is torn between following his heart and sacrificing everything to pay off his debts.

26. Tunnel Vision by Susan Adrian (Thomas Dunne): Jake Lukin just turned 18. He's decent at tennis and Halo, and waiting to hear on his app to Stanford. But he's also being followed by a creep with a gun, and there's a DARPA agent waiting in his bedroom. His secret is blown.
When Jake holds a personal object, like a pet rock or a ring, he has the ability to "tunnel" into the owner. He can sense where they are, like a human GPS, and can see, hear, and feel what they do. It's an ability the government would do anything to possess: a perfect surveillance unit who could locate fugitives, spies, or terrorists with a single touch.
Jake promised his dad he'd never tell anyone about his ability. But his dad died two years ago, and Jake slipped. If he doesn't agree to help the government, his mother and sister may be in danger. Suddenly he's juggling high school, tennis tryouts, flirting with Rachel Watkins, and work as a government asset, complete with 24-hour bodyguards.
Forced to lie to his friends and family, and then to choose whether to give up everything for their safety, Jake hopes the good he's doing—finding kidnap victims and hostages, and tracking down terrorists—is worth it. But he starts to suspect the good guys may not be so good after all. With Rachel's help, Jake has to try to escape both good guys and bad guys and find a way to live his own life instead of tunneling through others.
27. Twisted Fate by Norah Olson (Katherine Tegan Books): When Alyson meets Graham Copeland, the new boy next door, she instantly feels like he's a kindred spirit—shy and awkward like her, someone who has trouble making friends. It's impossible to resist having a crush on him.
As usual, her sister, Sydney, sees things differently. In Sydney's mind, Graham's odd personality and secretive past scream psychopath, not sweetheart. Her gut is telling her to stay away from him, and to protect a love-struck Alyson from her own naïveté. But despite her instincts, Sydney is surprised to realize that a part of her is drawn to Graham, too.
And the more Sydney gets to know him, the more she realizes just how right—and wrong—she is about everything.
28. View From Who I Was by Heather Sappenfield (Flux): On a cold Colorado night, Oona Antunes leaves Crystal High's Winter Formal, walks deep into the woods, and lies down in the snow to die.
She awakens in the hospital, suffering the effects of frostbite and hypothermia. But her physical injuries aren't nearly as painful as the wound she can't name, the one she feels cutting deep into the core of who she is.
While recovering from her suicide attempt, Oona discovers that the roots of her problems go beyond herself. To fully understand what happened that night in the woods, she must confront not only her own pain but the hidden past that's suffocating someone she loves.
33. Woven by Michael Jensen and David Powers King (Scholastic): All his life, Nels has wanted to be a knight of the kingdom of Avërand. Tall and strong, and with a knack for helping those in need, the people of his sleepy little village have even taken to calling him the Knight of Cobblestown.
But that was before Nels died, murdered outside his home by a mysterious figure.
Now the young hero has awoken as a ghost, invisible to all around him save one person—his only hope for understanding what happened to him—the kingdom's heir, Princess Tyra. At first the spoiled royal wants nothing to do with Nels, but as the mystery of his death unravels, the two find themselves linked by a secret, and an enemy who could be hiding behind any face.
Nels and Tyra have no choice but to abscond from the castle, charting a hidden world of tangled magic and forlorn phantoms. They must seek out an ancient needle with the power to mend what has been torn, and they have to move fast. Because soon Nels will disappear forever.
34. X by Ilyasah Shabazz and Kekla Magoon (Candlewick): Malcolm Little's parents have always told him that he can achieve anything, but from what he can tell, that's nothing but a pack of lies—after all, his father's been murdered, his mother's been taken away, and his dreams of becoming a lawyer have gotten him laughed out of school. There's no point in trying, he figures, and lured by the nightlife of Boston and New York, he escapes into a world of fancy suits, jazz, girls, and reefer.
But Malcolm's efforts to leave the past behind lead him into increasingly dangerous territory when what starts as some small-time hustling quickly spins out of control. Deep down, he knows that the freedom he's found is only an illusion—and that he can't run forever.
X follows Malcolm from his childhood to his imprisonment for theft at age twenty, when he found the faith that would lead him to forge a new path and command a voice that still resonates today.
35. Zero Day by Jan Gangsei (Disney Hyperion): Eight years ago, Addie Webster was the victim of the most notorious kidnapping case of the decade. Addie vanished—and her high-profile parents were forced to move on.
Mark Webster is now president of the United States, fighting to keep the oval office after a tumultuous first term. Then, the unthinkable happens: the president's daughter resurfaces. Addie is brought back into her family's fold, but who is this sixteen-year-old girl with a quiet, burning intelligence now living in the White House? There are those in the president's political circle who find her timely return suspicious.
When the NSA approaches Darrow Fergusson, Addie's childhood best friend and the son of the president's chief of staff, he doesn't know what to think. How could this slip of a girl be a threat to national security? But at the risk of having his own secrets exposed by the powerful government agency, Darrow agrees to spy on Addie.
It soon becomes apparent that Addie is much more than the traumatized victim of a sick political fringe group. Addie has come with a mission. Will she choose to complete it? And what will happen if she does?
February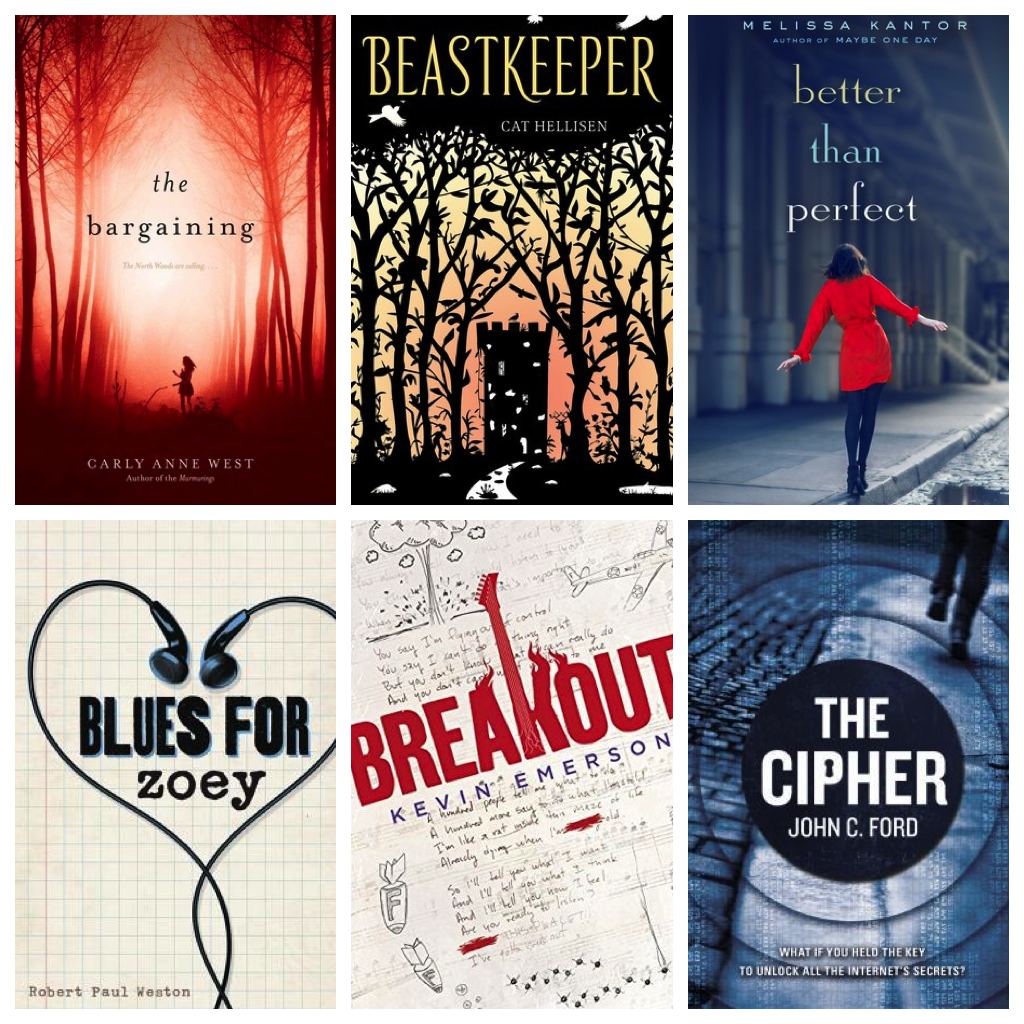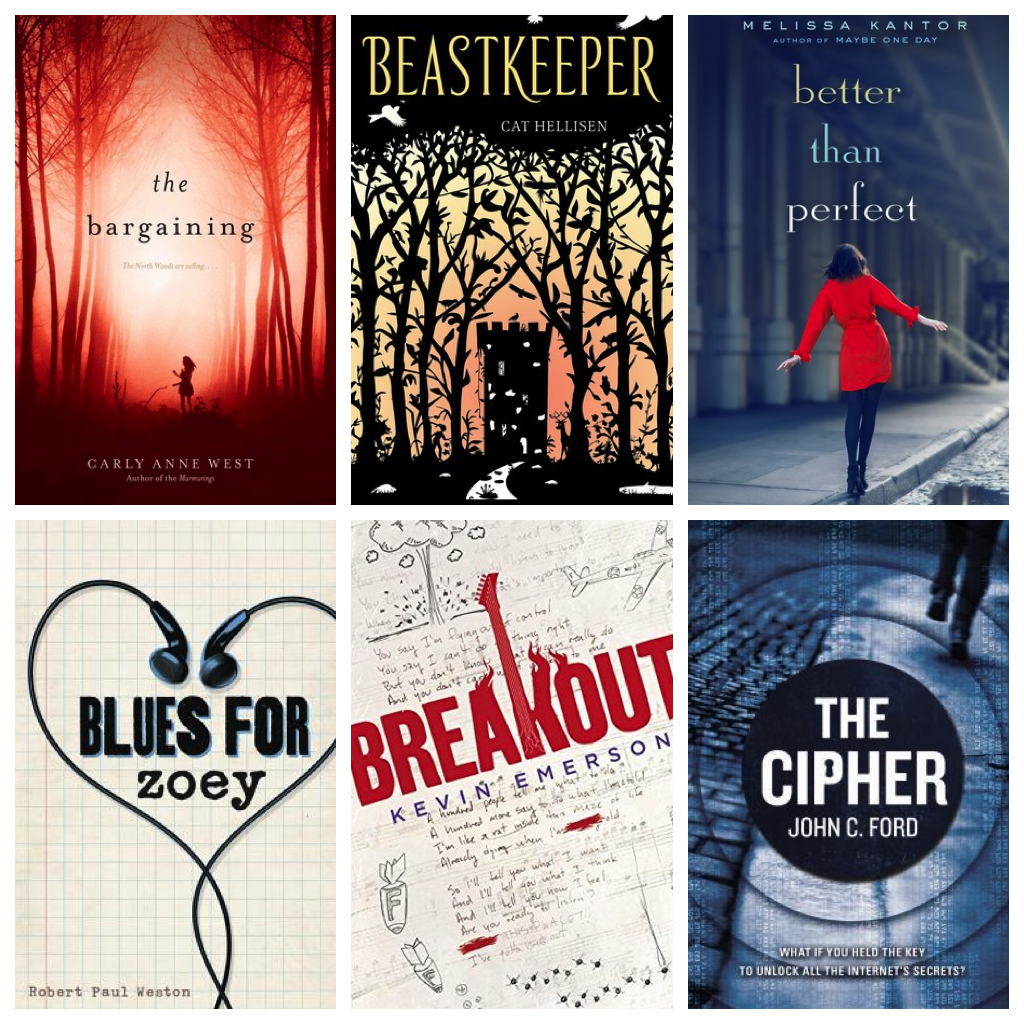 36. The Bargaining by Carly Ann West (Simon Pulse): The fact that neither of her parents wants to deal with her is nothing new to Penny. She's used to being discussed like a problem, a problem her mother has finally passed on to her father. What she hasn't gotten used to is her stepmother…especially when she finds out that she'll have to spend the summer with April in the remote woods of Washington to restore a broken-down old house.
Set deep in a dense forest, the old Carver House is filled with abandoned antique furniture, rich architectural details, and its own chilling past. The only respite Penny can find away from April's renovations is in Miller, the young guy who runs the local general store. He's her only chance at a normal, and enjoyable, summer.
But Miller has his own connection to the Carver House, and it's one that goes beyond the mysterious tapping Penny hears at her window, the handprints she finds smudging the glass panes, and the visions of children who beckon Penny to follow them into the dark woods. Miller's past just might threaten to become the terror of Penny's future
37. Beastkeeper by Cat Hellisen (Henry Holt): Sarah has always been on the move. Her mother hates the cold, so every few months her parents pack their bags and drag her off after the sun. She's grown up lonely and longing for magic. She doesn't know that it's magic her parents are running from.

When Sarah's mother walks out on their family, all the strange old magic they have tried to hide from comes rising into their mundane world. Her father begins to change into something wild and beastly, but before his transformation is complete, he takes Sarah to her grandparents—people she has never met, didn't even know were still alive.
Deep in the forest, in a crumbling ruin of a castle, Sarah begins to untangle the layers of curses affecting her family bloodlines, until she discovers that the curse has carried over to her, too. The day she falls in love for the first time, Sarah will transform into a beast…unless she can figure out a way to break the curse forever.
38. Better Than Perfect by Melissa Kantor (HarperTeen): Juliet Newman has it all. A picture-perfect family; a handsome, loving boyfriend; and a foolproof life plan: ace her SATs, get accepted into Harvard early decision, and live happily ever after.
But when her dad moves out and her mom loses it, Juliet begins questioning the rules she's always lived by. And to make everything even more complicated there's Declan, the gorgeous boy who makes her feel alive and spontaneous—and who's totally off-limits. Torn between the life she always thought she wanted and one she never knew was possible, Juliet begins to wonder: What if perfect isn't all it's cracked up to be?
39. Blues for Zoey by Robert Paul Weston (Flux): She walks in with her music, and walks out with his wallet Kaz Barrett should be saving for college. Instead, he saves his pay from the Sit'N'Spin Laundromat to send his mother to a very expensive sleep clinic in New York. His mother suffers from a rare neurological disorder, and both Kaz and his kid sister worry that one day, maybe tomorrow, their mother will fall asleep and never wake up.
But when pink-haired Zoey walks past the laundromat's window, Kaz's ordered life begins spinning out of control. Smart, mysterious, and full of music, Zoey is unlike anyone Kaz has met…but there's another side to her that he can't quite figure out. When he goes looking for answers, he finds a whirlwind of lies, half-truths, and violence.
40. Breakout by Kevin Emerson (Crown): When Anthony's angst-ridden rock 'n' roll lyrics go viral, he's unwittingly cast as the school rebel. The truth is, he's not trying to be anyone's hero.
Anthony Castillo needs a new life. His teachers are clueless autocrats except for Mr. Darren, who's in charge of the rock band program. The girls at school are either shallow cutebots or out of his league. And his parents mean well, but they just make things worse. It's as if Anthony is stuck on the bottom level of his favorite video game, Liberation Force 4.5. Except there is no secret escape tunnel and definitely no cheat code.
Fed up, pissed off, and feeling trapped, Anthony writes his first song for his rock band, the Rusty Soles. His only problem: Arts Night. If he exercises his right to free speech and sings his original lyrics—where his own bombs will drop—he and his band will be through.
The clock is ticking. Time for Anthony to pick his battles and decide what's really worth fighting for.
41. The Cipher by John C. Ford (Viking Juvenile): Robert "Smiles" Smylie is not a genius. He feels like he's surrounded by them, though, from his software mogul dad to his brainy girlfriend to his oddball neighbor Ben, a math prodigy. When Ben cracks an ancient, real-life riddle central to modern data encryption systems, he suddenly holds the power to unlock every electronic secret in the world—and Smiles finally has a chance to prove his own worth.
Smiles hatches a plan to protect Ben from the government agents who will stop at nothing to get their hands on his discovery. But as he races from a Connecticut casino to the streets of Boston, enlisting the help of an alluring girl, Smiles comes to realize the most explosive secrets don't lie between the covers of Ben's notebook—they're buried in his own past.
Eerily close to reality and full of shocking twists, this techno-thriller reveals how easily the private can become public, and just how dangerous it can be to encrypt our personal histories.
42. The Distance Between Lost and Found by Kathryn Holmes (HarperTeen): Ever since the night of the incident with Luke Willis, the preacher's son, sophomore Hallelujah Calhoun has been silent. When the rumors swirled around school, she was silent. When her parents grounded her, she was silent. When her friends abandoned her … silent.
Now, six months later, on a youth group retreat in the Smoky Mountains, Hallie still can't find a voice to answer the taunting. Shame and embarrassment haunt her, while Luke keeps coming up with new ways to humiliate her. Not even meeting Rachel, an outgoing newcomer who isn't aware of her past, can pull Hallie out of her shell. Being on the defensive for so long has left her raw, and she doesn't know who to trust.
On a group hike, the incessant bullying pushes Hallie to her limit. When Hallie, Rachel, and Hallie's former friend Jonah get separated from the rest of the group, the situation quickly turns dire. Stranded in the wilderness, the three have no choice but to band together.
With past betrayals and harrowing obstacles in their way, Hallie fears they'll never reach safety. Could speaking up about the night that changed everything close the distance between being lost and found? Or has she traveled too far to come back?
43. Dove Arising by Karen Bao (Viking Juvenile): Phaet Theta has lived her whole life in a colony on the Moon. She's barely spoken since her father died in an accident nine years ago. She cultivates the plants in Greenhouse 22, lets her best friend talk for her, and stays off the government's radar.
Then her mother is arrested.
The only way to save her younger siblings from the degrading Shelter is by enlisting in the Militia, the faceless army that polices the Lunar bases and protects them from attacks by desperate Earth-dwellers. Training is brutal, but it's where Phaet forms an uneasy but meaningful alliance with the preternaturally accomplished Wes, a fellow outsider.
Rank high, save her siblings, free her mom: that's the plan. Until Phaet's logically ordered world begins to crumble.
44. Dreamfire by Kit Alloway (St. Martins Griffin): Joshlyn Weaver has always lived with a big secret. Ordinary kids spend their free time going to the movies, hanging out with friends, and searching on the internet. But for her, an evening at home usually means entering people's dreams. For many generations, her family has been part of a very powerful and very secretive society of dream walkers. Tasked with the responsibility of lowering the world's general anxiety—which only leads to war and strife in the waking world—their job has always been to stop nightmares before they go too far. By stopping nightmares while sleeping, they help to stop nightmares in real life. But when an ancient feud within the dream walker society resurfaces right when a seemingly unconnected series of very strange and very scary events start occurring during her dream walks, Josh finds herself in a race against time. The one true dream walker has never been known. Could she be the one?
45. The Glass Arrow by Kristen Simmons (Tor Teen): In a world where females are scarce and are hunted, then bought and sold at market for their breeding rights, 15-year old Aya has learned how to hide. With a ragtag bunch of other women and girls, she has successfully avoided capture and eked out a nomadic but free existence in the mountains. But when Aya's luck runs out and she's caught by a group of businessmen on a hunting expedition, fighting to survive takes on a whole new meaning.
46. I Remember You by Cathleen Davitt Bell (Knopf): Lucas and Juliet couldn't be more different from each other. But from the moment Lucas sees Juliet, he swears he remembers their first kiss. Their first dance. Their first fight. He even knows what's going to happen between them—not because he can predict the future, but because he claims to have already lived it.
Juliet doesn't know whether to be afraid for herself or for Lucas. As Lucas's memories occur more frequently, they also grow more ominous. All Juliet wants is to keep Lucas safe with her. But how do you hold on to someone you love in the present when they've begun slipping away from you in the future?
47. I'll Meet You There by Heather Demetrios (Henry Holt): If seventeen-year-old Skylar Evans were a typical Creek View girl, her future would involve a double-wide trailer, a baby on her hip, and the graveyard shift at Taco Bell. But after graduation, the only thing standing between straightedge Skylar and art school are three minimum-wage months of summer. Skylar can taste the freedom—that is, until her mother loses her job and everything starts coming apart. Torn between her dreams and the people she loves, Skylar realizes everything she's ever worked for is on the line.
Nineteen-year-old Josh Mitchell had a different ticket out of Creek View: the Marines. But after his leg is blown off in Afghanistan, he returns home, a shell of the cocksure boy he used to be. What brings Skylar and Josh together is working at the Paradise—a quirky motel off California's dusty Highway 99. Despite their differences, their shared isolation turns into an unexpected friendship and soon, something deeper.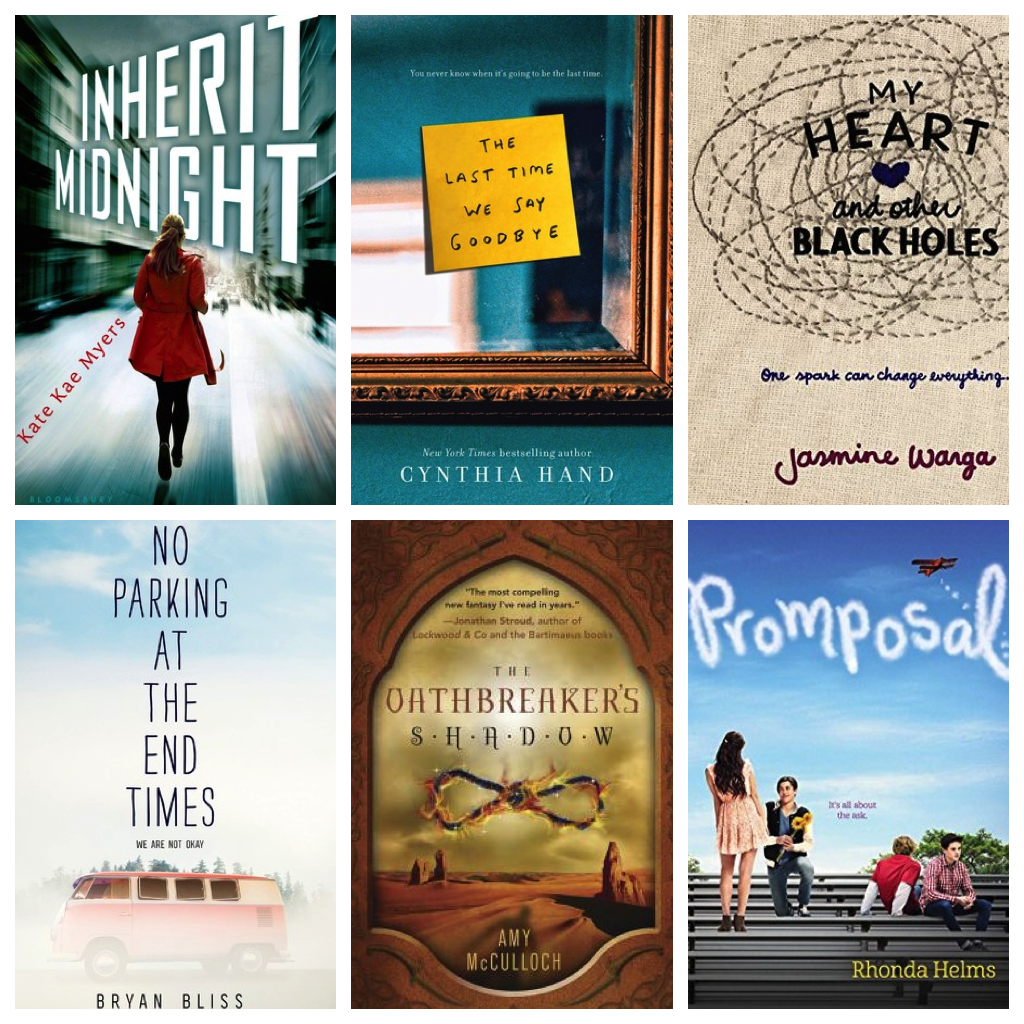 48. Inherit Midnight by Kate Kae Myers (Bloomsbury): The Competition:
Outlandishly wealthy Grandmother VanDemere has decided to leave her vast fortune to the family member who proves him or herself worthiest-by solving puzzles and riddles on a whirlwind race around the globe, from the mines of Venezuela to the castles of Scotland. There will be eight competitors, three continents . . . and a prize worth millions.
The Players:
Seventeen-year-old Avery is the black sheep of the VanDemere clan, the ostracized illegitimate daughter. Finally, she has a chance to prove herself . . . and to discover the truth about her long-lost mother.
Marshall might be Avery's uncle, but there's no love lost between the two of them. He's her main competition, and he'll do anything to win-including betray his own children.
Riley is the handsome son of Grandmother VanDemere's lawyer. As the game progresses, Avery falls hard for Riley. Suddenly, losing the game might mean losing him, too.
As the competition takes treacherous turns, it becomes clear there can only be one victor. Who can Avery truly trust? And is winning worth her life?
49. The Last Time We Say Goodbye by Cynthia Hand (HarperTeen): The last time Lex was happy, it was before. When she had a family that was whole. A boyfriend she loved. Friends who didn't look at her like she might break down at any moment.
Now she's just the girl whose brother killed himself. And it feels like that's all she'll ever be.
As Lex starts to put her life back together, she tries to block out what happened the night Tyler died. But there's a secret she hasn't told anyone-a text Tyler sent, that could have changed everything.
Lex's brother is gone. But Lex is about to discover that a ghost doesn't have to be real to keep you from moving on.
50. My Heart and Other Black Holes by Jasmine Warga (Balzar + Bray): Sixteen-year-old physics nerd Aysel is obsessed with plotting her own death. With a mother who can barely look at her without wincing, classmates who whisper behind her back, and a father whose violent crime rocked her small town, Aysel is ready to turn her potential energy into nothingness.
There's only one problem: she's not sure she has the courage to do it alone. But once she discovers a website with a section called Suicide Partners, Aysel's convinced she's found her solution: a teen boy with the username FrozenRobot (aka Roman) who's haunted by a family tragedy is looking for a partner.
Even though Aysel and Roman have nothing in common, they slowly start to fill in each other's broken lives. But as their suicide pact becomes more concrete, Aysel begins to question whether she really wants to go through with it. Ultimately, she must choose between wanting to die or trying to convince Roman to live so they can discover the potential of their energy together. Except that Roman may not be so easy to convince.
51. No Parking at the End Times by Bryan Bliss (Greenwillow): Abigail's parents have made mistake after mistake, and now they've lost everything. She's left to decide: Does she still believe in them? Or is it time to believe in herself? Fans of Sara Zarr, David Levithan, and Rainbow Rowell will connect with this moving debut.
Abigail doesn't know how her dad found Brother John. Maybe it was the billboards. Or the radio. What she does know is that he never should have made that first donation. Or the next, or the next. Her parents shouldn't have sold their house. Or packed Abigail and her twin brother, Aaron, into their old van to drive across the country to San Francisco, to be there with Brother John for the "end of the world." Because of course the end didn't come. And now they're living in their van. And Aaron's disappearing to who-knows-where every night. Their family is falling apart. All Abigail wants is to hold them together, to get them back to the place where things were right. But maybe it's too big a task for one teenage girl. Bryan Bliss's thoughtful, literary debut novel is about losing everything—and about what you will do for the people you love.
52. Oathbreaker's Shadow by Amy McCulloch (Flux): Fifteen-year-old Raim lives in a world where you tie a knot for every promise that you make. Break that promise and you are scarred for life, and cast out into the desert.
Raim has worn a simple knot around his wrist for as long as he can remember. No one knows where it came from or which promise of his it symbolizes, and he barely thinks about it at all–not since becoming the most promising young fighter ever to train for the elite Yun guard. But on the most important day of his life, when he binds his life to his best friend–and future king–Khareh, the string bursts into flames and sears a dark mark into his skin. Scarred now as an oathbreaker, Raim has two options: run or die.
53. Promposal by Rhonda Helms (Simon Pulse): Camilla can't help hoping her secret crush, Benjamin, might randomly surprise her out of the blue with a promposal. However, when she's asked to prom by an irritating casual acquaintance–wearing a fancy tux and standing in front of a news crew–she's forced to say yes. Yet all hope's not lost. A timely school project gives Camilla a chance to get closer to Benjamin…and it seems like the chemistry between them is crackling. But is she reading into something that isn't there?
Joshua, Camilla's bestie, has been secretly in love with his gay best friend, Ethan, since middle school. Just as he decides to bite the bullet and ask Ethan if he'll go to prom with him, even if just as friends, he gets a shocking surprise: Ethan asks Joshua for help crafting the perfect promposal–for another guy. Now Joshua has to suppress his love and try to fake enthusiasm as he watches his dreams fall apart…unless he can make Ethan see that love has been right in front of his eyes the whole time.
The road to the perfect promposal isn't easy to navigate. But one thing's certain–prom season is going to be memorable.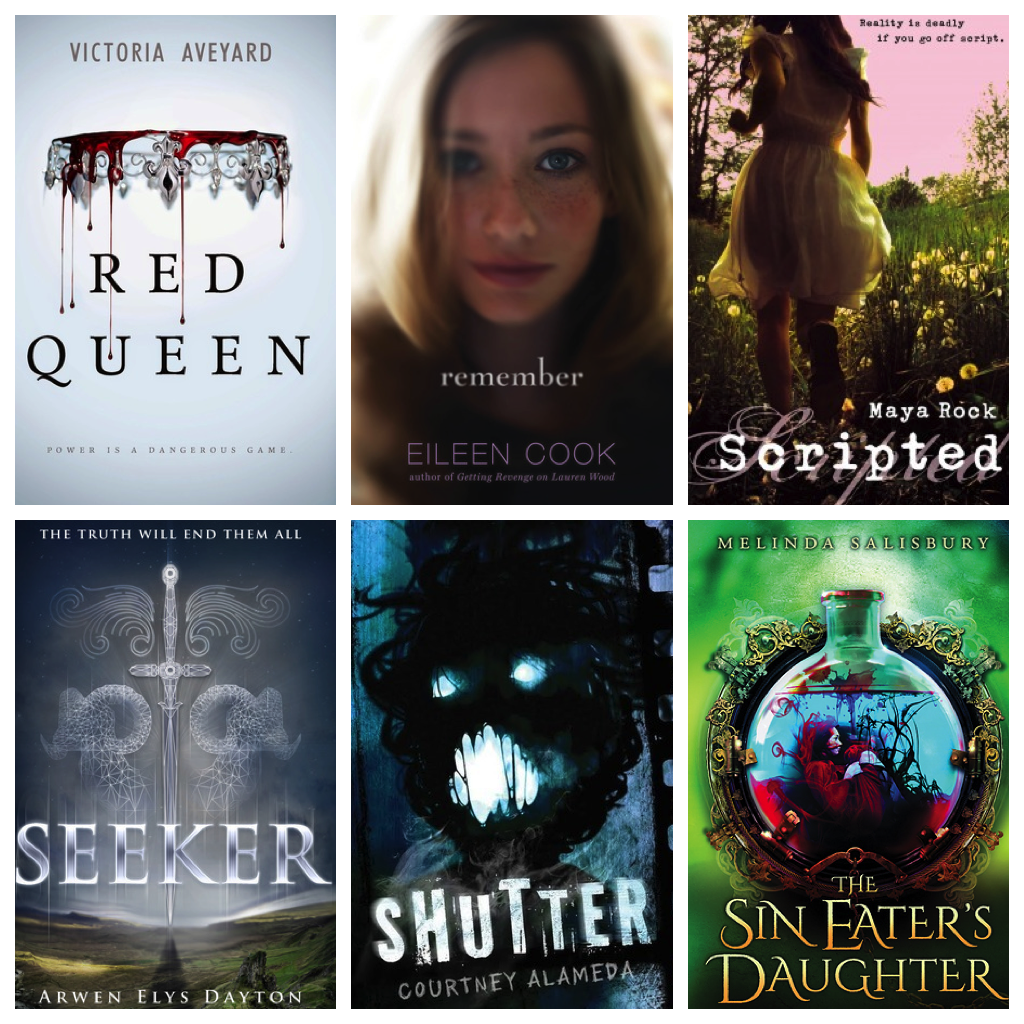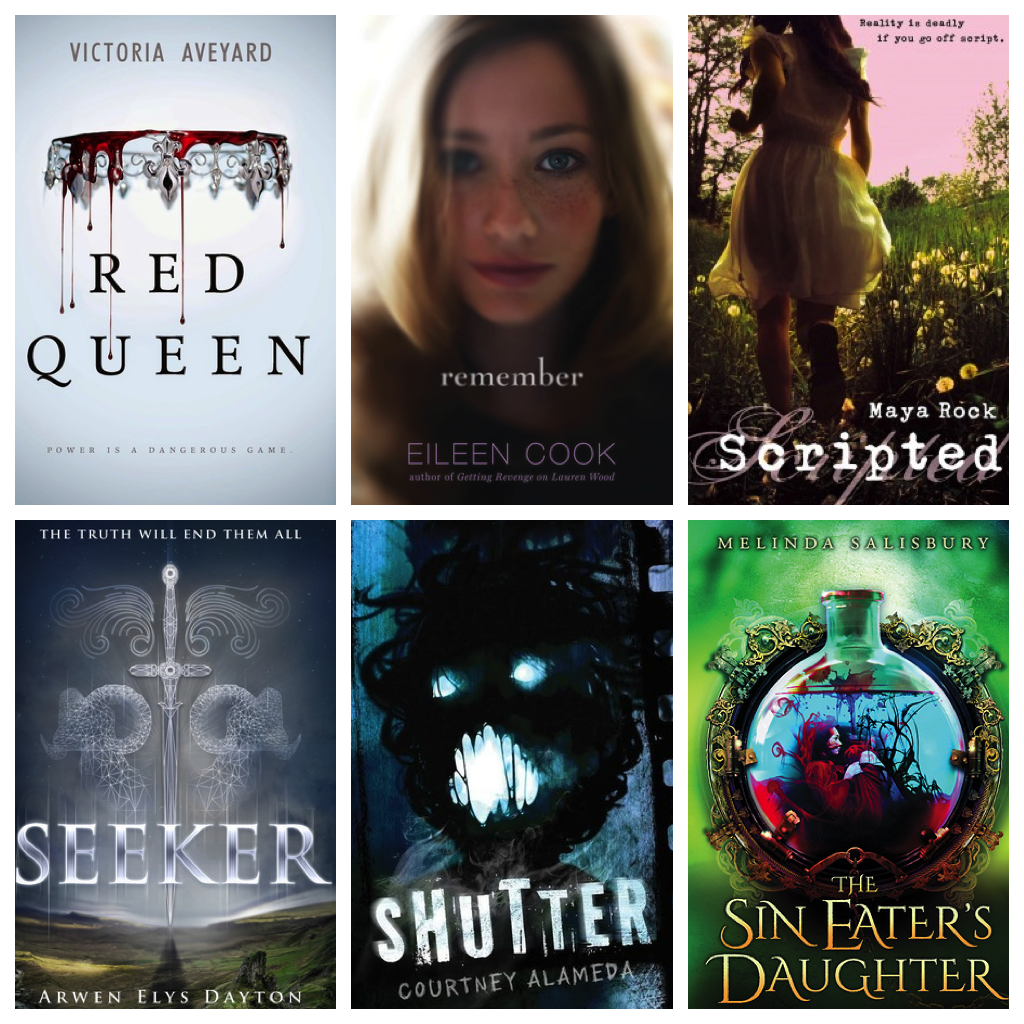 54. Red Queen by Victoria Aveyard (HarperTeen): Mare Barrow's world is divided by blood–those with common, Red blood serve the Silver- blooded elite, who are gifted with superhuman abilities. Mare is a Red, scraping by as a thief in a poor, rural village, until a twist of fate throws her in front of the Silver court. Before the king, princes, and all the nobles, she discovers she has an ability of her own.
To cover up this impossibility, the king forces her to play the role of a lost Silver princess and betroths her to one of his own sons. As Mare is drawn further into the Silver world, she risks everything and uses her new position to help the Scarlet Guard–a growing Red rebellion–even as her heart tugs her in an impossible direction. One wrong move can lead to her death, but in the dangerous game she plays, the only certainty is betrayal.
55. Remember by Eileen Cook (Simon Pulse): Harper is used to her family being hounded by protesters. Her father runs the company that trademarked the "Memtex" procedure to wipe away sad memories, and plenty of people think it shouldn't be legal. Then a new demonstrator crosses her path, Neil, who's as persistent as he is hot. Not that Harper's noticing, since she already has a boyfriend.
When Harper suffers a loss, she's shocked her father won't allow her to get the treatment, so she finds a way to get it without his approval. Soon afterward, she's plagued with strange symptoms, including hallucinations of a woman who is somehow both a stranger, yet incredibly familiar. Harper begins to wonder if she is delusional, or if these are somehow memories.
Together with Neil, who insists he has his own reasons for needing answers about the real dangers of Memtex, Harper begins her search for the truth. What she finds could uproot all she's ever believed about her life.
56. Scripted by Maya Rock (Putnam): Reality TV has a dark future in this thought-provoking thriller
To the people suffering on the war-torn mainland, Bliss Island seems like an idyllic place. And it is: except for the fact that the island is a set, and the islanders' lives are a performance. They're the stars of a hit TV show, Blissful Days—Characters are adored by mainland viewers, yet in constant danger of being cut if their ratings dip too low. And no one really knows what happens to cut Characters.
Nettie Starling knows she's been given the chance of a lifetime when a producer offers suggestions to help her improve her mediocre ratings—especially when those suggestions involve making a move on the boy she's been in love with for years. But she'll soon have to decide how far she's willing to go to keep the cameras fixed on her. . . especially when she learns what could happen to her if she doesn't.
57. Seeker by Arwen Elys Dayton (Delacorte): The night Quin Kincaid takes her Oath, she will become what she has trained to be her entire life. She will become a Seeker. This is her legacy, and it is an honor. As a Seeker, Quin will fight beside her two closest companions, Shinobu and John, to protect the weak and the wronged. Together they will stand for light in a shadowy world. And she'll be with the boy she loves–who's also her best friend.
But the night Quin takes her Oath, everything changes. Being a Seeker is not what she thought. Her family is not what she thought. Even the boy she loves is not who she thought.
And now it's too late to walk away.
58. Shutter by Courtney Alameda (Feiwel & Friends): Micheline Helsing is a tetrachromat—a girl who sees the auras of the undead in a prismatic spectrum. As one of the last descendants of the Van Helsing lineage, she has trained since childhood to destroy monsters both corporeal and spiritual: the corporeal undead go down by the bullet, the spiritual undead by the lens. With an analog SLR camera as her best weapon, Micheline exorcises ghosts by capturing their spiritual energy on film. She's aided by her crew: Oliver, a techno-whiz and the boy who developed her camera's technology; Jude, who can predict death; and Ryder, the boy Micheline has known and loved forever.
When a routine ghost hunt goes awry, Micheline and the boys are infected with a curse known as a soulchain. As the ghostly chains spread through their bodies, Micheline learns that if she doesn't exorcise her entity in seven days or less, she and her friends will die. Now pursued as a renegade agent by her monster-hunting father, Leonard Helsing, she must track and destroy an entity more powerful than anything she's faced before . . . or die trying.
59. The Sin-Eater's Daughter by Melinda Salisbury (Scholastic): Seventeen-year-old Twylla lives in the castle. But although she's engaged to the prince, Twylla isn't exactly a member of the court.
She's the executioner.
As the Goddess embodied, Twylla instantly kills anyone she touches. Each month she's taken to the prison and forced to lay her hands on those accused of treason. No one will ever love a girl with murder in her veins. Even the prince, whose royal blood supposedly makes him immune to Twylla's fatal touch, avoids her company.
But then a new guard arrives, a boy whose easy smile belies his deadly swordsmanship. And unlike the others, he's able to look past Twylla's executioner robes and see the girl, not the Goddess. Yet Twylla's been promised to the prince, and knows what happens to people who cross the queen.
However, a treasonous secret is the least of Twylla's problems. The queen has a plan to destroy her enemies, a plan that requires a stomach-churning, unthinkable sacrifice. Will Twylla do what it takes to protect her kingdom? Or will she abandon her duty in favor of a doomed love?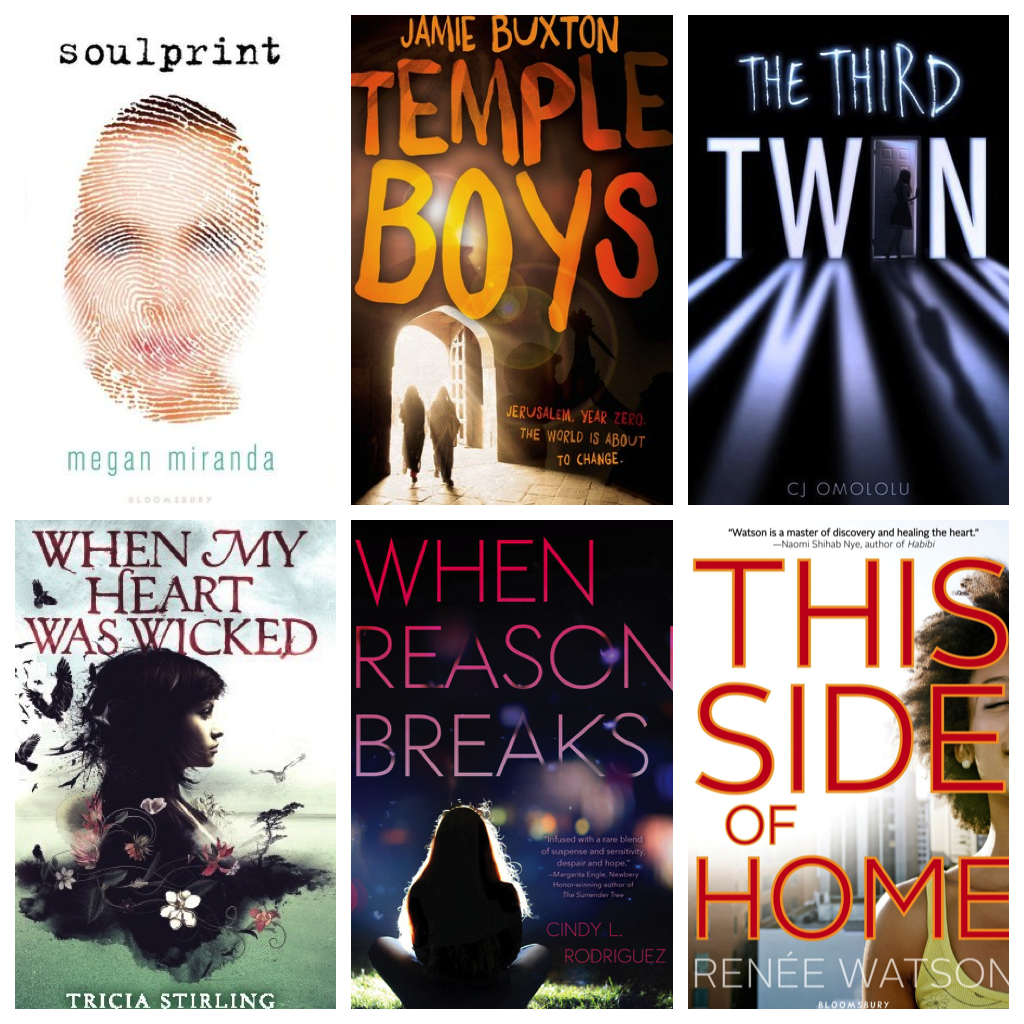 60. Soulprint by Megan Miranda (Bloomsbury): Alina Chase has been contained on an island for the last 17 years—whether that's for the crimes of her past life, or for her own protection, well, that depends on whom you ask. With soul-fingerprinting a reality, science can now screen for the soul, and everyone knows that Alina's soul had once belonged to notorious criminal, June Calahan, though that information is supposed to be private. June had accomplished the impossible: hacking into the soul-database, ruining countless lives in the process.
Now, there are whispers that June has left something behind for her next life—something that would allow Alina to access the information in the soul-database again. A way to finish the crimes she started.
Aided by three people with their own secret motivations, Alina escapes, only to discover that she may have just traded one prison for another. And there are clues. Clues only Alina can see and decipher, clues that make it apparent that June is leading her to something. While everyone believes Alina is trying to continue in June's footsteps, Alina believes June is trying to show her something more. Something bigger. Something that gets at the heart of who they all are—about the past and the present. Something about the nature of their souls.
Alina doesn't know who to trust, or what June intends for her to know, and the closer she gets to the answers, the more she wonders who June was, who she is, whether she's destined to repeat the past, whether there are truths best kept hidden—and what one life is really worth.
61. Temple BoysTemple Boysvivid, startlingly original reimagining of the world's most famous story, told from a street kid's point of view.
Jerusalem, year zero. Flea belongs to a gang of teenage vagrants living in the shadow of the Temple, living on their wits and what they can beg or steal. When a man called the Magician arrives, bringing talk of miracles and revolution, Flea and his comrades latch onto the newcomer in the hope that he'll offer them a secure home. As events accumulate and powerful forces gather around the Magician, Flea notices rumblings of discontent among his followers. Is the Magician the savior he claims to be, or a fraud? Does Flea hold the fate of the Magician—and possibly the world—in his hands, as he begins to believe? Temple Boys vividly conjures up ancient Jerusalem and the Biblical era and boldly re-imagines the western world's most famous story from the point of view of a teenage boy.
62. The Third Twin by C. J. Omololu (Delacorte): When they were little, Lexi and her identical twin, Ava, made up a third sister, Alicia. If something broke? Alicia did it. Cookies got eaten? Alicia's guilty. Alicia was always to blame for everything. The game is all grown up now that the girls are seniors. They use Alicia as their cover to go out with boys who are hot but not exactly dating material. Boys they'd never, ever be with in real life.
Now one of the guys Alicia went out with has turned up dead, and Lexi wants to stop the game for good. As coincidences start piling up, Ava insists that if they follow the rules for being Alicia, everything will be fine. But when another boy is killed, the DNA evidence and surveillance photos point to only one suspect: Alicia. The girl who doesn't exist. As she runs from the cops, Lexi has to find the truth before another boy is murdered. Because either Ava is a killer…or Alicia is real.
63. This Side of Home by Renee Watson (Bloomsbury): Identical twins Nikki and Maya have been on the same page for everything—friends, school, boys and starting off their adult lives at a historically African-American college. But as their neighborhood goes from rough-and-tumble to up-and-coming, suddenly filled with pretty coffee shops and boutiques, Nikki is thrilled while Maya feels like their home is slipping away. Suddenly, the sisters who had always shared everything must confront their dissenting feelings on the importance of their ethnic and cultural identities and, in the process, learn to separate themselves from the long shadow of their identity as twins.
64. When My Heart Was Wicked by Tricia Sterling (Scholastic): 16-year-old Lacy believes that magic and science can work side by side. She's a botanist who knows how to harness the healing power of plants. So when her father dies, Lacy tries to stay with her step-mother in Chico, where her magic is good and healing. She fears the darkness that her real mother, Cheyenne, brings out, stripping away everything that is light and kind.
Yet Cheyenne never stays away for long. Beautiful, bewitching, unstable Cheyenne who will stop at nothing, not even black magic, to keep control of her daughter's heart. She forces Lacy to accompany her to Sacramento, and before long, the "old" Lacy starts to resurface.
But when Lacy survives a traumatic encounter, she finds herself faced with a choice. Will she use her powers to exact revenge and spiral into the darkness forever? Or will she find the strength to embrace the light?
65. When Reason Breaks by Cindy Rodriguez (Bloomsbury): A Goth girl with an attitude problem, Elizabeth Davis must learn to control her anger before it destroys her. Emily Delgado appears to be a smart, sweet girl, with a normal life, but as depression clutches at her, she struggles to feel normal. Both girls are in Ms. Diaz's English class, where they connect to the words of Emily Dickinson. Both are hovering on the edge of an emotional precipice. One of them will attempt suicide. And with Dickinson's poetry as their guide, both girls must conquer their personal demons to ever be happy.
In an emotionally taut novel with a richly diverse cast of characters, readers will relish in the poetry of Emily Dickinson and be completely swept up in the turmoil of two girls grappling with demons beyond their control.
March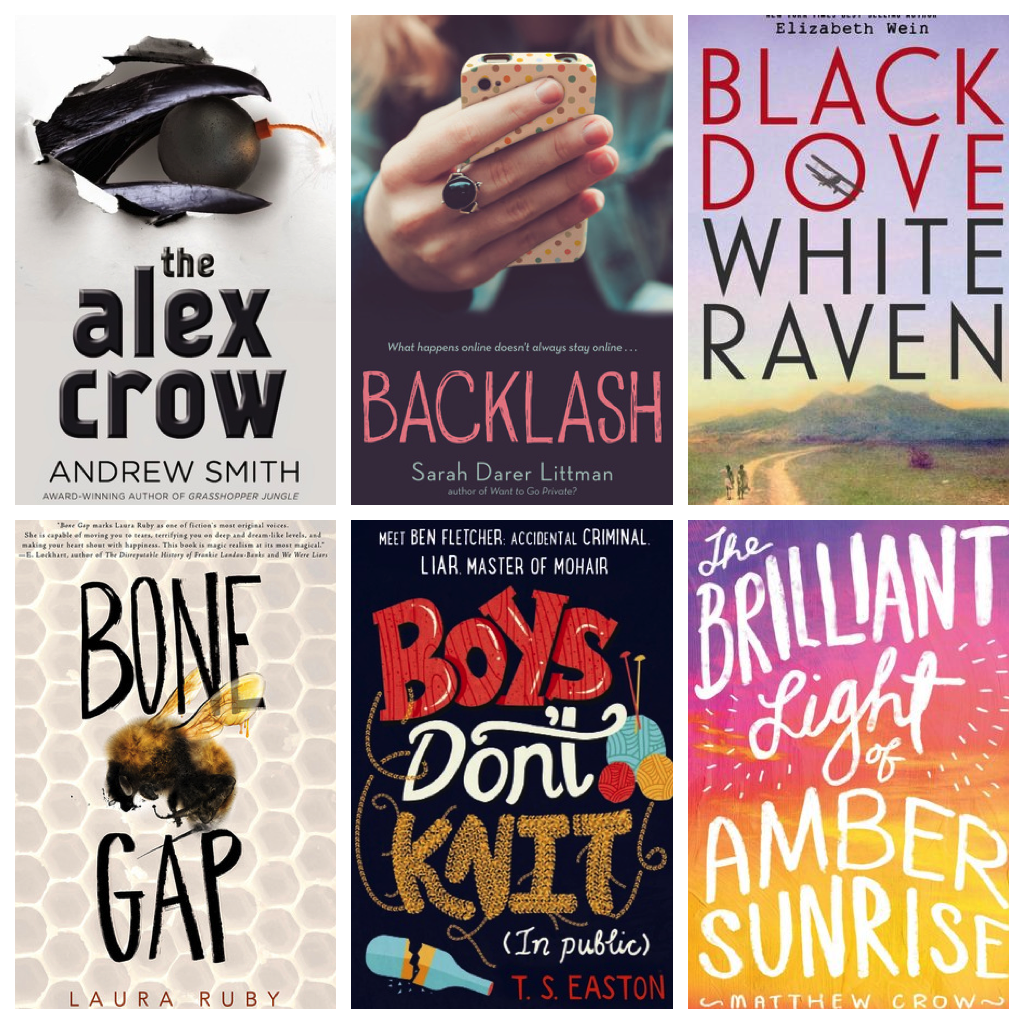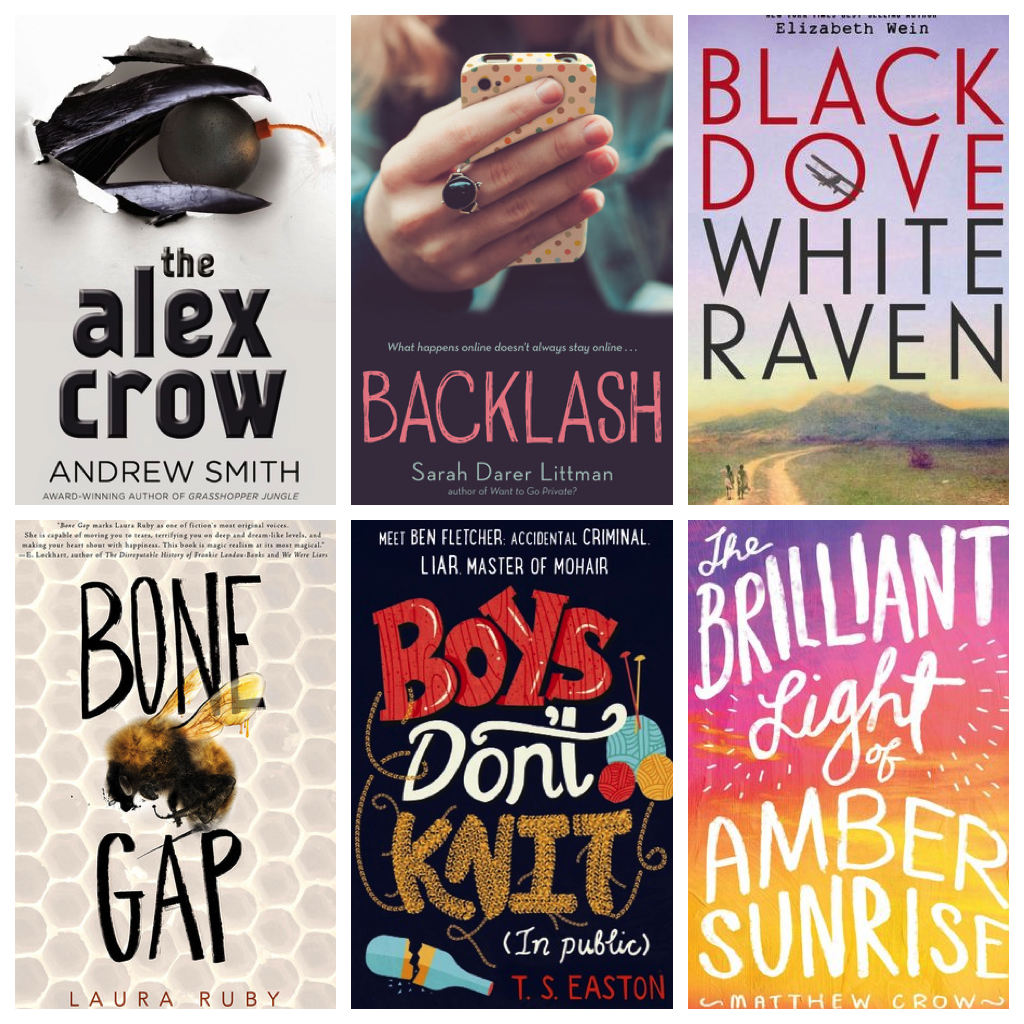 66. The Alex Crow by Andrew Smith (Dutton): The story of 15-year-old Ariel, a refugee from the Middle East who is the sole survivor of an attack on his small village. Now living with an adoptive family in Sunday, West Virginia, Ariel's story of his summer at a boys' camp for tech detox is juxtaposed against those of a schizophrenic bomber and the diaries of a failed arctic expedition from the late nineteenth century. Oh, and there's also a depressed bionic reincarnated crow.
67. Backlash by Sarah Darer Littman (Scholastic): He says: You're an awful person.
He says: What makes you think I would ever ask you out?
He says: The world would be a better place without you in it.
Lara just got told off on Facebook.
She thought that Christian liked her, that he was finally going to ask her to his school's homecoming dance. They've been talking online for weeks, so what's with the sudden change? And where does he get off saying horrible things on her wall? Even worse – are they true?
It's been a long time since Lara's felt this bad, this depressed, this ugly. She's worked really hard to become pretty and happy – and make new friends after what happened in middle school.
Bree used to be best friends with overweight, depressed Lara, but constantly listening to Lara's issues got to be too much. Secretly, Bree's glad Christian called Lara out. Lara's not nearly as amazing as people think. But no one realized just how far Christian's harsh comments would push Lara. Not even Bree.
As online life collides with real life, things spiral out of control, and not just for Lara. Because when the truth starts to come together, the backlash is even more devastating than anyone could have ever imagined.
68. Black Dove, White Raven by Elizabeth Wein (Disney-Hyperion): Emilia and Teo's lives changed in a fiery, terrifying instant when a bird strike brought down the plane their stunt pilot mothers were flying. Teo's mother died immediately, but Em's survived, determined to raise Teo according to his late mother's wishes-in a place where he won't be discriminated against because of the color of his skin. But in 1930s America, a white woman raising a black adoptive son alongside a white daughter is too often seen as a threat.
Seeking a home where her children won't be held back by ethnicity or gender, Rhoda brings Em and Teo to Ethiopia, and all three fall in love with the beautiful, peaceful country. But that peace is shattered by the threat of war with Italy, and teenage Em and Teo are drawn into the conflict. Will their devotion to their country, its culture and people, and each other be their downfall or their salvation?
In the tradition of her award-winning and bestselling Code Name Verity, Elizabeth Wein brings us another thrilling and deeply affecting novel that explores the bonds of friendship, the resilience of young pilots, and the strength of the human spirit.
69. Bone Gap by Laura Ruby (Balzer + Bray): Everyone knows Bone Gap is full of gaps—gaps to trip you up, gaps to slide through so you can disappear forever. So when young, beautiful Roza went missing, the people of Bone Gap weren't surprised. After all, it wasn't the first time that someone had slipped away and left Finn and Sean O'Sullivan on their own. Just a few years before, their mother had high-tailed it to Oregon for a brand new guy, a brand new life. That's just how things go, the people said. Who are you going to blame?
Finn knows that's not what happened with Roza. He knows she was kidnapped, ripped from the cornfields by a dangerous man whose face he cannot remember. But the searches turned up nothing, and no one believes him anymore. Not even Sean, who has more reason to find Roza than anyone, and every reason to blame Finn for letting her go.
As we follow the stories of Finn, Roza, and the people of Bone Gap—their melancholy pasts, their terrifying presents, their uncertain futures—acclaimed author Laura Ruby weaves a heartbreaking tale of love and loss, magic and mystery, regret and forgiveness—a story about how the face the world sees is never the sum of who we are.
70. Boys Don't Knit by T. S. Easton (Feiwel & Friends): Knitting is a man's game.
After an incident regarding a crossing guard and a bottle of Martini & Rossi (and his bonehead friends), 17-year-old worrier Ben Fletcher must develop his sense of social alignment, take up a hobby, and do some community service to avoid any further probation.
He takes a knitting class (it was that or his father's mechanic class) under the impression that it's taught by the hot teacher all the boys like. Turns out, it's not. Perfect.
Regardless, he sticks with it and comes to find that he's a natural knitter, maybe even great. It even helps ease his anxiety and worrying. The only challenge now is to keep it hidden from his friends, his crush, and his soccer-obsessed father. What a tangled web Ben has weaved . . . or knitted.
71. The Brilliant Light of Amber Sunrise by Matthew Crow (Simon Pulse): Francis is determined to forge his own way in school and life despite his loony, awkward, broken family…and noticeable lack of friends. Then he is diagnosed with leukemia. It wasn't part of his strategy, but there are moments when he can see the upside. After all, people are nice to you when you're sick.
While in the hospital, Francis meets Amber. She's outspoken and sarcastic, and Francis falls for her almost immediately. Hard. Together, they take on the other cancer ward patients, overbearing mothers, and treatments with lively wit.
But Francis's recovery is taking a different path from Amber's. He's actually getting better. And although he knew who he was before cancer, before Amber, now he has no idea how to live—or how to let go.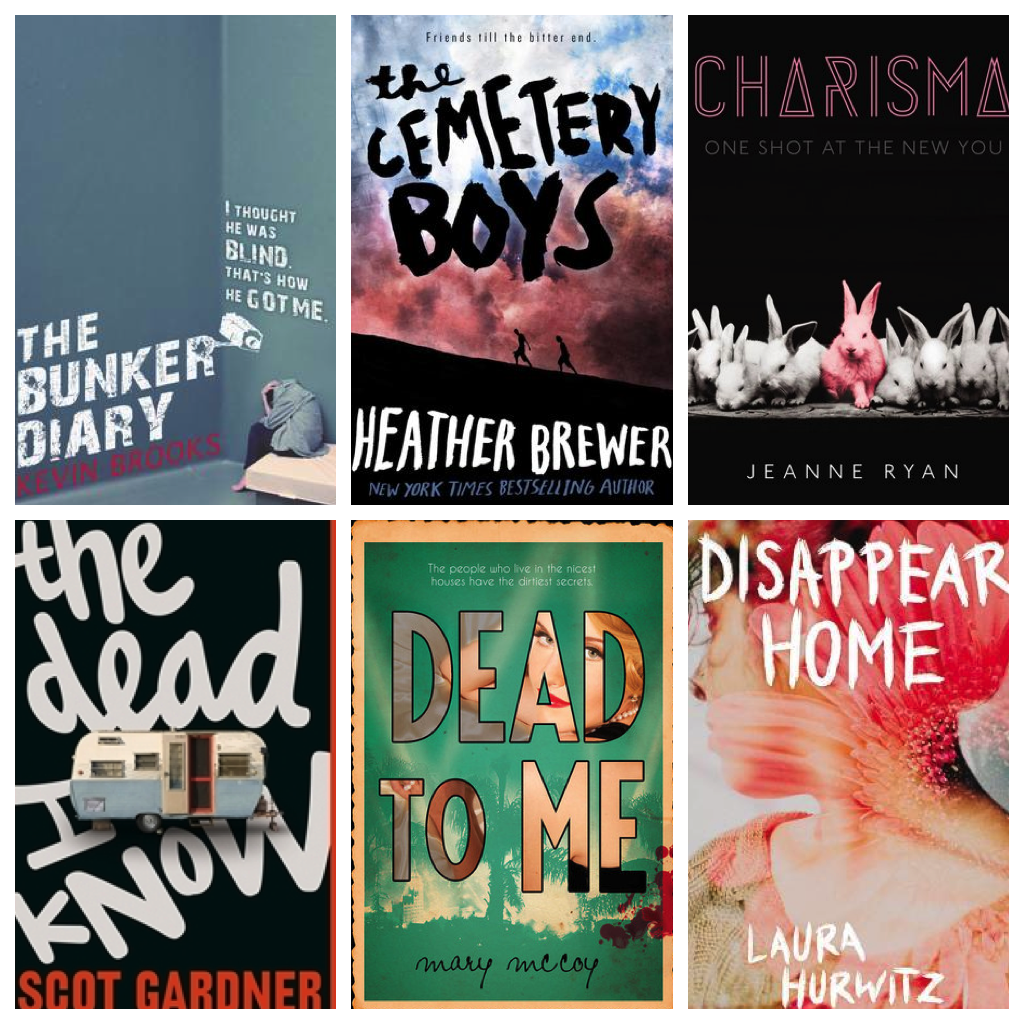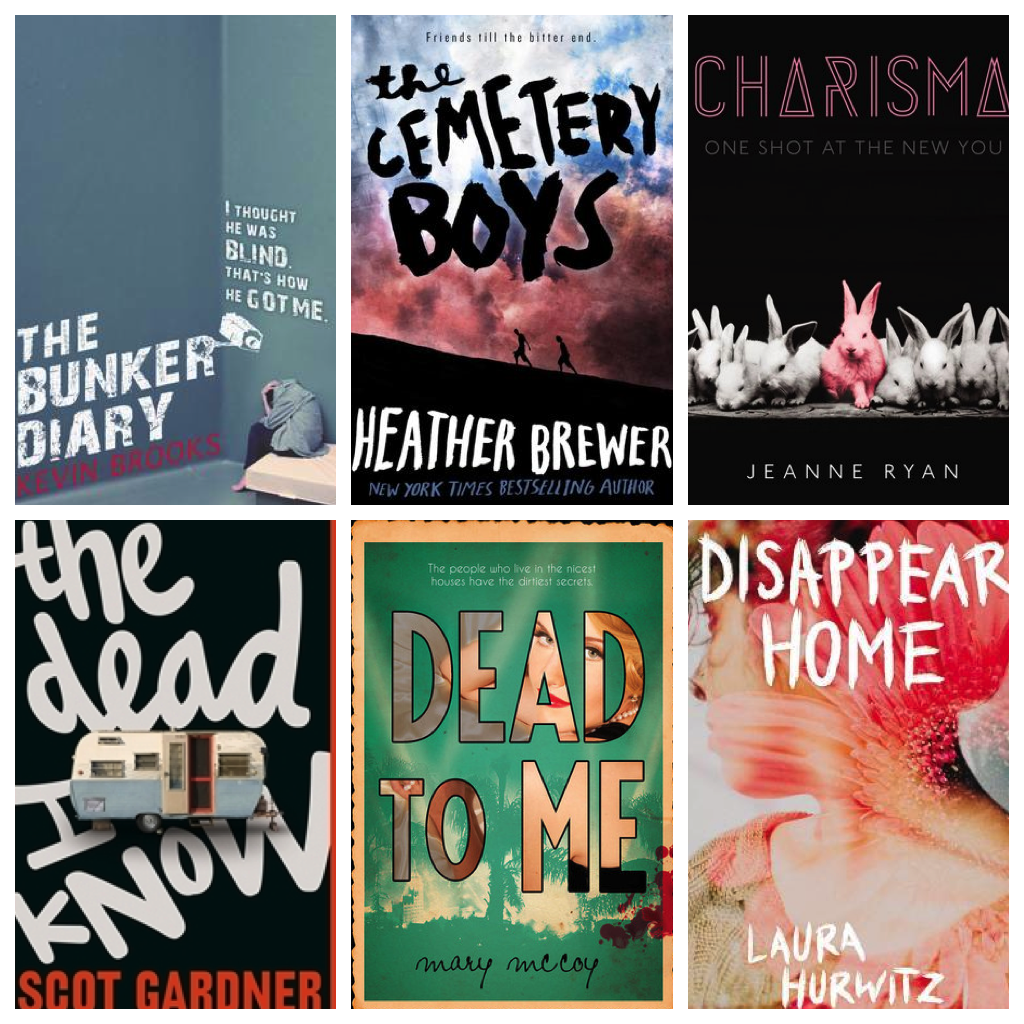 72. The Bunker Diary by Kevin Brooks (Carolrhoda): Room meets Lord of the Flies, The Bunker Diary is award-winning, young adult writer Kevin Brooks's pulse-pounding exploration of what happens when your worst nightmare comes true – and how will you survive?
73. The Cemetery Boys by Heather Brewer (Harper Collins):When Stephen is forced to move back to the nowhere town where his father grew up, he's already sure he's not going to like it. Spencer, Michigan, is like a town straight out of a Hitchcock movie, with old-fashioned people who see things only in black-and-white. But things start looking up when Stephen meets the mysterious twins Cara and Devon. They're total punks–hardly the kind of people Stephen's dad wants him hanging out with–but they're a breath of fresh air in this backward town. The only problem is, Cara and Devon don't always get along, and as Stephen forms a friendship with the charismatic Devon and something more with the troubled Cara, he starts to feel like he's getting caught in the middle of a conflict he doesn't fully understand. And as Devon's group of friends, who hang out in a cemetery they call The Playground, get up to increasingly reckless activities to pass the summer days, Stephen worries he may be in over his head.
Stephen's fears prove well-founded when he learns of Spencer's dark past. It seems the poor factory town has a history of "bad times," and many of the town's oldest residents attribute the bad times to creatures right out of an urban legend. The legend goes that the only way the town will prosper again is if someone makes a sacrifice to these nightmarish creatures. And while Stephen isn't one to believe in old stories, it seems Devon and his gang might put a lot of faith in them. Maybe even enough to kill for them.
Now, Stephen has to decide what he believes, where his allegiances lie, and who will really be his friend in the end.
74. Charisma by Jeanne Ryan (Dial): Aislyn suffers from crippling shyness—that is, until she's offered a dose of Charisma, an underground gene therapy drug guaranteed to make her shine. The effects are instant. She's charming, vivacious, and popular. But strangely, so are some other kids she knows. The media goes into a frenzy when the disease turns contagious, and then deadly, and the doctor who gave it to them disappears. Aislyn must find a way to stop it, before it's too late.
Part medical thriller, part social justice commentary, Charisma will have readers on the edge of their seats.

75. The Dead I Know by Scot Gardner (HMH Books for Young Readers): Aaron Rowe walks in his sleep and haunted by dreams he can't explain and memories he can't recover. Death doesn't scare him—his new job with a funeral director may even be his salvation. But if he doesn't discover the truth about his hidden past soon, he may fall asleep one night and never wake up.In this dark and witty psychological drama about survival, Aaron finds that making peace with the dead may be easier than coming to terms with the living.
76. Dead to Me by Mary McCoy (Disney-Hyperion): "Don't believe anything they say."
Those were the last words that Annie spoke to Alice before turning her back on their family and vanishing without a trace. Alice spent four years waiting and wondering when the impossibly glamorous sister she idolized would return to her–and what their Hollywood-insider parents had done to drive her away.
When Annie does turn up, the blond, broken stranger lying in a coma has no answers for her. But Alice isn't a kid anymore, and this time she won't let anything stand between her and the truth, no matter how ugly. The search for those who beat Annie and left her for dead leads Alice into a treacherous world of tough-talking private eyes, psychopathic movie stars, and troubled starlets–and onto the trail of a young runaway who is the sole witness to an unspeakable crime. What this girl knows could shut down a criminal syndicate and put Annie's attacker behind bars–if Alice can find her first. And she isn't the only one looking
Evoking classic film noir, debut novelist Mary McCoy brings the dangerous glamour of Hollywood's Golden Age to life, where the most decadent parties can be the deadliest, and no drive into the sunset can erase the crimes of past.
77. Disappear Home by Laura Hurwitz (Albert Whitman): In 1970, as the hippie movement is losing its innocence, Shoshanna and her six-year-old sister, Mara, escape from Sweet Earth Farm, a declining commune, run by their tyrannical and abusive father, Adam. Their mother, Ella, takes them to San Francisco, where they meet one of her old friends, Judy, and the four of them decide to head off and try to make a life together. Finding a safe haven at the farm of kind, elderly Avery Elliot, the four of them find some measure of peace and stability. Then their mother's crippling depression returns. Confused and paranoid, Ella is convinced that she and the girls must leave before Adam finds them and extracts revenge. The girls don't wish to leave the only stable home they've ever had. But as Ella grows worse and worse, events conspire to leave them to face a choice they never could have imagined. Shoshanna has always watched over her sister and once again she has to watch over her ailing mother. Will she ever live a "normal" life?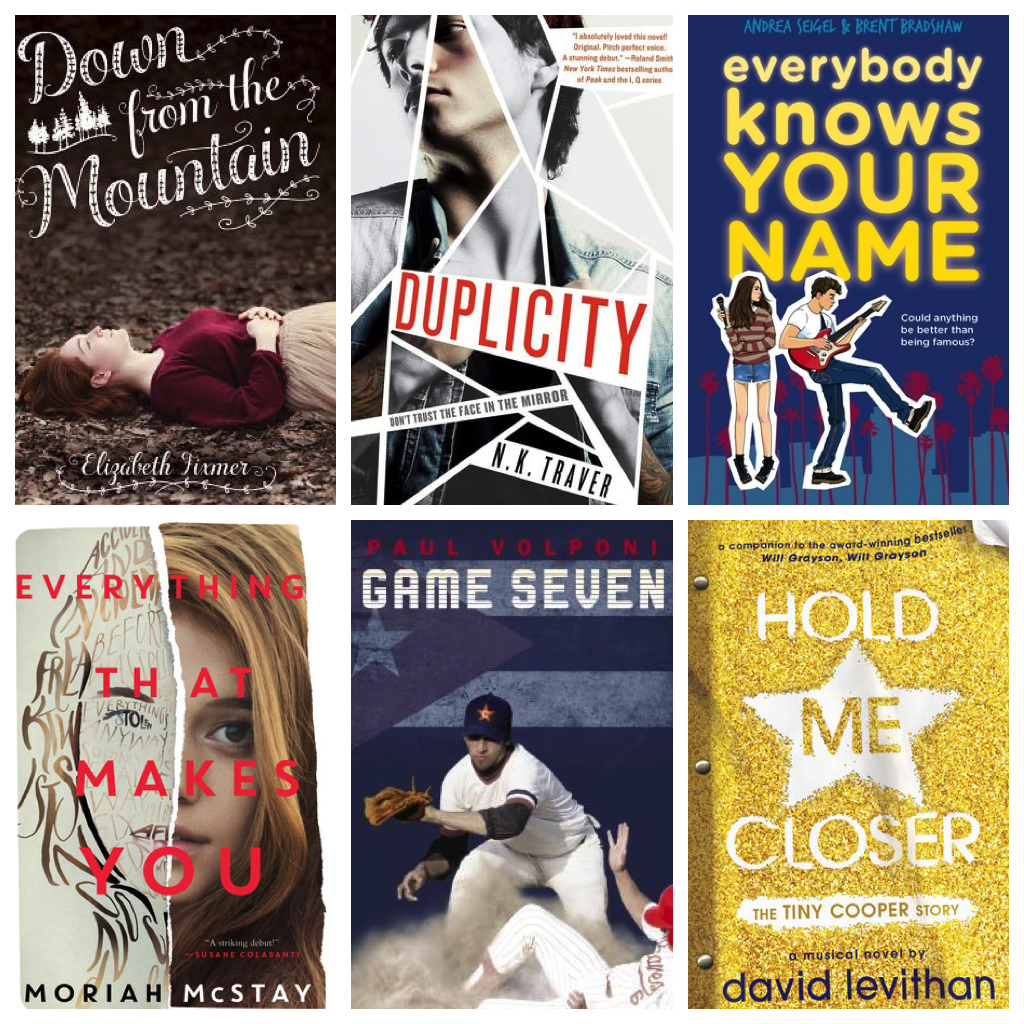 78. Down from the Mountain by Elizabeth Fixmer (Albert Whitman): Eva just wants to be a good disciple of Righteous Path. She grew up knowing that she's among the chosen few to be saved from Armageddon. Lately, though, being saved feels awfully treacherous. Ever since they moved to the compound in Colorado, their food supplies have dwindled even while their leader, Ezekiel, has stockpiled weapons. The only money comes from the jewelry Eva makes and sells down in Boulder–a purpose she'll serve until she becomes one of Ezekiel's wives. But a college student named Trevor and the other "heathens" she meets on her trips beyond the compound are far different from what she's been led to believe. Now Eva doesn't know which is more dangerous–the outside world, or Brother Ezekiel's plans.
79. Duplicity by N. K. Traver (Thomas Dunne): In private, seventeen-year-old Brandon hacks bank accounts just for the thrill of it. In public, he looks like any other tattooed bad boy with a fast car and devil-may-care attitude. He should know: he's worked hard to maintain that façade. With inattentive parents who move constantly from city to city, he's learned not to get tangled up in things like friends and relationships. So he'll just keep living like a machine, all gears and wires.
Then two things shatter his carefully-built image: Emma, the kind, stubborn girl who insists on looking beneath the surface – and the small matter of a mirror reflection that starts moving by itself. Not only does Brandon's reflection have a mind of its own, but it seems to be grooming him for something—washing the dye from his hair, yanking out his piercings, swapping his black shirts for … pastels. Then it tells him: it thinks it can live his life better, and it's preparing to trade places.
And when it pulls Brandon through the looking-glass, not only will he need all his ill-gotten hacking skills to escape, but he's going to have to face some hard truths about who he's become. Otherwise he'll be stuck in a digital hell until he's old and gray, and no one will even know he's gone.
80. Everybody Knows Your Name by Andrea Seigel and Brent Bradshaw (Vikine Juvenile): Meet Magnolia.
Her father's dead, her boyfriend's ditched her to commit himself more fully to surfing, and her mother's depressed because she can't get cast onThe Real Housewives of Orange County. All Magnolia wants is to reinvent herself.
Meet Ford.
Half his family is in jail, the other half probably should be, he shoplifted his way into a job at a record store, and his brother pawned his 1953 Telecaster for a quick buck. All Ford wants is to reinvent himself.
Ford, meet Magnolia.
When the two teens are cast in Spotlight, a reality TV singing competition, both see it as their chance to start anew. With each episode, as they live together in a Hollywood Hills mansion and sing their hearts out, Ford and Magnolia fall in love. But how genuine can that love be when a television audience is watching their every move—and when their pasts are catching up them so much faster than they can run?
81. Everything That Makes You by Moriah McStay (Katherine Tegan): One girl. Two stories. Meet Fiona Doyle. The thick ridges of scar tissue on her face are from an accident twelve years ago. Fiona has notebooks full of songs she's written about her frustrations, her dreams, and about her massive crush on beautiful uber-jock Trent McKinnon. If she can't even find the courage to look Trent straight in his beautiful blue eyes, she sure isn't brave enough to play or sing any of her songs in public. But something's changing in Fiona. She can't be defined by her scars anymore.
And what if there hadn't been an accident? Meet Fi Doyle. Fi is the top-rated female high school lacrosse player in the state, heading straight to Northwestern on a full ride. She's got more important things to deal with than her best friend Trent McKinnon, who's been different ever since the kiss. When her luck goes south, even lacrosse can't define her anymore. When you've always been the best at something, one dumb move can screw everything up. Can Fi fight back?
82. Game Seven by Paul Volponi (Viking Juvenile): Since he was ten, Julio has lived in the shadow of his famous father. Not just because Julio Senior is a pitcher for the Miami Marlins, but because he fled Cuba to play professional baseball, leaving his Julio and his mother and sister branded as the family of a traitor.
Now sixteen, Julio dreams of playing for Cuba's national team—until he finds out his father's defection may destroy his chances. When he's given the opportunity to flee Cuba, he has to make the toughest choice of his life. Can he abandon his family, just like his Papi did? Will freedom be worth the perilous journey and risking prison if he's caught? Will his Papi be waiting for him on the other shore—or, with the Marlins in the World Series against the Yankees, has Julio Senior forgotten about his son?
83. Hold Me Closer: The Tiny Cooper Story by David Levithan (Dutton): Jazz hands at the ready! Tiny Cooper ("the world's largest person who is also really, really gay") stole readers' hearts when he was introduced to the world in the New York Times bestselling book Will Grayson, Will Grayson, co-authored by John Green and David Levithan. Now Tiny finally gets to tell his story—from his fabulous birth and childhood to his quest for true love and his infamous parade of ex-boyfriends—the way he always intended: as a musical! Filled with honesty, humor, and "big, lively, belty" musical numbers, the novel is told through the full script of the musical first introduced in Will Grayson, Will Grayson.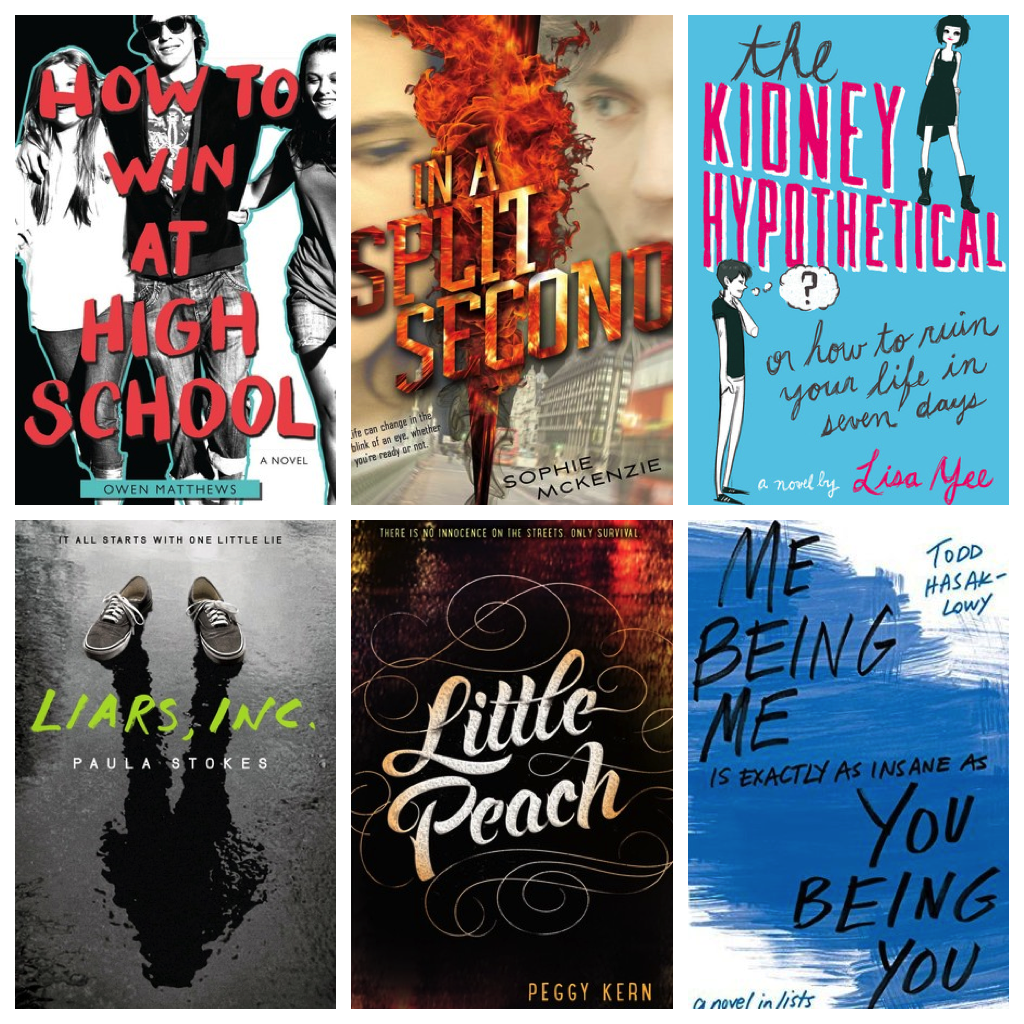 84. How to Win at High School by Owen Matthews (HarperTeen): Using Scarface as his guide to life, Adam Higgs is going from zero to high school hero.
Adam Higgs is a loser, and he's not okay with it.
But starting as a junior in a new high school seems like exactly the right time to change things. He brainstorms with his best friend, Brian: What will it take for him to take over Nixon Collegiate?
Adam searches for the A-listers' weak spot and strikes gold when he gets queen bee Sara Bryant to pay him for doing her physics homework. One part nerd, two parts badass, Adam ditches his legit job and turns to full-time cheating. His clients? All the Nixon Collegiate gods and goddesses.
But soon his homework business becomes a booze business, which becomes a fake ID business. Adam's popularity soars as he unlocks high school achievements left and right, from his first kiss to his first rebound hookup. But something else is haunting him—a dark memory from his past, driving him to keep climbing. What is it? And will he go too far?
85. In A Split Second by Sophie McKenzie (Simon & Schuster Books for Young Readers): Charlie's life is torn apart by a terrorist bomb in a London market. Months later, she meets Nat, whose family was devastated by the same explosion. But as Charlie gets closer to Nat she uncovers secrets and a whole cast of shady characters that lead her to believe Nat knows more about the attack than he is letting on. In a Split Second is a breathtaking thriller that shifts between the perspectives of its two main characters as their courage and their loyalties are tested to the limit.
86. The Kidney Hypothetical by Lisa Yee (Arthur A Levin Books): Higgs Boson Bing has seven days left before his perfect high school career is completed. Then it's on to Harvard to fulfill the fantasy portrait of success that he and his parents have cultivated for the past four years. Four years of academic achievement. Four years of debate championships. Two years of dating the most popular girl in school. It was, literally, everything his parents could have wanted. Everything they wanted for Higgs's older brother Jeffrey, in fact.
But something's not right. And when Higgs's girlfriend presents him with a seemingly innocent hypothetical question about whether or not he'd give her a kidney . . . the exposed fault lines reach straight down to the foundations of his life.
87. Liars, Inc. by Paula Stokes (HarperTeen): It all starts with one little lie…
Max Cantrell has never been a big fan of the truth, so when the opportunity arises to sell lies to his classmates, it sounds like a good way to make a little money and liven up a boring senior year. With the help of his friends Preston and Parvati, Max starts a business providing forged permission slips and cover stories for the students of Vista Palisades High. Liars, Inc. they call it. Suddenly everybody needs something and the cash starts pouring in. Who knew lying could be so lucrative?
When Preston wants his own cover story to go visit a girl he met online, Max doesn't think twice about hooking him up. Until Preston never comes home. Then the evidence starts to pile up—terrifying clues that lead the cops to Preston's body. Terrifying clues that point to Max as the murderer.
Can Max find the real killer before he goes to prison for a crime he didn't commit?
88. Little Peach by Peggy Kern (Balzer + Bray): When Michelle runs away from her drug-addicted mother, she has just enough money to make it to New York City, where she hopes to move in with a friend. But once she arrives at the bustling Port Authority, she is confronted with the terrifying truth: she is alone and out of options.
Then she meets Devon, a good-looking, well-dressed guy who emerges from the crowd armed with a kind smile, a place for her to stay, and eyes that seem to understand exactly how she feels.
But Devon is not what he seems to be, and soon Michelle finds herself engulfed in the world of child prostitution where he becomes her "Daddy" and she his "Little Peach." It is a world of impossible choices, where the line between love and abuse, captor and savior, is blurred beyond recognition.
89. Me Being Me Is Exactly As Insane As You Being You by Todd Hasak-Lowy (Simon Pulse): Darren hasn't had an easy year.
There was his parents' divorce, which just so happened to come at the same time his older brother Nate left for college and his longtime best friend moved away. And of course there's the whole not having a girlfriend thing.
Then one Thursday morning Darren's dad shows up at his house at 6 a.m. with a glazed chocolate doughnut and a revelation that turns Darren's world inside out. In full freakout mode, Darren, in a totally un-Darren move, ditches school to go visit Nate. Barely twenty-four hours at Nate's school makes everything much better or much worse—Darren has no idea. It might somehow be both. All he knows for sure is that in addition to trying to figure out why none of his family members are who they used to be, he's now obsessed with a strangely amazing girl who showed up out of nowhere but then totally disappeared.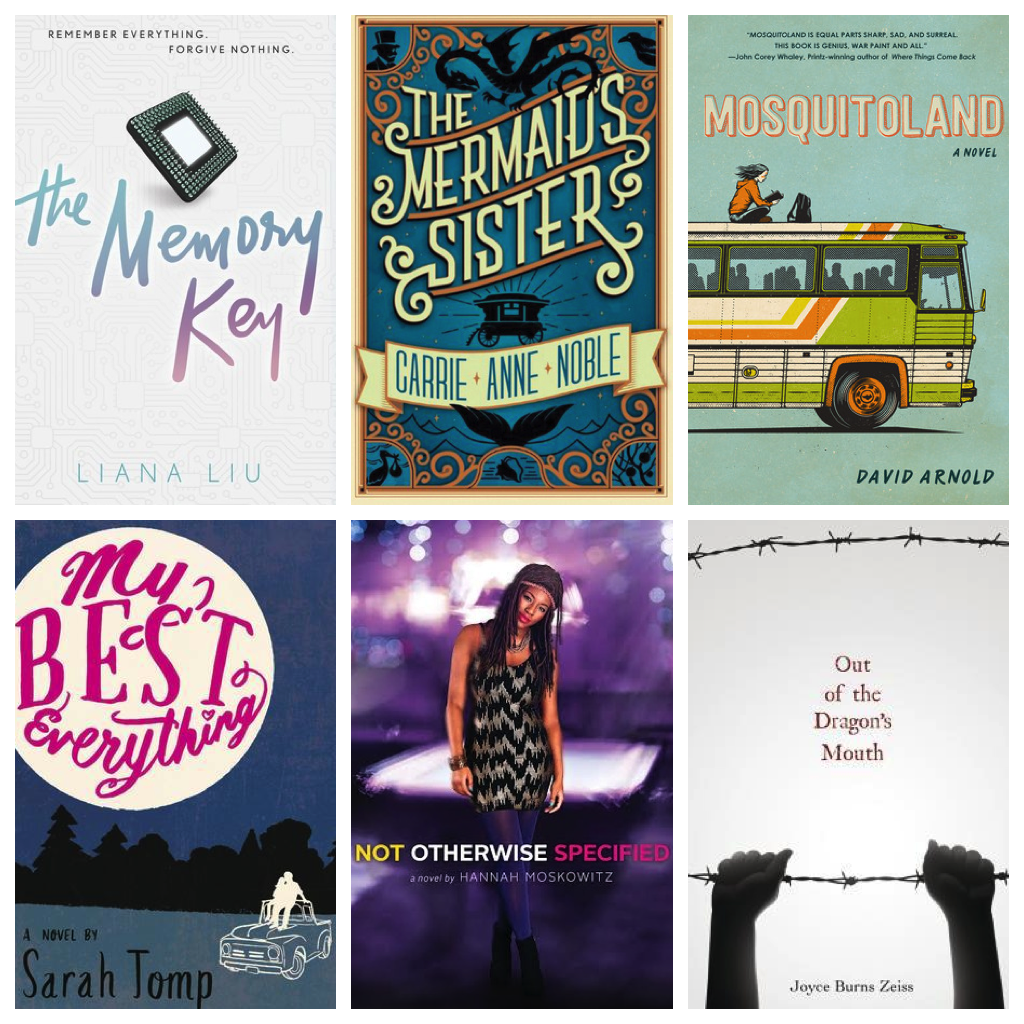 90. The Memory Key by Liana Liu (HarperTeen): In a five-minutes-into-the-future world, a bereaved daughter must choose between losing memories of her mother to the haze of time and the reality-distorting, visceral pain of complete, perfect recall.
Lora Mint is determined not to forget.
Though her mother's been dead for five years, Lora struggles to remember every detail about her—most importantly, the specific events that occurred the night she sped off in her car, never to return.
But in a world ravaged by Vergets disease, a viral form of Alzheimer's, that isn't easy. Usually Lora is aided by her memory key, a standard-issue chip embedded in her brain that preserves memories just the way a human brain would. Then a minor accident damages Lora's key, and her memories go haywire. Suddenly Lora remembers a moment from the night of her mother's disappearance that indicates her death was no accident. Can she trust these formerly forgotten memories? Or is her ability to remember every painful part of her past driving her slowly mad—burying the truth forever?
91. The Mermaid's Sister by Carrie Ann Noble (Amazon Skyscape): In a cottage high atop Llanfair Mountain, sixteen-year-old Clara lives with her sister, Maren, and guardian Auntie. By day, they gather herbs for Auntie's healing potions. By night, Auntie spins tales of faraway lands and wicked fairies. Clara's favorite story tells of three orphan infants—Clara, who was brought to Auntie by a stork; Maren, who arrived in a seashell; and their best friend, O'Neill, who was found beneath an apple tree.
One day, Clara discovers shimmering scales just beneath her sister's skin. She realizes that Maren is becoming a mermaid—and knows that no mermaid can survive on land. Desperate to save her, Clara and O'Neill place the mermaid-girl in their gypsy wagon and set out for the sea. But no road is straight, and the trio encounters trouble around every bend. Ensnared by an evil troupe of traveling performers, Clara and O'Neill must find a way to save themselves and the ever-weakening mermaid.
And always, in the back of her mind, Clara wonders, if my sister is a mermaid, then what am I?
92. Mosquitoland by David Arnold (Viking Children's): After the sudden collapse of her family, Mim Malone is dragged from her home in northern Ohio to the "wastelands" of Mississippi, where she lives in a medicated milieu with her dad and new stepmom. Before the dust has a chance to settle, she learns her mother is sick back in Cleveland.
So she ditches her new life and hops aboard a northbound Greyhound bus to her real home and her real mother, meeting a quirky cast of fellow travelers along the way. But when her thousand-mile journey takes a few turns she could never see coming, Mim must confront her own demons, redefining her notions of love, loyalty, and what it means to be sane.

93. My Best Everything by Sarah Tomp (Little, Brown Books for Young Readers): Luisa "Lulu" Mendez has just finished her final year of high school in a small Virginia town, determined to move on and leave her job at the local junkyard behind. So when her father loses her college tuition money, Lulu needs a new ticket out.
Desperate for funds, she cooks up the (definitely illegal) plan to make and sell moonshine with her friends, Roni and Bucky. Quickly realizing they're out of their depth, Lulu turns to Mason: a local boy who's always seemed like a dead end. As Mason guides Lulu through the secret world of moonshine, it looks like her plan might actually work. But can she leave town before she loses everything – including her heart?
The summer walks the line between toxic and intoxicating. My Best Everything is Lulu's letter to Mason – though is it an apology, a good-bye, or a love letter?
94. Not Otherwise Specified by Hannah Moskowitz (Simon Pulse): Etta is tired of dealing with all of the labels and categories that seem so important to everyone else in her small Nebraska hometown.
Everywhere she turns, someone feels she's too fringe for the fringe. Not gay enough for the Dykes, her ex-clique, thanks to a recent relationship with a boy; not tiny and white enough for ballet, her first passion; and not sick enough to look anorexic (partially thanks to recovery). Etta doesn't fit anywhere— until she meets Bianca, the straight, white, Christian, and seriously sick girl in Etta's therapy group. Both girls are auditioning for Brentwood, a prestigious New York theater academy that is so not Nebraska. Bianca seems like Etta's salvation, but how can Etta be saved by a girl who needs saving herself?
95. Out of the Dragon's Mouth by Joyce Burns Zeiss (Flux): After the fall of South Vietnam, fourteen-year-old Mai, a young Vietnamese girl of Chinese descent, is torn from a life of privilege and protection and forced to flee in the hold of a fishing trawler across the South China Sea. Mai finds tenuous safety in a refugee camp on an island off the coast of Malaysia, where she is taken in by Small Auntie, a greedy relative who demands payment for her hospitality. With her father's words, "You must survive," echoing in her ears, Mai endures the hardships of the camp, tempered only by dreams of being sponsored by her uncle in Philadelphia for entry into America.
When an accident forces Mai to flee from the safety of her temporary family, she meets a half-American boy named Kien who might be the only person who can keep her alive until she's sent to the US.
96. Playing A Part by Daria Wilke, Translated by Marian Schwartz (Scholastic): In June 2013, the Russian government passed laws prohibiting "gay propaganda," threatening jail time and fines to offenders. That same month, in spite of these harsh laws, a Russian publisher released Playing a Part, a young adult novel with openly gay characters. It was a brave, bold act, and now this groundbreaking story has been translated for American readers.
In Playing a Part, Grisha adores everything about the Moscow puppet theater where his parents work, and spends as much time there as he can. But life outside the theater is not so wonderful. The boys in Grisha's class bully him mercilessly, and his own grandfather says hateful things about how he's not "masculine" enough. Life goes from bad to worse when Grisha learns that Sam, his favorite actor and mentor, is moving: He's leaving the country to escape the extreme homophobia he faces in Russia.
How Grisha overcomes these trials and writes himself a new role in his own story is heartfelt, courageous, and hopeful.
97. Razorhurst by Justine Larbalestier (Soho Teen): The setting: Razorhurst, 1932. The fragile peace between two competing mob bosses—Gloriana Nelson and Mr Davidson—is crumbling. Loyalties are shifting. Betrayals threaten.
Kelpie knows the dangers of the Sydney streets. Ghosts have kept her alive, steering her to food and safety, but they are also her torment.
Dymphna is Gloriana Nelson's 'best girl', experienced in surviving the criminal world, but she doesn't know what this day has in store for her.
When Dymphna meets Kelpie over the corpse of Jimmy Palmer, Dymphna's latest boyfriend, she pronounces herself Kelpie's new protector. But Dymphna's life is in danger too, and she needs an ally. And while Jimmy's ghost wants to help, the dead cannot protect the living.
98. Read Between the Lines by Jo Knowles (Candlewick): Thanks to a bully in gym class, unpopular Nate suffers a broken finger—the middle one, splinted to flip off the world. It won't be the last time a middle finger is raised on this day. Dreamer Claire envisions herself sitting in an artsy café, filling a journal, but fate has other plans. One cheerleader dates a closeted basketball star; another questions just how, as a "big girl," she fits in. A group of boys scam drivers for beer money without remorse—or so it seems. Over the course of a single day, these voices and others speak loud and clear about the complex dance that is life in a small town. They resonate in a gritty and unflinching portrayal of a day like any other, with ordinary traumas, heartbreak, and revenge. But on any given day, the line where presentation and perception meet is a tenuous one, so hard to discern. Unless, of course, one looks a little closer—and reads between the lines.
99. The Start of You and Me by Emery Lord (Bloomsbury): It's been a year since it happened—when Paige Hancock's first boyfriend died in an accident. After shutting out the world for a year, Paige is finally ready for a second chance at high school . . . and she has a plan. First: Get her old crush, Ryan Chase, to date her—the perfect way to convince everyone she's back to normal. Next: Join a club—simple, it's high school after all. But when Ryan's sweet, nerdy cousin, Max, moves to town and recruits Paige for the Quiz Bowl team (of all things!) her perfect plan is thrown for a serious loop. Will Paige be able to face her fears and finally open herself up to the life she was meant to live?
100. The Tragic Age by Stephen Metcalf (St. Martins Griffin): This is the story of Billy Kinsey, heir to a lottery fortune, part genius, part philosopher and social critic, full time insomniac and closeted rock drummer. Billy has decided that the best way to deal with an absurd world is to stay away from it. Do not volunteer. Do not join in. Billy will be the first to tell you it doesn't always work— not when your twin sister, Dorie, has died, not when your unhappy parents are at war with one another, not when frazzled soccer moms in two ton SUVs are more dangerous than atom bombs, and not when your guidance counselor keeps asking why you haven't applied to college. Billy's life changes when two people enter his life. Twom Twomey is a charismatic renegade who believes that truly living means going a little outlaw. Twom and Billy become one another's mutual benefactor and friend. At the same time, Billy is reintroduced to Gretchen Quinn, an old and adored friend of Dorie's. It is Gretchen who suggests to Billy that the world can be transformed by creative acts of the soul. With Twom, Billy visits the dark side. And with Gretchen, Billy experiences possibilities.Billy knows that one path is leading him toward disaster and the other toward happiness. The problem is—Billy doesn't trust happiness. It's the age he's at. The tragic age.
101. Under a Painted Sky by Stacey Lee (Putnam Juvenile): Missouri, 1849: Samantha dreams of moving back to New York to be a professional musician—not an easy thing if you're a girl, and harder still if you're Chinese. But a tragic accident dashes any hopes of fulfilling her dream, and instead, leaves her fearing for her life. With the help of a runaway slave named Annamae, Samantha flees town for the unknown frontier. But life on the Oregon Trail is unsafe for two girls, so they disguise themselves as Sammy and Andy, two boys headed for the California gold rush. Sammy and Andy forge a powerful bond as they each search for a link to their past, and struggle to avoid any unwanted attention. But when they cross paths with a band of cowboys, the light-hearted troupe turn out to be unexpected allies. With the law closing in on them and new setbacks coming each day, the girls quickly learn that there are not many places to hide on the open trail.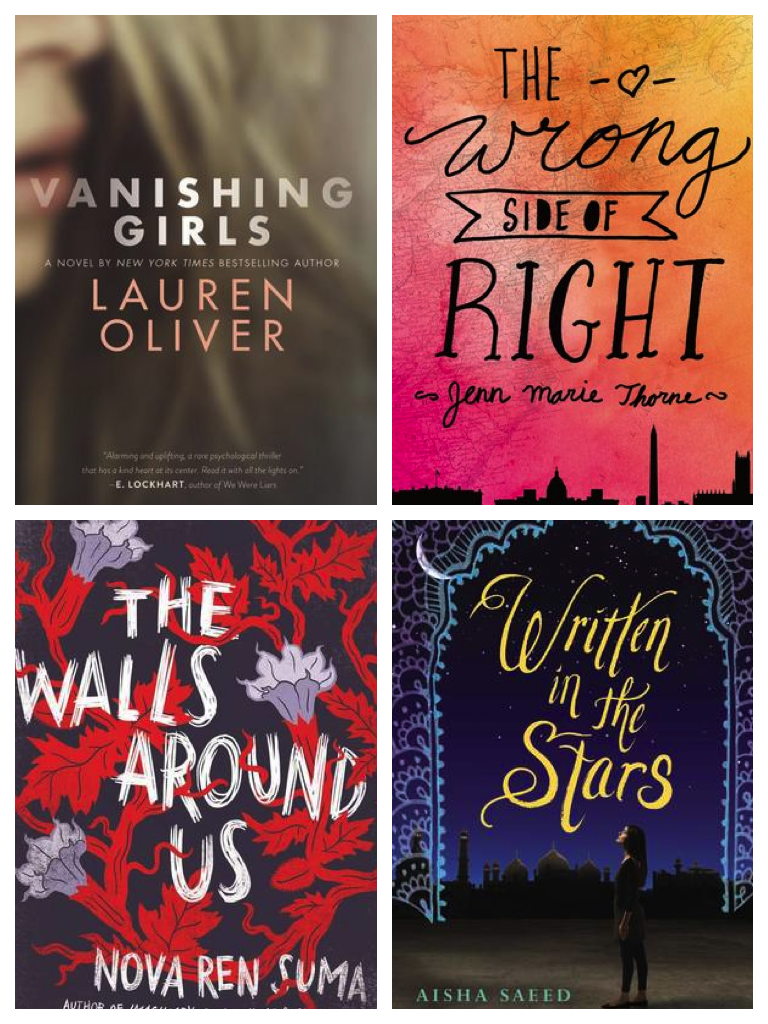 102. Vanishing Girls by Lauren Oliver (Harper Collins): Dara and Nick used to be inseparable, but that was before the accident that left Dara's beautiful face scarred and the two sisters totally estranged. When Dara vanishes on her birthday, Nick thinks Dara is just playing around. But another girl, nine-year-old Madeline Snow, has vanished, too, and Nick becomes increasingly convinced that the two disappearances are linked. Now Nick has to find her sister, before it's too late.
103. The Walls Around Us by Nova Ren Suma (Algonquin Young Readers): A ghostly story of suspense told in two voices—one still living and one long dead. On the outside, there's Violet, an eighteen-year-old dancer days away from the life of her dreams when something threatens to expose the shocking truth of her achievement. On the inside, within the walls of a girls' juvenile detention center, there's Amber, locked up for so long she can't imagine freedom. Tying these two worlds together is Orianna, who holds the key to unlocking all the girls' darkest mysteries.
We hear Amber's story and Violet's, and through them Orianna's, first from one angle, then from another, until gradually we begin to get the whole picture—which is not necessarily the one that either Amber or Violet wants us to see.
104. Written in the Stars by Aisha Saeed (Nancy Paulsen Books): Naila's conservative immigrant parents have always said the same thing: She may choose what to study, how to wear her hair, and what to be when she grows up—but they will choose her husband. Following their cultural tradition, they will plan an arranged marriage for her. And until then, dating—even friendship with a boy—is forbidden. When Naila breaks their rule by falling in love with Saif, her parents are livid. Convinced she has forgotten who she truly is, they travel to Pakistan to visit relatives and explore their roots. But Naila's vacation turns into a nightmare when she learns that plans have changed—her parents have found her a husband and they want her to marry him, now! Despite her greatest efforts, Naila is aghast to find herself cut off from everything and everyone she once knew. Her only hope of escape is Saif . . . if he can find her before it's too late.
105. The Wrong Side of Right by Jenn Marie Thorne (Dial): Kate Quinn's mom died last year, leaving Kate parentless and reeling. So when the unexpected shows up in her living room, Kate must confront another reality she never thought possible—or thought of at all. Kate does have a father. He's a powerful politician. And he's running for U.S. President. Suddenly, Kate's moving in with a family she never knew she had, joining a campaign in support of a man she hardly knows, and falling for a rebellious boy who may not have the purest motives. This is Kate's new life. But who is Kate? When what she truly believes flies in the face of the campaign's talking points, she must decide. Does she turn to the family she barely knows, the boy she knows but doesn't necessarily trust, or face a third, even scarier option?
____________________
Want more bookish goodness, news, posts about special book deals, and the occasional puppy reading pic? Follow us on Facebook: