The List List #135
This week's List List is sponsored by Random House Audio.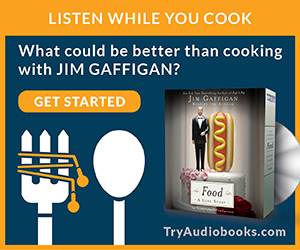 Need something to listen to while you cook? Are you going on a family road trip? Do you like to craft? Do you travel for business or commute for work?
Random House Audio has chosen several titles that complement these activities- you can also search by the length of your activity to find an audiobook that perfectly fits your day! Find the perfect audiobook now.
____________________
at The New York Times, The Best Book Covers of 2014
at Amazon, the Top-Selling Books of 2014
at FlavorWire, the Best Novels of 2014
at BuzzFeed Community, 12 Rooms of Requirement That Should've Existed in HARRY POTTER
at Wired, Best Science Books We Read in 2014
at Stacked, 2015 YA Cover Trends, Part I
at Mashable, The 10 Best YA Books of 2014
at The New York Times, Best Selling Science Books
at The Folio Prize, The Folio Prize Long List
at NPR, Maureen Corrigan's Favorite Books of 2014
at the A.V. Club, Our Favorite Books of the Year
at HuffPost Books, 2015 Books We Can't Wait To Read
and…
at AbeBooks, the 50 Most Expensive Sales of 2014
Save
Do you like podcasts like
This American Life, RadioLab, or Planet Money
?
Annotated
is kinda like those, but for books. Go
here to find out more
, or click the image below: