Buy, Borrow, Bypass: Holiday Vacation Reads
This Thanksgiving weekend, I was traveling in Key West with my family and, since the weather was actually pretty chilly, I decided my time would best be spent reading a book a day on our porch. It was an excellent decision. I finished three books and all of them were very different, but each one felt like a great vacation read for one reason or another.
The Queen of the Tearling by Erika Johansen 
Kelsea has been raised in isolation to keep her safe. She's the heir to the throne and there is a price on her head, but on her 19th birthday, guards show up at her childhood sanctuary to take her to the capital for her coronation. I kept turning the pages in this fantasy novel to learn more- more about the heroine, Kelsea, more about the world she is to govern, more about the magic. And admittedly, the world-building in this novel could have been better, but it still left me satisfied and eager to continue the story. This book reminded me of Bitterblue by Kristin Cashore and that comparison doesn't do The Queen of the Tearling any favors unfortunately, because that book does answer some of the questions that The Queen of the Tearling raises in a much better way. But Bitterblue was also the finale of a trilogy and I'm still looking forward to what Johansen, and Keslea, do next.
Verdict: Borrow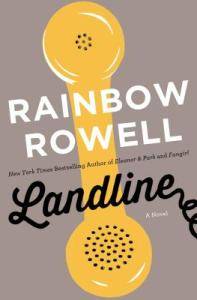 Landline by Rainbow Rowell 
I am one of those readers who will buy anything that Rainbow Rowell writes, but while Eleanor & Park and Fangirl were wonderful novels that combined humor and heartbreak, I just always fall in love with her adult characters more. I loved Attachments, despite its problematic plot, and I was very much looking forward to reading Landline. I wasn't disappointed. Georgie McCool, television writer, has to give up Christmas with her husband and kids because her show (the show Georgie and her best friend have dreamed about making) has generated some interest, and they have to write as many episodes as they can before their meeting after Christmas. Georgie's husband is upset about this and Georgie isn't sure if it will be the final straw. Neal hasn't been happy and hasn't been happy for a while an Georgie knows it. One night, desperate to talk this through with Neal, she calls him from the old landline at her mom's house. The Neal who answers the phone, though, is not the Neal she is expecting. It's Neal from 1998, Neal from right before he proposed, the Neal she fell in love with. The book becomes a meditation on the choices we make and why and the ramifications of those choices later on.
Verdict: Buy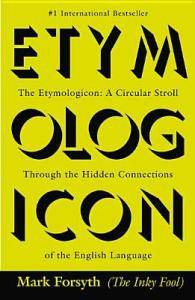 The Etymologicon by Mark Forsyth 
This was the perfect airplane read! It was interesting and humorous and just full enough of interesting facts that you want to tell your airplane seatmate, whether you know them or not. The Etymologicon is a fulfilling romp through the English language, connecting each etymology of a word with a different word until Forsyth starts back at the beginning again. If you're interested in words and the history of language, you will enjoy this on your vacation. Some of the entries get a little bit tedious, but for the most part this is such a fun read.
Verdict: Buy
____________________
The Book Riot Store is here! Get your favorite Book Riot t-shirts, bookish totes, and other literary swag to wear, share, and show off!
We have 5 copies of
The Library Book by Susan Orlean
to give away!
Go here to enter for a chance to win
, or just click the image below. Good luck!