The Week's Most Popular Posts: November 17 – 21, 2014
Let's take a look back at the week that was, here at Book Riot . . .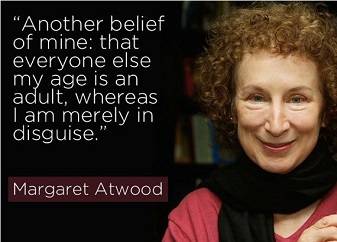 from 75 Reasons Why Margaret Atwood is Awesome by Liberty Hardy
____________________
Feminism. The "other" F-word. And now, apparently, it has shown up on Time Magazine's list of words we should ban in 2015 — at a time when we need it more than ever. Here are some of my favorite feminist books — not necessarily about feminism per se, but books written by feminist women, with unabashedly powerful female characters and stories that refuse to be silenced.
from 5 Favorite Feminist Books by Jaime Herndon
____________________
But what makes the "Blank Space" video compulsively watchable is that Swift makes being a femme fatale seem AWESOME. I want this woman's life, or at the very least her wardrobe. So in the spirit of great literary femme fatales, here are some books to glom onto when you're tired of hitting refresh on YouTube.
from What to Read If You Love Taylor Swift's "Blank Space" Video by Tasha Brandstatter
____________________
from Book Fetish: Volume 136 by Rachel Manwill
____________________
We cover movies, Western TV series, comics, and more based on lit all the time, but let's look Eastward, towards Japan, and check out some anime (Japanese, animated) series you can watch that are based on (or inspired by) classic literature.
from 5 Anime Series Based On Classic Literature by Kristina Pino
____________________
I'm a huge fan of small publishers. Because the scale of production precludes scoring huge names to add to their catalogs, small presses often have the advantage of finding really interesting books by fresh voices that may have gone unnoticed because they're not seen as commercially viable. If you don't already seek out small press books, here are a few publishers who are absolutely killing it with their content.
from 5 Small Presses That Are Absolutely Killing It by Susie Rodarme
You could win a six-month subscription to an amazing Romance box!
Go here to enter for a chance to win
, or just click the image below: