The List List #132
This week's List List is sponsored by Random House Audio.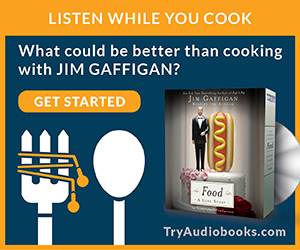 Need something to listen to while you cook? Are you going on a family road trip? Do you like to craft? Do you travel for business or commute for work?
Random House Audio has chosen several titles that complement these activities- you can also search by the length of your activity to find an audiobook that perfectly fits your day! Find the perfect audiobook now.
____________________
at Word & Film, 5 Margaret Atwood Tales Ripe for Film
at Biographile, 10 Fiery Margaret Atwood Quotes
at Oyster, 13 Authors Who Are Funnier Than You
at Huffington Post Books, 5 Scientific Inaccuracies You Didn't Know Were in Moby-Dick
at Stacked, Fabulously Diverse YA Book Covers We Should See More Often
at Neatorama, 10 Words That Started Out As Errors
at Flavorwire, 50 Writers You Need To See Read Live
at Grammar Girl, 10 Words For When You're Hazy On the Details
at Time, National Book Award Winners
at The Toast, Famous Author Bios
at Open Culture, 84 Classic Radio Dramas (Including Brave New World)
and…
at BuzzFeed Life, 33 Harry Potter Gifts Only a True Fan Will Appreciate
Save
We're giving away a stack of the favorite books of some of our favorite authors. Go
here to enter for a chance to win
, or just click the image below. Good luck!