Buy Borrow Bypass: Making Comics Edition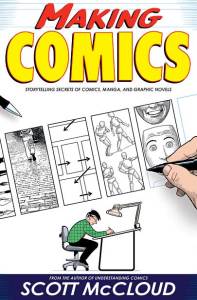 Making Comics by Scott McCloud
Seems like kind of a no-brainer place to start, isn't it? Well that's because it really is that simple. Scott McCloud uses his very simple (but detailed and gorgeous) cartoon style to write a comic all about writing comics. At first glance, one might expect it to be a lighter or less serious work than it is, possibly, I think, because it's in comic form. Definitely not the case. Scott McCloud gets into the nitty-gritty details of how and why comics and visual artistry work in the ways they do, to guide the reader comfortably around the panel itself, and the page, and from one page to the next. More than that, though, we dig into a massive arrangement of artistic techniques and also individual artists themselves and their comic work, their influences on the medium, and things you can learn from them…and we take in a pretty surprising array of comic styles too, from the manga work of someone like Osamu Tezuka, to the mainstream American work of Jack Kirby.
Even if you aren't that bent on writing comics yourself, it can be a surprisingly enjoyable read. While it has a teaching element to it, Making Comics can be read with the same pleasure someone (me!) might get out of watching all the special features on a film, entertaining you while showing you the behind the scenes mechanics of how it all comes together. I love that stuff, despite not being any kind of filmmaker. It's the same here. A wonderful read.
Verdict: Buy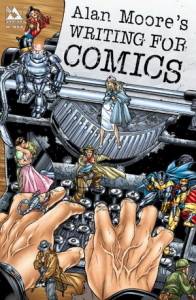 Alan Moore's Writing For Comics, by Alan Moore
This is the exact opposite of Making Comics, I just realized. Where Making Comics is a thicker book that turns out to be an easy and readable piece, Writing for Comics is a very thin book which is surprisingly dense and hard to get into. Making Comics is a very long essay written by Alan Moore, that god of comics who gave us such books as From Hell, Watchmen, Swamp Thing, V for Vendetta and a gigantic host of work that goes well beyond those popular and well-known titles. His stories are incredibly detailed and dense, on the comic page, but trust me, that is nothing compared to his scripts. They are behemoths of insane detail. They are legendary for how thick and how packed they are. So an advantage here is that Writing for Comics isn't a script and is thus readable.
The downside is, while it's extremely enjoyable if you're already somewhat used to Alan Moore's prose style – which is dense and rambling – I think some people can be put off by it, perhaps reasonably so. If you can get there, though, the little volume's worth your time. It won't get you into the mechanical details of script-writing, but gives you a look at a strong and vibrant personality behind the script, and that can be very useful. It gives you something to emulate, a perspective on what to put in, what to leave out, and what the details are doing for you.
Verdict: Borrow
The Sandman, Volume 3: Dream Country
This is just a regular comic with an unexpected benefit to you, O potential comic book creator. You see, because the volume came out a bit thinner than the others in the Sandman series, Neil Gaiman included a single complete comic script in the back, to pad things out. This is wonderful. The issue in question is Calliope. It's a stand-alone, one-off short story of an issue, so the script has to introduce everything for the first time, which is useful to read about. And of course, since the comic in question is also in this volume, you can basically flip back and forth between the raw script, and the finished product. Obviously there's a lot of steps in between script and printed page – learn about those elsewhere, like in Making Comics – but it can be useful to see what the initial intent turns into and what it accomplishes in the finished narrative.
Even better than a tool, after you've read the script, this book can go live happily on your shelves and be revisited time and again, because while thin, this volume's got some of the Sandman's best issues, like the Shakespeare-influenced and World Fantasy Award Winning story A Midsummer Night's Dream. You'll enjoy this one no matter what, I think.
Verdict: Buy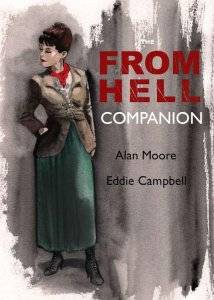 The From Hell Companion, by Alan Moore & Eddie Campbell
This is one of my favorite books. I suppose that's no huge surprise, considering From Hell, the gigantic, dense, and brutal comic by Moore & Campbell is my favorite out of all the Moore comics I own (my favorite Campbell incidentally, is The Fate of the Artist, which is funny as hell). Although The From Hell Companion has both of their names on the front, the work done here is on the part of Eddie Campbell. In a very systematic way, Campbell takes us through the comic, picking and choosing particular pages and scenes and really digging into them. Where reading the script of a comic might give us the writer's point of view, intention, and initial attempt, here we are seeing the next stage, which is when that script turns into a collaboration between the writer and the artist.
This one is trickier to recommend to people because I'm so biased I'm unsure how other people feel about it. I love the behind-the-scenes mechanics of things, I am a big fan of Eddie Campbell's writing style (which is dry but which can be very, very funny, when he wants to be), and I love how we go from a page's massive, dense Alan Moore script, to a rough sketch by Campbell, to a completed page. It's a dense book, but it has its own narrative flow to it that pulls you along, which I really enjoyed. I know it's an excellent resource for anyone interested in comics, or even just the creation of a massive tome like From Hell. I think it's also a pleasure if you're just looking for something to read. You'll have to decide yourself, I suppose.
Verdict: Borrow
____________________
We've launched a new site devoted to comics: Panels. Follow them on Twitter and Facebook!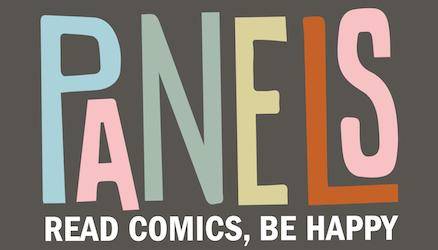 Enter to win
$250 to spend at Barnes and Noble!