The Week's Most Popular Posts: Nov. 10th-14th, 2014
Let's take a look back at the most popular posts from the week that was….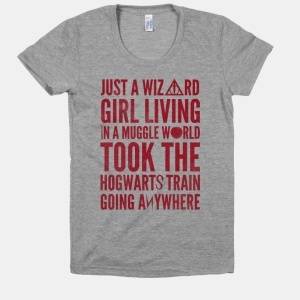 Harry Potter/Journey Tee: Throw up your devil horns \m/\m/
From Book Fetish: Volume 135 by Rachel Manwill
____________________
Here is my advice: when you love something, don't do variations on that thing which will make you hate it.
From Reading Is Not A Chore: On Quitting Books by Peter Damien
____________________
My personal favorite of the bookish Friends moments. Rachel finds a copy of Stephen King's The Shining in Joey's freezer. She asks about it and he says that whenever he reads it and gets scared he puts it in the freezer, to be safe. Well, safer. He then says that he never starts reading The Shining without making sure he has plenty of room in the freezer.
From The One With The 5 Best Bookish Moments of FRIENDS by Johann Thorsson
____________________
Closed. Just like that. For construction. They're adding on to the existing building, doubling the branch's total size. Sounds like a great thing, right? And maybe it is, but I live in a small town with just the one library branch, and while they used the month of October to set up a temporary location, I knew a lot of people would be in the wilderness. My goal was to live (read) only off of the books I checked out before the branch closed. Why? Because I bet that there are a decent number of people where I live for whom the library is their only real source for books, and I wanted to see what it'd be like.
From One Man's Diary of a Month-Long Library Closure by Josh Corman
By signing up you agree to our Terms of Service
Get the New Release Index, our curated calendar of upcoming new books, with
Book Riot Insiders
: