Critical Linking: October 3rd, 2014
If you fear driving away your friends and loved ones with your single-minded passion for The Hunger Games, or if your devotion to The Goldfinch has become a distraction at work, it may be time to cool things down. If you're unsure whether things have gone too far, never fear: We've compiled a list of telltale signs that you've developed an unhealthy fixation on one book.
At least one of the things on this list about being obsessed with a book got me: I may or may not have ever skipped a social engagement to keep reading.
____________________
"I think [book rating]'s commonly written about as the 'helicopter parenting' phenomenon and that's fairly well recognized," NCAC Executive Director Joan E. Bertin told us. "I think the piece that people have missed is the way in which it's playing itself out in kids' educational experiences, with parents second-guessing teachers and taking the position that kids should be sheltered from everything, including the content of books that might be disturbing."
The question I always asked is this: have you ever met anyone that read something in school that permanently damaged them in some way? No, right? Then what the hell are we talking about?
_____________________
In 2013, reports BSL, US consumers spent an average of $29.20 on physical books. The amount they spent in the same time period on e-books? $30.18. Of course, these averages vary among different age groups. For example, 55-64 year-olds spent about 3 times more ($40.28) on physical books than those under 25 years-old ($12.56). On the other hand, 35-44 year-olds spent twice as much on e-books as those over 65.
Very interesting data. The younger you are, the more you spend on digital books. Draw what conclusions about future data from that you like.
_____________________
Seidenberg launched the book shop after rising rents forced him to close the first Brazenhead Books in Brooklyn in the late 1990s. He had tried selling his second-hand books at fairs and on the street, but he missed having a dedicated space. So Seidenberg set up shop in an Upper East Side apartment in 2008 and took customers by appointment only. "It's not open to the public as such. It's not legal so that's why it has to be hidden," he explained to filmmaker Andrew David Watson in the 2011 documentary.
A secret bookstore, eh? Pretty cool.
_____________________
Did you know that Book Riot has a YouTube channel? We do. It's new and we are having fun with it. Check it out here.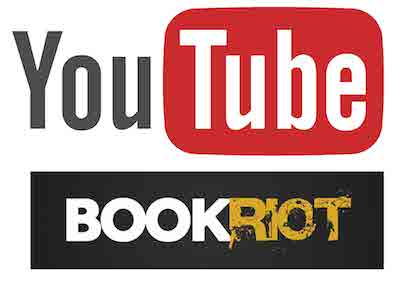 Sign up for "Today in Books" and stay up to date with the most interesting news in the world of books and reading!
We have a $250 Amazon gift card to giveaway.
Enter by September 30th here
for a chance to win, or just click the image below. Good luck!