Critical Linking: September 23rd, 2014
Banned Books Week is September 21st through the 27th. Celebrate the freedom to read. Stand up against censorship. Take our quiz to find out which banned book you are, and exhibit the right to read!
I took this quiz, and it turns out that I am [redacted].
____________________
While it's no surprise that the publishing sector is overwhelmingly white, the lack of diversity is a bit eye-opening: of the 630 respondents who identified their race, 89% described themselves as white/Caucasian, with 3% selecting Asian and another 3% indicating Hispanic. Only 1% said they are African-American.
1% of publishing employees are African-American. I think we may have found Ground Zero for the diversity problem of reading culture.
___________________
And now this week, Hulu has struck a deal with Stephen King and JJ Abrams' Bad Robot Productions. Based on King's 2011 novel 11/22/63, the nine-hour series revolves around a high school English teacher who travels back in time to try and prevent the assassination of John F. Kennedy. Bridget Carpenter (Friday Night Lights, Dead Like Me) will adapt the novel for television. No casting and no production date has been announced.
The rebirth of the mini-series means that a bunch of adaptations of novels are again possible. This adaptation of 11/22/63 should make for good TV.
___________________
After rumblings surfaced that Amazon is creating a new American Idol-style crowdsourced publishing platform, the e-tailer has confirmed that the program is "in the works."
Oh please no.
____________________
What's in it for you, if you work with us?  Well, we can bring you customers you would never attract otherwise:  people who don't use the Internet, and people who wouldn't normally be able to afford your services.   One person in seven uses us regularly, Amazon, for a whole range of reasons, and we can reach people you can only dream of.  In other words:  we have market reach into areas you don't, and not only can we bring you new customers, but we'll pay you for the privilege. And we'd be a community partner for you.  We'd make you look good.  People like us, because we make their lives better.  You need us, Amazon, because just recently the controversy over your reluctance to pay taxes in the UK has made you look heartless.  
UK libraries make a case for working with Amazon.
___________________
Did you know that Book Riot has a YouTube channel? We do. It's new and we are having fun with it. Check it out here.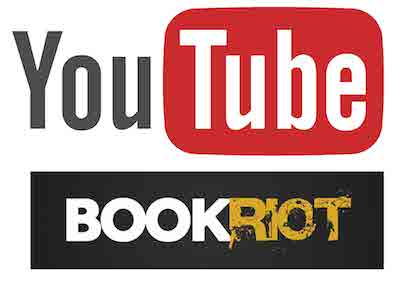 Sign up for "Today in Books" and stay up to date with the most interesting news in the world of books and reading!
Annotated
brings you the story of love, punctuation, and the Oxford comma. Download it for free on
Apple Podcasts
 or 
Google Play
.