Critical Linking: August 27th, 2014
We pared down a list of a million fascinating looking books (Good luck, Christian Rudder's Dataclysm. Better list next time, Christos Tsiolkas's well received Barracuda. I see you, Charles Burns'Sugar Skull) to a workable group of 25 of the fall season's must-reads. Add them to your list, and dominate cocktail parties all season long.
As with all lists of "must-read" books, substitute "pretty darn good." Still, looks like another fall full of interesting books.
____________________
The Delaware law raises the complexities of how to deal with the accounts that house our e-book collections, music and video libraries, or even game purchases, and whether they can be transferred to friends and family after death. The bill broadly states that digital assets include not only emails and social media content, but also "data … audio, video, images, sounds … computer source codes, computer programs, software, software licenses." However, the law says that these digital assets are controllable by the deceased's trustees only to the extent allowed by the original service's end user license agreement, or EULA.
Man, the internet causes some weird problems.
____________________
The institution has decided to completely forego stocking its library with paper books and will instead rely solely on e-books, which its 550 students (the school is so new, it's not even licensed yet) can browse on tablets, laptops or e-readers. Now, here's the kicker: the students can browse any book they want using the school's proprietary software, but they can access it for free only once — the second time someone clicks on it, he/she ends up purchasing it for the whole school. In fact, the university has set aside $60,000 for e-book purchases, leaving the library's catalog in its student body's hands.
Whoa, Florida Polytechnic. That is next-level.
____________________
Therefore even allowing for margins of error, it seems unlikely – based on Chitika's data and the ComScore data – that there were more than about 35,000 Fire Phones in use after those 20 days.
If Amazon really has only sold 35,000 Fire Phones, that's an enormous flop.
____________________
Can we interest you in a bookish t-shirt that not-so-subtly displays your love of reading? Can be yours for less than $20, shipping included. Get it here.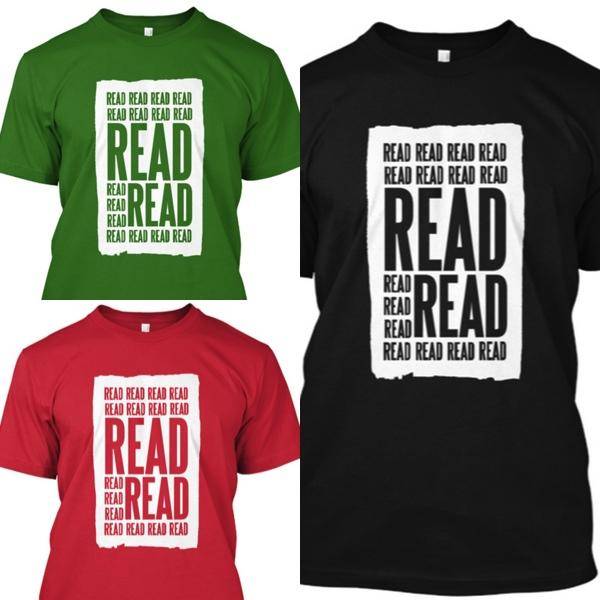 Sign up for "This Week in Books" and stay up to date with the most interesting news in the world of books and reading!
Up to 80% off books 
you actually want to read
.