Critical Linking: August 26th, 2014
A while back I wrote "25 Things I Learned From Opening a Bookstore." This is the other bookend.
A funny, sweet, and sad remembrance of shuttering a bookstore.
____________________
Today Omaha Public Library debuted its book bike, a long blue bicycle with a trailer of books in tow. The bike's a variation on a traditional bookmobile. Its trailer is stocked with with books to borrow and take, with iPads so people can sign up for library cards, download e-books and learn about other services.
Maybe I am just paying closer attention, but it seems like there has been a renaissance in alternative ways of bringing the library, well, out of the library.
____________________
The shopper had been absorbed in a sci-fi novel when he realised the owner of Paramount Books in Manchester had gone out for a coffee. A customer had to call police after getting locked in a shop when the owner went out to get a coffee – but was rewarded with vouchers after being trapped for an hour-and-a-half.
Oh no. Trapped in a bookstore. Whatever shall I do?
____________________
Rumor: Matthew McConaughey is being seriously courted by Warner Bros. to play Randall Flagg, the charismatic villain of Stephen King's novel The Stand, for Josh Boone's planned movie adaptation.
Apparently, this rumored casting would be dead-on.
____________________
Did you know that Book Riot made a book? Two actually. Start Here is a guide to reading authors you've never tried, but always wanted to. Each chapter provides a short reading sequence to introduce to a variety of author, from Dickens to China Mieville. And each is just 3 bucks for an ebook. Not bad eh?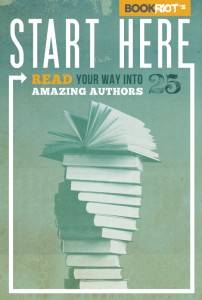 Sign up for "This Week in Books" and stay up to date with the most interesting news in the world of books and reading!
FREE BOOK ALERT!
Sign up for an Audible account
, and get
two
audiobooks free.